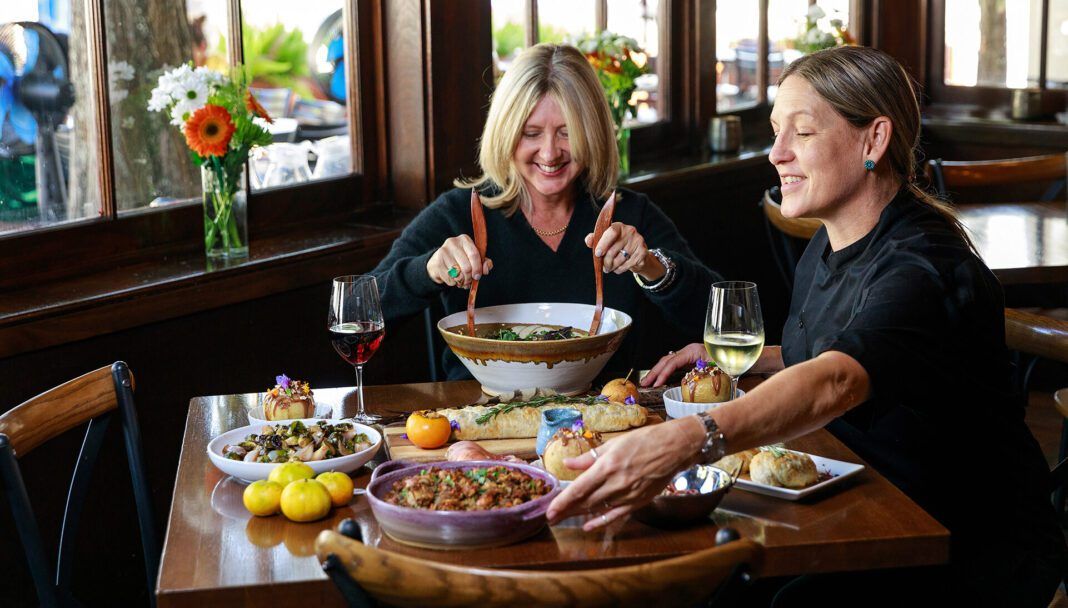 Plant-based dishes for healthy holiday feasting
---
When Canette Liddy, my partner in all things food and fun, called to say, "I've just been to the cardiologist, and he wants me to eat a plant-based diet with no added oil for a month," my instant reaction was, "I'll do it with you." This was a knee-jerk moment of solidarity, but since I had just placed my order for literal kilos of artisan cheese from Vermont, I had to quickly rescind my offer. So Canette and her husband Chris forged ahead on this new eating path with few acolytes in tow.
Enter neighbor Saskia Spanhoff, executive chef and co-owner of Cocha, the popular downtown restaurant known for its locally sourced menu with lots of plant-based highlights, who offered some guidance for the Liddys' new eating style. "Saskia suggested we meet up so she could help me make delicious food on this journey," Canette says. "She showed up at my house with a great book and a bag of goodies. We made two pasta sauces, a creamy white one made with silken tofu and a tomato-based one loaded with dry-roasted vegetables. Tofu isn't normally in my grocery cart, but now I'm using it as an essential source of protein."
As the Liddys settled into this new routine, the rest of us neighbors found ourselves eating less meat, cutting back on the amount of oil in our sautés and salad dressings, forgoing the extra butter on everything, and not really pining for these flavorful frills. While Canette was undergoing a multifaceted cardiac study, Chris had joined the experiment for moral support. "It was easy for us since our kids are grown and gone," Canette says. "I have a terrible family history of heart disease on my father's side. I was determined not to have any procedures—to be proactive, not reactive."
In the six years that I have lived two doors down from the Liddys, we have communed over every type of indulgent fare, intertwined with plenty of garden salads. She is now exploring the kitchen with a new lens. The pair did not stray from their newfound plant-based ways for the month of September, and their doctors were delighted with the results of their diligence. The main concern for Canette was her elevated cholesterol, which dropped 20%, while Chris experienced an even greater reduction. They decided to maintain their plant-based status for the majority of meals, while relaxing the rules on special occasions and treat nights.
We all put our heads together to take the concept to the Thanksgiving feast. Canette revisited her favorite stuffing recipe and substituted a little olive oil for a lot of butter and a pound of mushrooms for a half pound of pancetta. It's a symphony so flavorful, no one will miss the meat. Saskia's Mushroom Wellington is a nice side dish in a personal portion, or she suggests making the classic pastry roll as the star of a strict plant-based table. When we talked about dessert, we opted out of more pastry on the menu, so I devised a citrus-caramel baked apple, a delightful finale to this plant-based feast. Canette's voice echoes in my head, "If you can make the changes, the table will turn for the positive."
---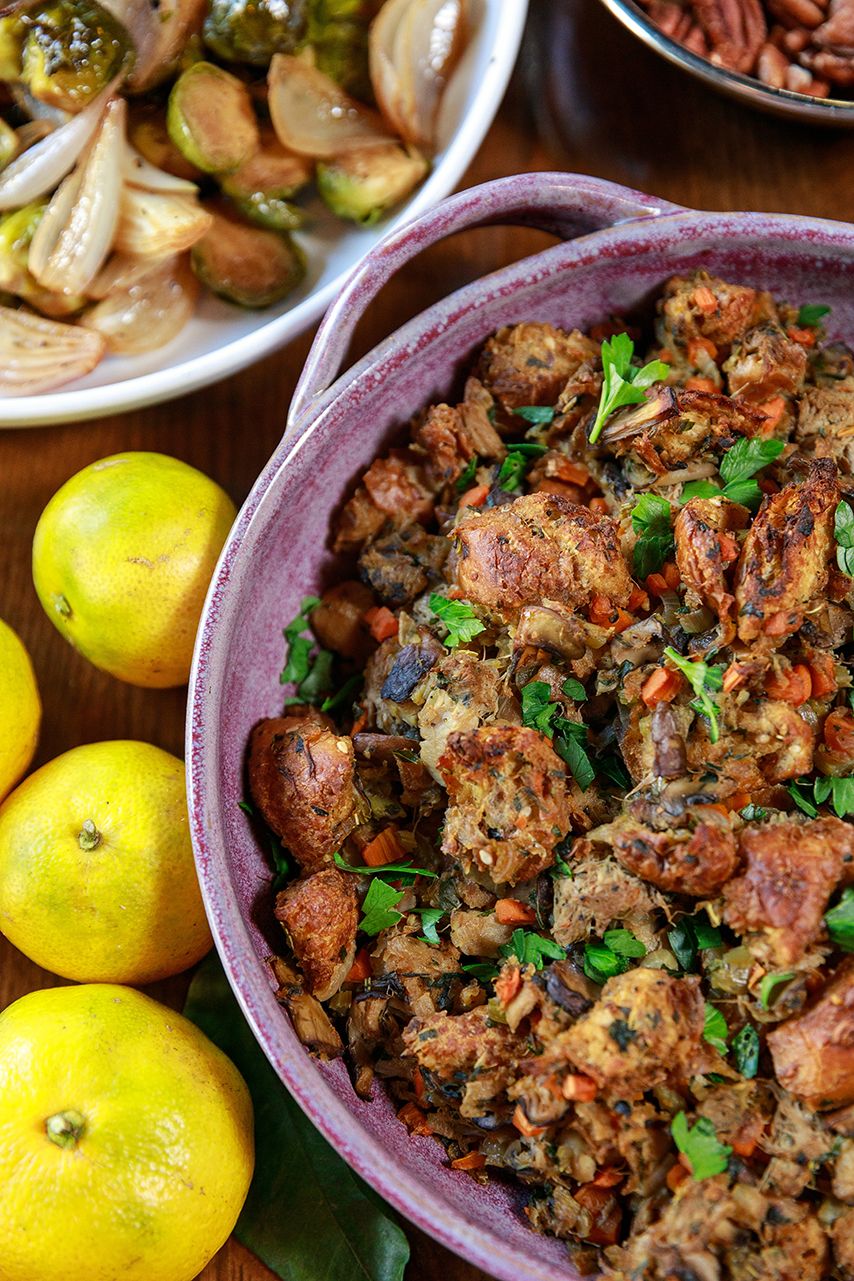 Mushroom Stuffing
This super flavorful stuffing with all the health benefits of mushrooms is a star of the Thanksgiving table.
Ingredients:
2 Tbsp. olive oil, divided
2 onions, chopped
3 medium carrots, peeled and finely diced
3 stalks celery, finely diced
1 lb. mushrooms (we used lion's mane, shiitake and cremini), sliced/chopped
3 cloves garlic, minced or crushed
6 cups hand-torn day- (or two-day-) old whole wheat bread (we used a multigrain baguette)
¼ cup chopped fresh parsley, plus more for garnish
2 Tbsp. chopped fresh rosemary
1 Tbsp. chopped fresh thyme
1 ½ cups vegetable stock, more or less, to taste
Salt and pepper to taste
Heat 1 Tbsp. olive oil in a large Dutch oven over medium heat. Add onions and 1 tsp. salt, and cook until onion just loses its crunch, about 5 minutes, stirring occasionally. Add carrot and celery and continue cooking for 5 minutes. Push these ingredients to side of pot and add 1 Tbsp. olive oil and the mushrooms. Toss mushrooms in warmed oil before incorporating sautéed onion, carrot and celery. Cook, stirring until mushrooms are tender. Add garlic and stir for 1 minute. Add bread and herbs, stirring well to combine with vegetables. Drizzle with stock and cook for a few minutes for bread to absorb liquid, adding more if you prefer a stuffing that mimics the broth-infused version that's scooped from inside the roasted turkey. Season with salt and pepper as desired. Enjoy as is, or transfer to a baking dish brushed with olive oil and bake at 375 degrees until as crisp as you like.
Makes 6 to 8 servings.
---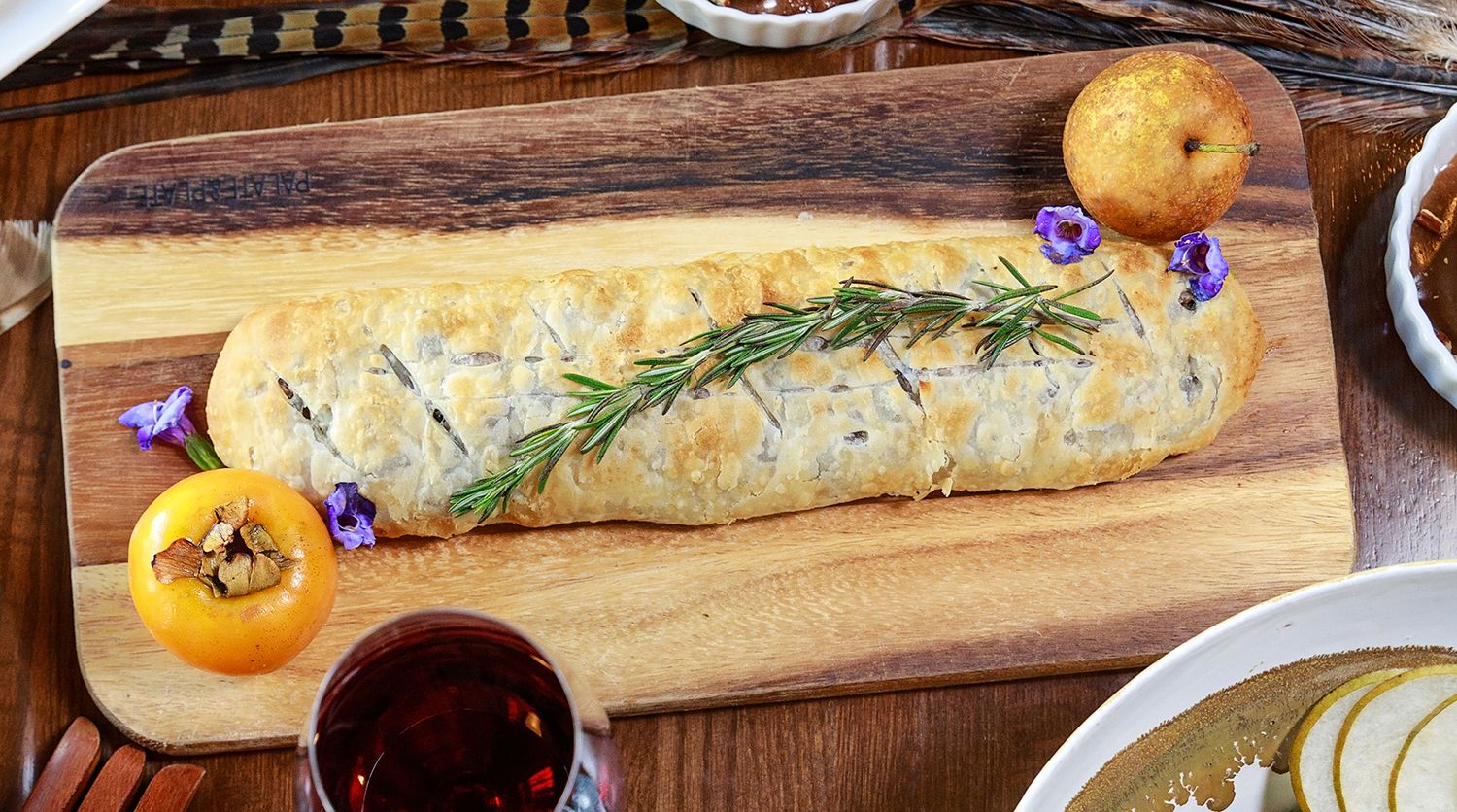 Mushroom Wellington
From the recipe files of Chef Saskia Spanhoff, this savory mushroom-stuffed pastry is a delight as the main dish or can be made in individual Wellingtons for a side dish. We used DuFour plant-based puff pastry. Adapted from Sylvia Fontaine. Serve with Bordelaise sauce, if desired.
Ingredients:
1 box (2 sheets) vegan puff pastry, thawed in fridge overnight (use cold)
2 Tbsp. olive oil
2 lb. mushrooms, sliced
1 large onion, diced
6 large garlic cloves, minced
1 tsp. coarse salt
1 Tbsp. each chopped fresh rosemary, thyme and parsley
¼ cup sherry
1 tsp. vinegar
1 cup chopped, toasted pecans
½ tsp. pepper
2 tsp. mushroom umami powder
Nut milk or melted coconut oil for brushing pastry (or whisk 1 egg with 1 Tbsp. water if not staying vegan)
Heat oil in a large Dutch oven over medium-high heat. Add mushrooms, onions, garlic, salt and herbs, stirring often until mushrooms release their liquid. Reduce heat to medium and cook until all liquid has evaporated. Add sherry and vinegar, and continue cooking until all liquid has evaporated. Add pecans, pepper and mushroom umami powder. Salt to taste.
Cool filling completely before proceeding. Can be made a day ahead and refrigerated in an airtight container.
Preheat oven to 400 degrees. Unroll the cold but pliable pastry sheets 1 at a time onto a parchment-lined baking sheet. Place half of filling in a mound along center and, working quickly, roll pastry up and over, seam side down. Fill and roll second sheet. Brush top of pastry with nut milk, coconut oil or egg wash.
Score pastry with a sharp knife to allow steam to vent—small slashes or a fun design. Bake on middle rack of oven, rotating pan for even browning at 15 minutes, and continue baking until deep golden, 20 to 35 minutes total depending on oven.
Garnish top of pastry with rosemary sprigs, and transfer to a serving platter. Cool for 5-10 minutes before cutting and serving.
Makes 8-12 servings.
---
Plant-based Bordelaise
From the recipe files of Chef Saskia Spanhoff.
Ingredients:
1 Tbsp. sunflower oil
4 shallots, finely diced
2 cloves garlic, finely diced
2 cups red wine
1 Tbsp. flour
1 tsp. tamari
Salt and pepper to taste
2 tsp. mushroom umami powder
Finely chopped chives and parsley to garnish
Heat oil in a large skillet or sauté pan over medium heat, and sauté shallots and garlic until soft. Add red wine to deglaze pan and reduce by half. Sprinkle flour over, and whisk constantly to blend. Add tamari and stir until thickened. Season with salt and pepper and mushroom umami powder. Pour sauce through cheesecloth or a fine strainer into a heatproof container to remove solids. Serve warm with Mushroom Wellington and garnish with chives and parsley.
---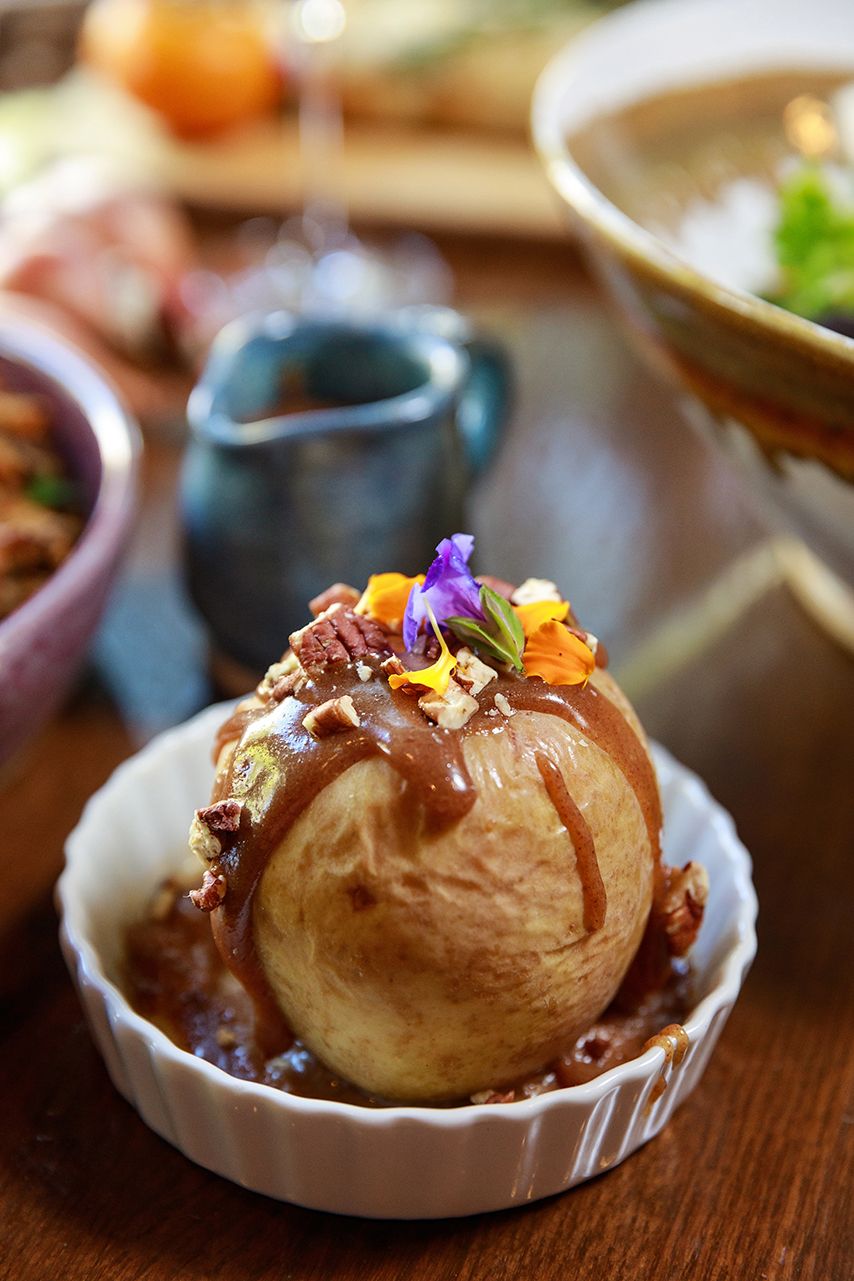 Baked Apples with Citrus Caramel and Pecans
I discovered this "caramel" in the Sweet Laurel cookbook by Laurel Gallucci and Claire Thomas and adapted it just a bit. I was almost skeptical that a sauce with no refined sugar, no butter and no cream could be a delicious caramel, and one taste made me a believer.
Ingredients:
6 small Honeycrisp apples
1 satsuma, zested, peeled and segments separated
1 cup No-Cream Caramel (recipe follows), divided

1

⁄

3

cup chopped toasted pecans
Edible flowers
Core each apple from stem end, leaving bottom ½ inch intact. Scoop out core and some of center of apple with a small melon baller to create a well for filling.
Place satsuma zest in a medium bowl. Working over bowl, cut seeded segments into small pieces with kitchen shears so the bits and juice fall right into the bowl. Mash a bit with a spatula to break up satsuma. Stir in ½ cup No-Cream Caramel (unheated) to combine well. (Depending on size of apples, you may need more caramel—recipe makes plenty if necessary.)
Preheat oven to 350 degrees.
Fill each apple with 1 Tbsp. or so of this citrus caramel to fill to the top—a pastry bag or melon baller makes this easy. Place apples upright in a deep baking dish so they are close together and won't fall over. (We placed ours in shallow ceramic tartlet dishes, then into a deep baking dish, which made serving a breeze). Cover dish with foil, and bake apples until tender when pierced with a cake tester or thin skewer, about 35-40 minutes.
Serve warm with a bit of the citrus caramel warmed and drizzled over each. Sprinkle with pecans and edible flowers.
Makes 6 servings.
---
No-Cream Caramel
I have taken to whisking a spoonful of this sauce into my morning coffee.
Ingredients:
½ cup pecan butter
½ cup maple syrup
¼ cup melted coconut oil
3 dates, pitted and coarsely chopped
2 tsp. vanilla extract
¼ tsp. sea salt
Place all ingredients in a blender or food processor and blend until smooth. Scrape sides and blend again. Transfer to a glass jar and refrigerate for up to 1 month.
Gently warm sauce in a small saucepan when ready to drizzle.
Makes about 1½ cups.
---

Maple Roasted Brussels Sprouts and Shallots
Credit to my daughter Emma for pitching this combination. I suggest about a 3-to-1 ratio for sprouts to shallots.
Ingredients:
1 Tbsp. olive oil
1 Tbsp. balsamic vinegar
1 Tbsp. maple syrup
1 ½ lb. Brussels sprouts, ends trimmed, then halved through the stem
½ lb. shallots, peeled and halved (or quarter large ones)
Salt and pepper to taste
Preheat oven to 400 degrees. Line a large rimmed baking sheet with parchment paper.
Whisk olive oil, vinegar and maple syrup together in a large bowl. Toss in prepared sprouts and shallots, and toss well to coat. Season with salt and pepper and toss again. Scrape it all onto prepared baking sheet and turn sprouts cut side down. Roast until tender and cut sides are deep golden, about 30 minutes, or to desired degree of doneness. Timing depends on size of sprouts and oven.
Makes 6-8 servings.
---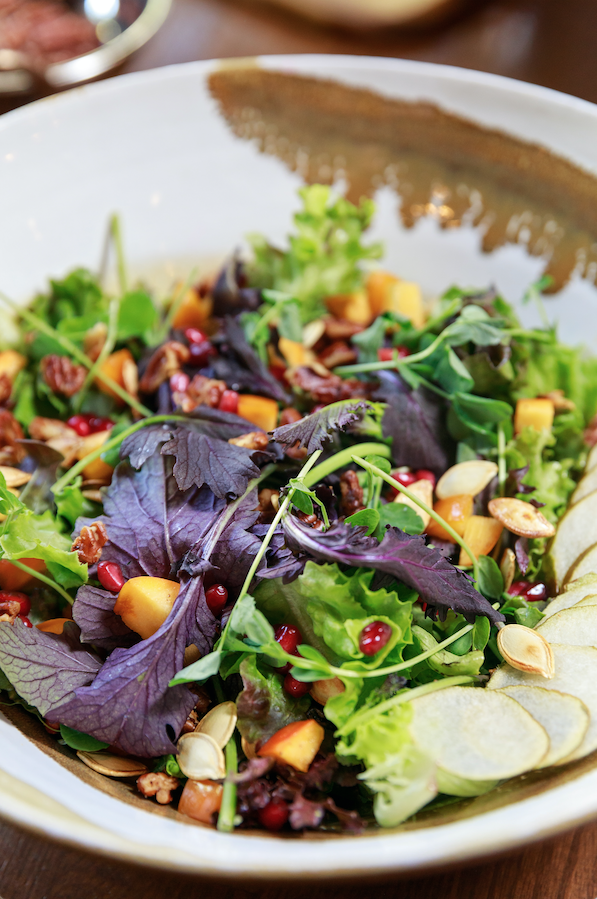 Chef Saskia's Fall Salad with Mixed Greens and Champagne Vinaigrette
Truly a cornucopia of color and local flavors, this salad can be assembled the morning of and tossed with dressing just before serving.
Salad:
6 oz. mixed greens (Saskia added pea shoots, mizuna and edible flowers)
1 Asian pear, thinly sliced
1 persimmon, cut into small dice
¼ cup toasted pecans (Saskia used toasted pumpkin seeds in the shell)
Seeds from ½ pomegranate
Dressing:
1 shallot, peeled and halved
1 large garlic clove, peeled
Zest and juice of 1 lemon
1 tsp. Dijon mustard

1

⁄

3

cup Champagne vinegar
1 tsp. honey
½ tsp. salt
1 cup olive oil
Place shallot, garlic, lemon zest and juice, Dijon mustard, vinegar, honey and salt in a blender or food processor. With machine running, slowly drizzle in oil to emulsify. Transfer to a jar and keep refrigerated until ready to serve.
Place choice of greens in a large salad bowl and toss in pear, persimmon, pecans and pomegranate. When ready to serve, drizzle in about ¼ cup dressing and toss, adding additional dressing as desired. Sprinkle with edible flowers and serve.
Makes 6 servings with extra dressing.