---
Ah, Baton Rouge. Always a reason to celebrate! It's festival season, the beginning of summer, the kids are out of school, and we're reaching for an adult beverage. But wait! What about those of us who choose to skip the alcohol? Whether you're practicing sobriety, trying to stay hydrated in the summer heat, avoiding the empty calories, or just attempting to avoid the hangover, these alcohol-free "mocktails" are flavorful and festive, and are a fun way to participate in the festivities while avoiding the alcohol.
Like a traditional bloody mary, our Mock Mary recipe includes tomatoes (both fresh and juice). However, the many other fresh veggies in the recipe are what brings this mary to the next level, and what makes it so nutritious! This recipe is packed with nutrients like vitamins C and A. Plus it has much less sodium and more dietary fiber (if you choose not to strain it) than store-bought bloody mary mix.
The spices in this recipe can be scaled up or down to taste. Try adding your own favorite spice, even if it's not one we've listed in our recipe. Since the accoutrements are, in my opinion, an essential part of a bloody mary, try garnishing the Mock Mary with avocado slices, fresh herbs, a celery stick, pickled veggies or boiled shrimp (which also happen to be a great and local source of lean protein).
Our Strawberry Jalapeño Mockarita is a refreshing blended beverage with about half the calories of a traditional margarita. The cucumber and jalapeño add unique and refreshing flavor, while the orange juice, lime and strawberries provide sweetness and tang. If strawberries are out of season or not on hand, try it with blueberries, blackberries, mango or watermelon instead. True Lemon is the secret ingredient that gives this Mockarita its extra-tart margarita-like flavor and is available at most local grocery stores in the baking aisle.
Our Mock Mojito is a quick and simple mixed beverage that works well prepared in individual servings, or scaled up for a pitcher or beverage dispenser to serve a crowd. It's a little bit sweet, a little bit tart, and the perfect beverage to keep you hydrated as the temperatures rise.
---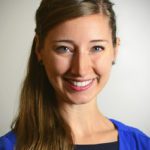 Renee Puyau is a registered dietitian and the director of the Metabolic Kitchen at LSU's Pennington Biomedical Research Center. Find more recipes at pbrc.edu/kitchen.
---
MOCK MARY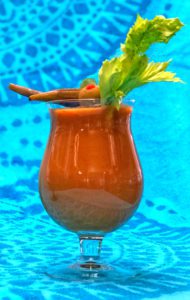 2 cloves garlic, chopped
2 Tbsp. fresh basil, chopped
4 large tomatoes, chopped
1 cucumber, peeled and diced
1 zucchini, peeled and chopped
1 carrot, peeled and chopped
2 green onions, diced
1 red bell pepper, diced
1 green or yellow bell pepper, diced
6 Tbsp. low-sodium tomato juice
3 Tbsp. red wine vinegar
¾ Tbsp. salt

1

⁄

8

tsp. lemon pepper
½ tsp. black pepper
2 Tbsp. honey or maple syrup
Zest of 1 lemon
Juice of 1 lemon
2 tsp. Worcestershire sauce
Few drops hot sauce or to taste
2 Tbsp. olive oil
Add all ingredients to a food processor and process until smooth, working in batches if necessary. A blender can also be used, which creates a smoother product. Place Mock Mary in a pitcher or storage container and marinate in fridge for at least 3 to 6 hours (can also marinate overnight). Strain through a sieve for a thinner consistency, or leave it a little chunky. Taste and add additional seasoning if necessary.
Makes about 8 (8-oz.) servings.
Nutrition info per serving:
90 calories | 2 g protein | 15 g carbohydrate | 3 g fiber | 4 g fat | 700 mg sodium
---
STRAWBERRY JALAPEÑO MOCKARITA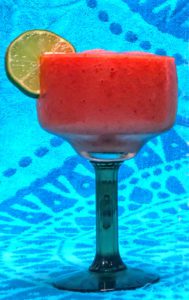 1

⁄

3

of 1 medium cucumber, peeled
¼ of 1 jalapeño, seeds and pith removed
1 cup frozen strawberries*
¾ cup orange juice
2 Tbsp. honey
Juice of 1 lime
1 (0.8-g) packet True Lemon unsweetened crystallized lemon
½ cup ice
Nutrition info per serving:
140 calories | 1 g protein | 37 g carbohydrate | 2 g fiber | 0 g fat | 4 mg sodium
---
KIWI BASIL MOCK-MOJITO

¼ of 1 kiwi, peeled
2 mint leaves
1 basil leaf
½ cup limeade
½ cup ice
¼ cup club soda
Additional kiwi slices, mint and basil leaves for garnish
In the bottom of a 12- to 16-oz. glass, muddle kiwi together with mint and basil leaves. Pour limeade over muddled kiwi and herbs, add ice, and shake or stir together. Top with club soda. Garnish glass with additional mint or basil leaves and a kiwi slice.
Makes 1 serving.
Nutrition info per serving:
70 calories | 1 g protein | 17 g carbohydrate | 1 g fiber | 0 g fat | 19 mg sodium