Healthy 30-minute meals from Pennington Biomedical Research Center
---
In Pennington Biomedical Research Center's Metabolic Kitchen, we spend our days thinking about and working with food, so oftentimes the last thing we want to do when we get home is spend a lot of time in the kitchen cooking something complicated. Like many others around the city, we have busy schedules outside of work, and families to feed, so we are always looking for quick and easy dinner ideas. The following recipes are some of our favorites, and we hope they help prevent the occasional fast-food indulgence from turning into a habit.
All of these recipes are one-pot or -pan meals.  Not only will they help save time in the kitchen, but they also offer suggestions on how to include nutritious ingredients like fresh vegetables and lean protein in a quick weeknight dinner. The recipes are also easy to adapt to individual tastes, dietary restrictions and ingredients on hand. Try switching out the veggies listed in the recipes based on what's in season.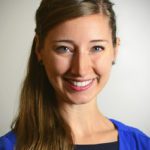 Renee Puyau is a registered dietitian and the director of the Metabolic Kitchen at LSU's Pennington Biomedical Research Center. Find more recipes at pbrc.edu/kitchen.
---
ONE-SKILLET CHICKEN & BROCCOLI PASTA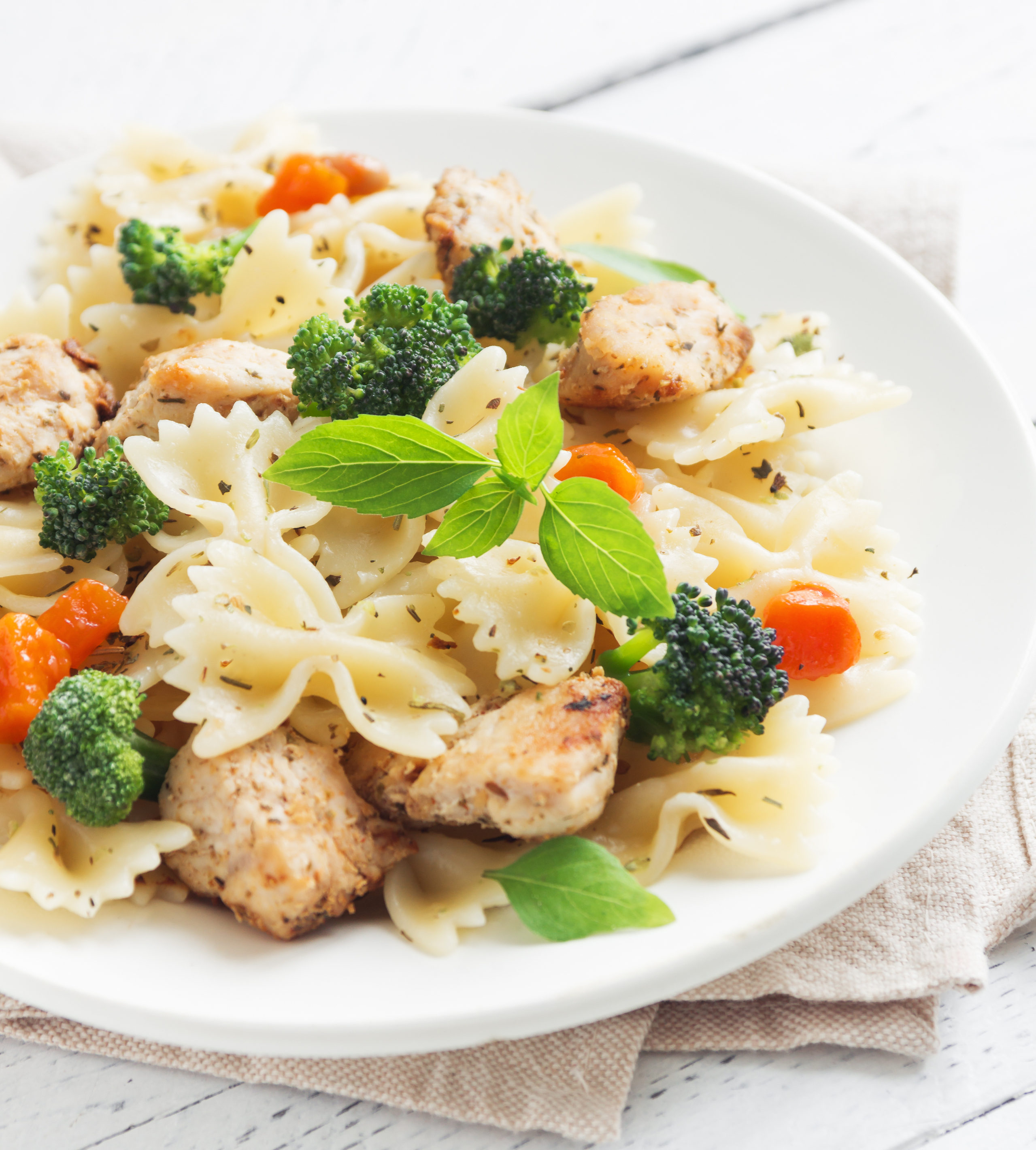 We love the versatility of store-bought rotisserie chicken. After removing the meat, try boiling the bones and skin for 30 minutes in about a gallon of water with 1 Tbsp. salt and whatever veggie scraps are on hand (a coarsely chopped onion, a few garlic cloves, and a few coarsely chopped celery stalks will do). This is an easy way to make homemade chicken stock and tastes much better than the store-bought version. It's also easier to control the amount of sodium for those looking to cut back.
2 Tbsp. olive oil
1 onion, diced
2 cloves garlic, minced
4 cups assorted fresh or frozen veggies (we used broccoli), cut into small pieces
2 cups chicken broth
1 (14.5-oz.) can diced tomatoes
½ cup milk
2 to 3 cups diced cooked boneless skinless chicken
½ lb. dry bowtie pasta
1 cup shredded Monterey Jack cheese
1 tsp. seasoning salt (plus more to taste)
Heat olive oil in a large skillet over medium-high heat. Add onion and cook, stirring frequently, for about 3 minutes or until onion is soft and translucent. Add garlic and cook for a few seconds, and then add veggies to skillet. Cook everything together for about five minutes, or just until the veggies begin to soften and brown. Add chicken broth, tomatoes, milk and chicken to skillet and stir until combined. Stir in dry pasta, and bring mixture to a boil. Cover skillet, reduce heat to simmer, and cook until pasta is soft, about 15 to 20 minutes. Remove skillet from heat and stir in cheese. Season to taste with seasoning salt.
Makes 6 servings.
Nutrition info per serving:
370 calories | 13g fat | 5g saturated fat | 35g carbohydrate | 2g fiber | 28g protein
---
SHEET PAN ROASTED VEGGIES & GNOCCHI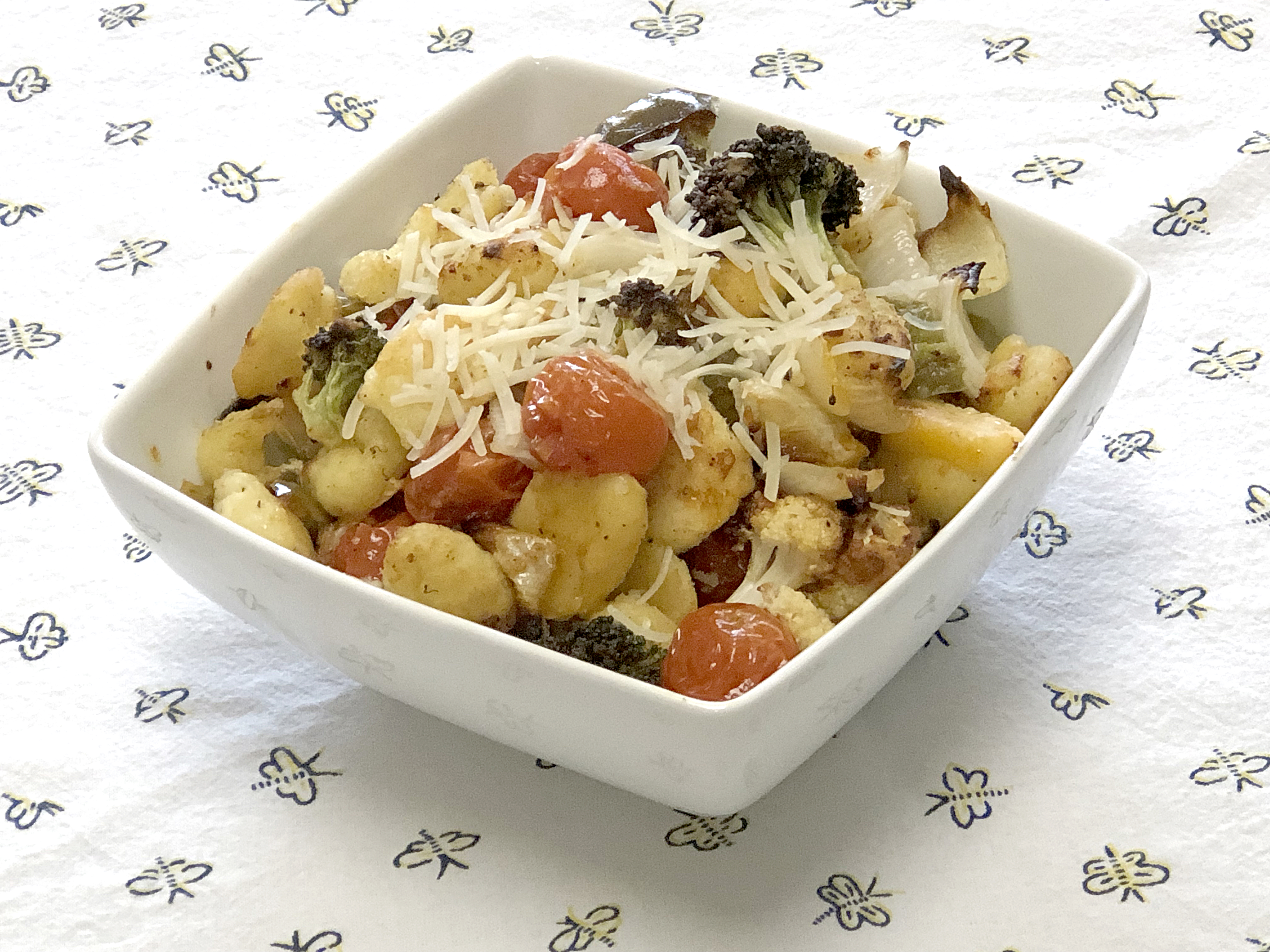 Our favorite thing about this recipe is that it's a main dish where the veggies take the spotlight! When roasted, these little pillows of dough develop a delicious chewy texture. Try this recipe for your next "Meatless Monday," and you won't miss the meat!
16 oz. potato gnocchi
1 onion, chopped into 1-in. pieces
1 bell pepper, seeded and chopped into 1-in. pieces
1 pint cherry tomatoes
1 cup broccoli florets
1 cup cauliflower florets
¼ cup olive oil
¼ cup grated parmesan cheese, plus more for garnish
1 tsp. kosher salt
¼ tsp. garlic powder
¼ tsp. black pepper
Preheat oven to 450 degrees. Line a baking sheet with foil or parchment paper. Add gnocchi, onion, bell pepper, tomatoes, broccoli and cauliflower to a large bowl. Add olive oil, cheese and seasonings to the bowl, and toss everything together. Spread mixture onto pan and roast for 10 minutes. Remove pan from oven, stir mixture, and place back in oven to continue roasting for 10 minutes more. Top with additional parmesan cheese after serving.
Makes 4-6 servings.
Nutrition info per serving (with 4 servings):
340 calories | 22g fat | 7g saturated fat | 30g carbohydrate | 4g fiber | 8g protein
---
FOIL POUCH FISH WITH POTATOES AND GREEN BEANS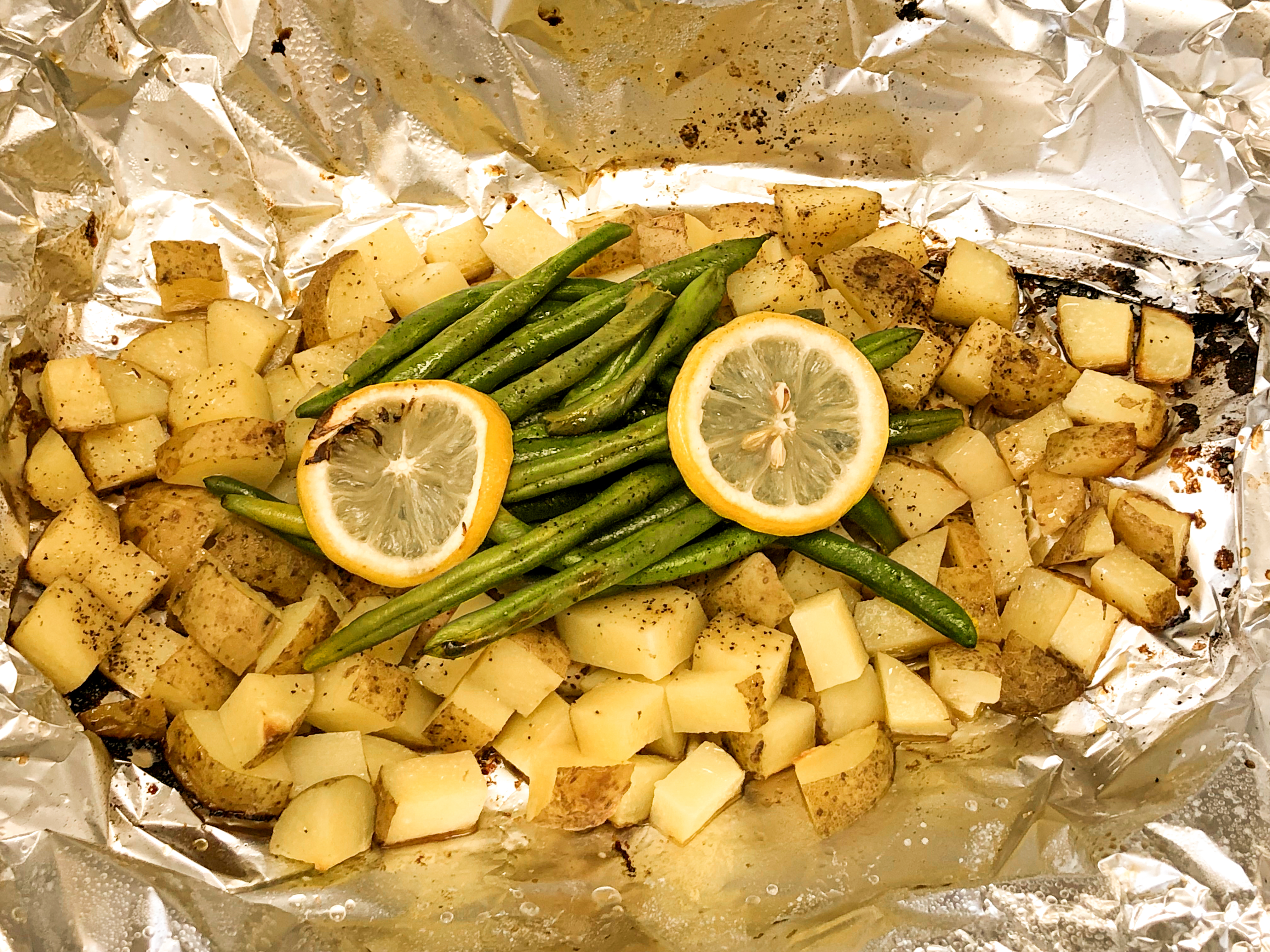 Our foil pouch recipe comes together extremely quickly. The moisture from the veggies helps prevent the fish from becoming overcooked while everything roasts together. Try switching out some of the potatoes for Brussels sprouts for a meal with even more variety.
2 to 4 sheets aluminum foil
2 white fish fillets such as red drum or tilapia (6 to 8 oz. each)
1.5 lb. golden potatoes, washed and diced into ½-in. pieces
12 oz. fresh green beans, washed and trimmed
½ cup olive oil, divided
1 lemon, sliced in half
Blackened seasoning, Kosher salt and black pepper to taste
Optional: 4 sprigs fresh dill and parsley
Preheat oven to 450 degrees. Lay out 2 large pieces aluminum foil. Rub center of foil with a bit of olive oil, or spray with nonstick cooking spray. Place 1 fish fillet into center of each foil piece. Rub each fillet with 1 Tsp. olive oil and sprinkle with blackened seasoning. Surround each fish fillet with half of potatoes, and top fillet with half of green beans. On top of each portion of green beans and potatoes, drizzle 3 Tbsp. olive oil, sprinkle kosher salt and black pepper, and squeeze juice from half the lemon. If the sheet of foil is large enough, fold in sides and seal up each piece to create a pouch. Alternatively, place another sheet of foil on top of each portion and seal sides together. Place packets on a baking sheet and bake for 30 minutes. Once out of oven, open a corner of each packet to vent, and allow to sit for 5 minutes before opening completely.
Makes 6 servings.
Nutrition info per serving:
19g fat | 3g saturated fat | 22g carbohydrate | 4g fiber | 16g protein