Give it a whirl: Three quick, nutrient-filled smoothies
For those of us constantly on the go (and let's be real, that's most of us these days), smoothies can be a great option for quick, easy and nutrient-filled nourishment.
In the metabolic research kitchen at LSU's Pennington Biomedical Research Center, we know that nutrition plays a key role in staying healthy. Uniquely, the research kitchen supports our scientists as they study the best ways to stay healthy, and prevent and treat chronic diseases such as diabetes and obesity.
Over the years, our researchers and dietitians have tested numerous diets, supplements and foods. Their work has helped build a body of research that often informs current guidelines on the kinds of nutrients we need throughout the day. Current federal information recommends we eat at least five servings of fruits and vegetables each day, which can sometimes be a challenge when leading a busy lifestyle. That's where smoothies can be a great option. Try keeping a few easy smoothie recipes handy. The next time you need nourishment on the go, a quick smoothie could be your secret weapon.
Our research kitchen team created three smoothie recipes that marry some of our favorite fruits: bananas that provide potassium, which supports heart health; mangoes, which are a good source of dietary fiber; pineapple, which is high in immune-boosting vitamin C, and more. These recipes are only a start—a blank canvas of sorts. Add color and nutrients by throwing in your favorite leafy greens for a punch of iron and calcium. Pop in some antioxidant-rich berries. Toss in some melon for potassium, magnesium and B vitamins.
Happy blending!
Mango Lassi
Originating in India, lassi is a traditional yogurt drink paired with spicy foods to cool and cleanse the palate. Lassi made with mango pulp has gradually made its way from India across Europe and is now enjoyed by many here in the U.S. Our healthful rendition of this recipe is a good source of dietary fiber and vitamin K and a great source of protein, vitamin A and vitamin C.
1 cup frozen mangos
1 cup Greek yogurt
1⁄2 cup skim milk (any milk can be used)
2 Tbsp. honey
Large pinch ginger powder
Pinch cardamom
Raspberry purée to taste (blend 1⁄2 cup fresh or frozen raspberries with 6 Tbsp. water)
Blend mangos, yogurt, milk, honey, ginger powder and cardamom until smooth. Pour raspberry purée to taste on bottom of cup before pouring lassi.
Chunky Monkey
The Chunky Monkey is a popular flavor profile in the U.S. used to describe a food or beverage containing peanut butter, chocolate and bananas. Our version is a great source of healthy fats, protein, calcium and antioxidants and can be enjoyed as a well-balanced breakfast.
2 Tbsp. peanut butter
1 banana
1 cup milk
1⁄4 Tbsp. dark cacao powder
1 Tbsp. honey
1⁄2 cup crushed ice
Crushed, roasted peanuts and cacao nibs for topping
Blend peanut butter, banana, milk, cacao powder, honey and crushed ice until smooth. Top with crushed roasted peanuts and cacao nibs to taste.
Caribbean Shake
The Caribbean islands are known for their warm weather and fresh fruity beverages. We created this slice of paradise using the popular tastes of the Caribbean while focusing on nutrition and hydration. This is a very good source of vitamins A, B complex, C, K and E and minerals calcium, iron and manganese.
1⁄2 Tbsp. lime juice
1 cup coconut milk
1 banana
1 cup fresh or frozen pineapple
1⁄2 cup spinach
1⁄2 cup crushed ice
Zest of 1 lime, divided
Pinch chopped fresh cilantro (optional)
Fresh slice of pineapple or lime for garnish (optional)
Blend lime juice, coconut milk, banana, pineapple, spinach, crushed ice, zest of 1⁄2 lime and cilantro until smooth. Garnish with a fresh slice of pineapple and remaining lime zest.
---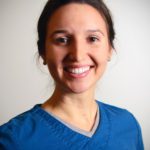 Kate Farbe is a registered dietitian in PBRC's metabolic research kitchen. Check out pbrc.edu/kitchen for these and other tasty recipes.