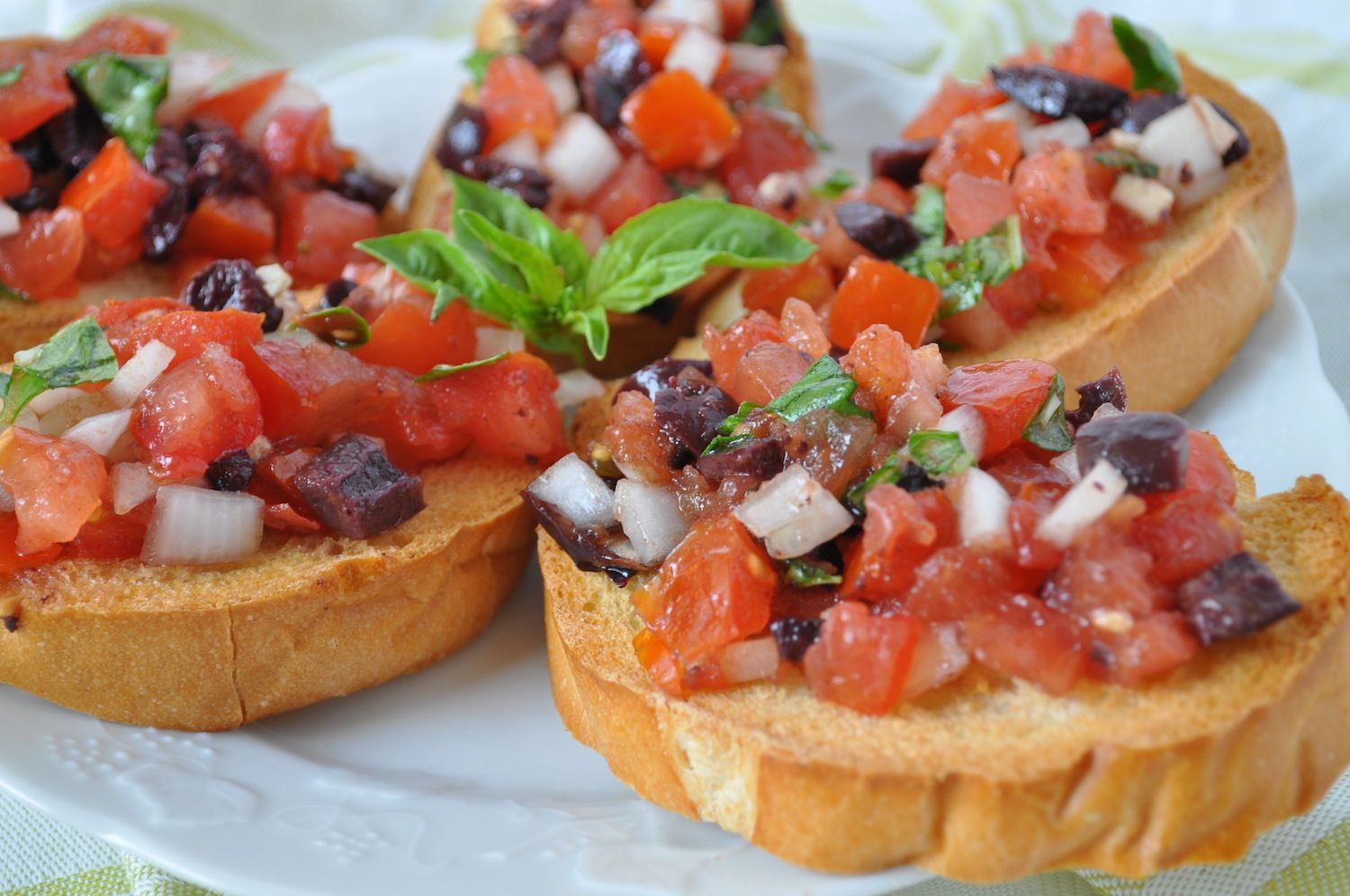 By Holly Clegg
Nothing says "summer" like garden-fresh veggies. Tomatoes, cucumbers and zucchini are delish. If you are lucky enough to have fresh produce growing in your own yard, I commend you! Generally, I visit produce stands bountiful with Louisiana seasonal selections. Grilling favorite meat is a summer standard, and the addition of sensational sides makes it a meal.
Every summer get-together needs an appetizer to appease hungry guests. In my family, the spread wouldn't be complete without Tomato Bruschetta. This pickup side just cannot be beat, especially with vine-ripened tomatoes and fresh basil. This Italian classic is a cinch to throw together: Just chop, toss and spoon it on crusty bread. The recipe is easily doubled or tripled, so it's perfect for feeding a crowd. Those bright red tomatoes get their color from lycopene, the powerhouse antioxidant proven to reduce the risk of certain cancers.
Asparagus with Zucchini Rings grabbed my attention at a dinner for 300 people, so I went home to make my own. They look gourmet but are actually very simple to create. This dish uses only three ingredients; and you can make it ahead, refrigerate, and roast when ready to serve. This vegetable pairing is not just pretty to look at and delicious to eat. Asparagus and zucchini pack a nutritious punch, as they are rich in fiber and antioxidants as well.
If you have never tried couscous, now is the time to get adventurous. Summertime Couscous is so easy to make and very versatile; it can serve as a replacement for rice. This recipe is full of fresh veggies—tomatoes, green pepper, cucumber, carrots, parsley, and mint—sprinkled with feta. Just one bite tastes like summer! Don't be intimidated by the need to chop and seed fresh veggies. I promise, mine are never perfect. An easy way to seed tomatoes is to slice off the top and gently squeeze. The seeds will pop right out. For cucumbers, just cut in half lengthwise and rake a spoon down the center to seed.
Garden-fresh eating is healthy eating. Pick up a few locally grown veggies today to create flavorful sides for your next warm-weather cook-out.
---
 Tomato Bruschetta
Nothing beats fresh tomatoes, fresh basil and Kalamata olives for this top-notch refreshing anitipasto.
1 loaf French bread
Garlic cloves or minced garlic
1 1⁄2 cups finely chopped tomatoes (about 1 1⁄2 pounds, seeded)
1⁄4 cup chopped Kalamata olives
1⁄4 cup chopped onion
2 tsp. olive oil
1 tsp. balsamic vinegar
5-6 fresh basil leaves chopped, or 1 tsp. dried basil leaves
Preheat oven 450°F. Slice French bread into thin slices and bake about 10 minutes or until crispy. Remove from oven and rub garlic clove across top. In a bowl, combine remaining ingredients. When ready to serve, top toasted bread slices with 2 tablespoons of mixture. Makes 16 servings.
Nutritional information per serving: 
Calories 97 | Calories from fat 16% | Fat 2g | Saturated fat 0g | Cholesterol 0mg Sodium 221mg | Carbohydrate 17g | Dietary fiber 1g | Sugars 1g | Protein 4g Dietary exchanges: 1 starch

Summertime Couscous
This attractive summer side dish highlights garden ingredients.
1 3⁄4 cups boiling water or broth
1 1⁄2 cups couscous, uncooked
1⁄2 cup chopped green onions
2 cups chopped tomatoes
1⁄2 cup chopped green pepper
1 1⁄2 cups finely chopped cucumber
1⁄2 cup finely chopped carrots
1⁄2 cup chopped fresh parsley (flat leaf preferred)
1⁄2 cup chopped fresh mint
2⁄3 cup crumbled reduced-fat feta cheese
1⁄3 cup lemon juice
3 Tbsp. olive oil
1 tsp. minced garlic
Dash cayenne pepper
Salt and pepper to taste
In medium pot, bring water to boil. Stir in couscous, cover, and remove from heat; let stand 5-7 minutes. Transfer to large bowl and fluff with fork. Add to this bowl the green onions, tomatoes, green peppers, cucumber, carrot, parsley, mint and feta. In small bowl, whisk together lemon juice, olive oil, garlic, cayenne, salt and pepper. Toss with salad. Refrigerate until ready to serve. Makes 8 servings.
Nutritional information per serving:
 Calories 215 | Calories from fat 28% Fat 7g | Saturated fat 2g | Cholesterol 4mg | Sodium 187mg | Carbohydrate 31g | Dietary fiber 3g | Sugars 3g | Protein 7g | Dietary exchanges: 1 1⁄2 starch, 1 vegetable, 1 fat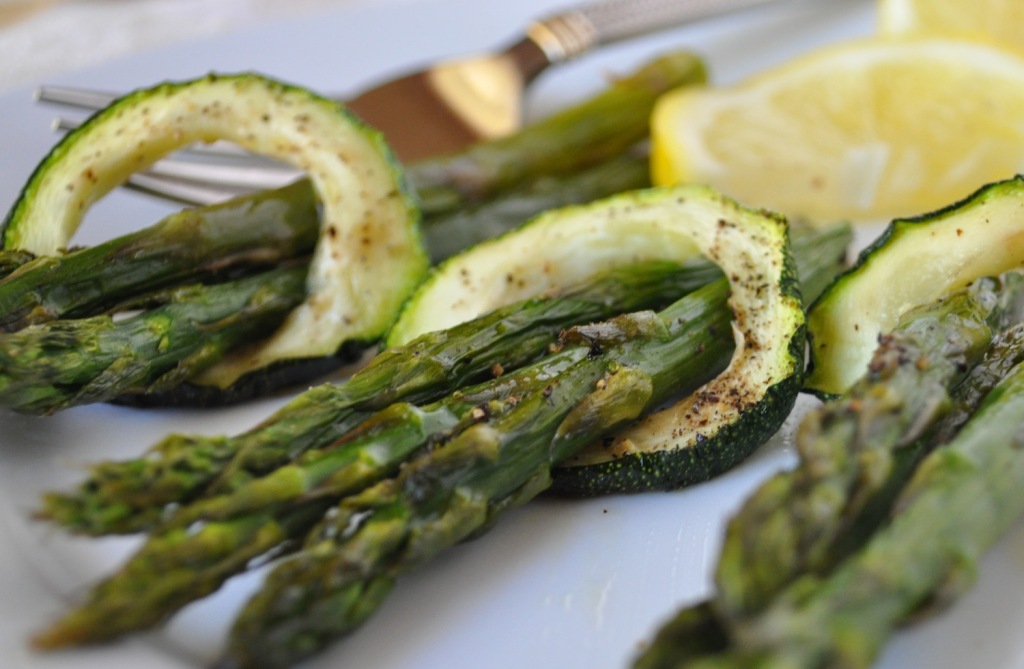 Asparagus with Zucchini Rings
Simple ingredients, eye-catching and unbelievably delicious, they add flair and flavor to any plate.
1 medium zucchini
1 lb. asparagus, stalks trimmed
1-2 Tbsp. olive oil
Salt and pepper to taste
Preheat oven 400°F. Coat foil-lined baking sheet with nonstick cooking spray. Cut zucchini into 1⁄4-inch diagonal slices and hollow out hole in center of each slice, leaving edge intact (like napkin ring). Place about 3 asparagus stalks, depending on size, through hole, and lay bundles on baking sheet. Drizzle with olive oil and season to taste. Roast 25-30 minutes or until tender and browned. Makes 10 bundles.
Nutritional information per serving:
 Calories 50 | Calories from fat 45% Fat 3g | Saturated fat 0g | Cholesterol 0mg | Sodium 4mg | Carbohydrate 5g Dietary fiber 2g | Sugars 3g | Protein 2g Dietary exchanges: 1 vegetable, 1⁄2 fat
| | |
| --- | --- |
| | Holly Clegg is the author of the best-selling trim&TERRIFIC cookbooks, Eating Well Through Cancer and Too Hot in the Kitchen: Secrets to Sizzle at Any Age. For more information, visit hollyclegg.com or thehealthycookingblog.com. |