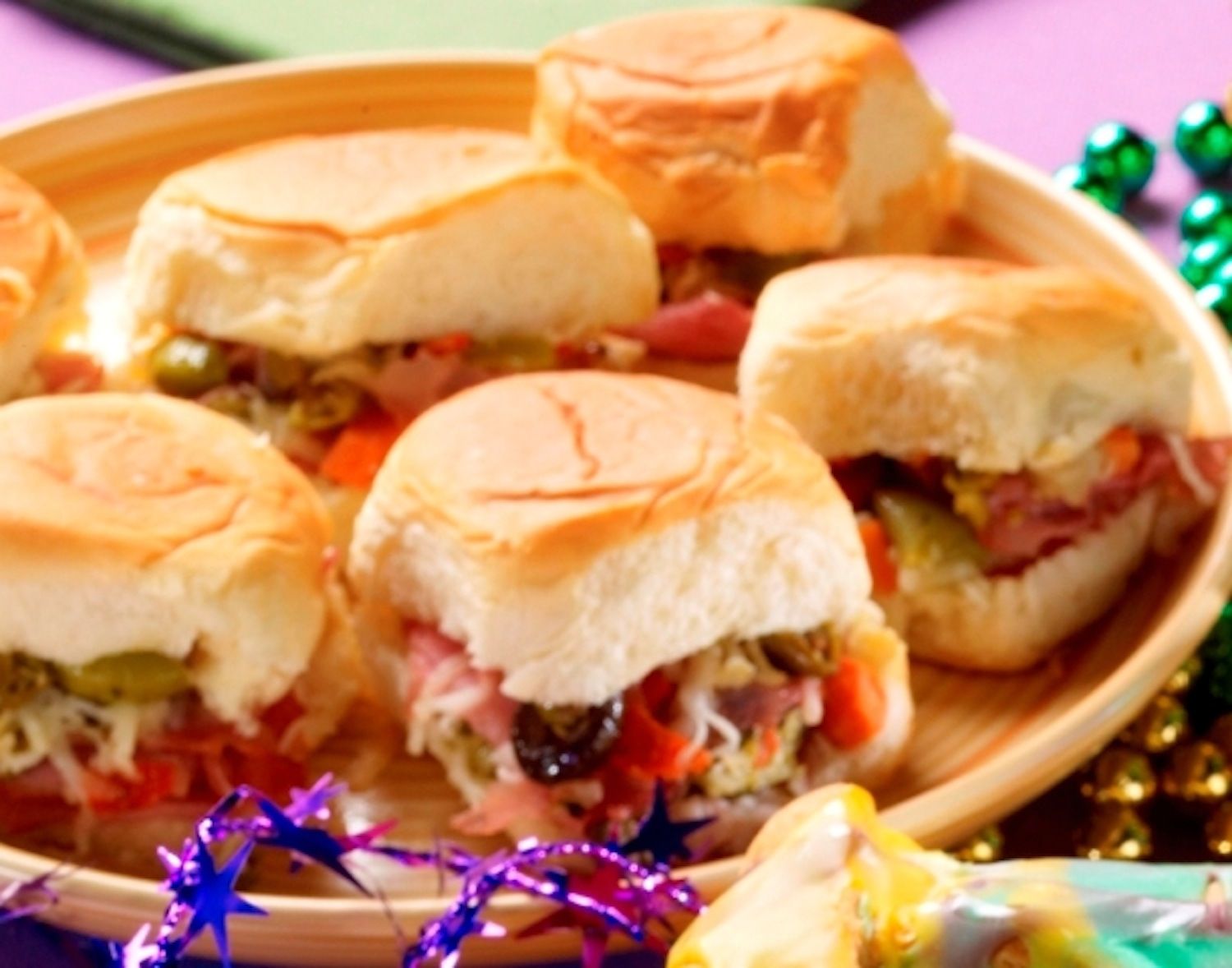 Festive food for February
By Holly Clegg
The carnival season of Mardi Gras is in full swing, and Valentine's Day is right around the corner. I have easy dishes to help you celebrate both. Whether you are spending a quiet evening in front of the fire or having a festive time at a parade, you can enjoy this chilly month with fabulous food.
Get into the spirit of Mardi Gras with a classic New Orleans meal rendered snackable in the Mini Muffalettas from my Gulf Coast Favorites cookbook. The origin of the muffaletta dates back to the late 1800s, when Italian immigrants arrived in New Orleans. Often credit is given to the famous Decatur Street Central Grocery for serving the first muffaletta—now prepared with a 10-inch Sicilian bread round topped with sesame seeds. A variety of bold Italian meats and cheeses including ham, salami, provolone and mozzarella traditionally fill the sandwich. And to make it all complete, muffalettas are dressed by a rich savory olive salad. I love to make my olive salad ahead of time and keep it in the freezer until ready to serve.
In addition to the carnival colors of purple, green and gold, February also has us seeing red and pink with Valentine's Day. Why not take heed of that old saying, "The way to your lover's heart is through his stomach," and increase your sweetheart's affection by heading straight to the kitchen? For a romantic evening, you may think the easiest way to celebrate is by making reservations. Not necessarily so! Dining at home is less expensive, better for you, can be more intimate and low stress with these simple yet alluring menu items.
Turn his favorite burger into a heart-healthy Snappy Salmon Burger from my Secrets to Cooking Confidence cookbook. This burger is full of flavor and nutritious, too! For dessert, try the easy and eye-catching Strawberry Heart Cake. You will use one round cake pan and one square one to create the heart shape. This luscious dessert can amuse the kids or provide the perfect ending to a romantic evening's meal.
Make this February a month to remember. As love is in the air, give yourself a stress-free Valentine's Day with your loved one. And the madness of Mardi Gras is about having a good time, so start the music, toss the beads, and enjoy the food that has gained popularity all over the country. Throw me a party, mister!
---
 Mini Muffalettas
All it takes is four easy ingredients and 15 minutes to create my version of this Italian-style sandwich, a Louisiana favorite. Make them ahead of time and refrigerate or freeze until ready to bake.
2 12-oz. packages party-size rolls (16-20 to package)
1/2 lb. thinly sliced lean ham
1 1/2 cups shredded Italian five-cheese blend
1 16-oz. jar chopped Italian olive salad, drained
Preheat oven to 375 degrees. Split rolls in half and lay on baking sheet. Divide ham, cheese, and olive salad onto each roll. Replace bread tops. Bake 10-15 minutes or until cheese is melted. Makes 32-40 small sandwiches.
Nutritional information per serving: Calories 107 | Calories from fat 48% | Fat 6g | Saturated fat 1g | Cholesterol 9mg | Sodium 260 mg | Carbohydrate 10g | Dietary fiber 1g | Sugars 1g | Protein 4g | Diabetic exchanges: 1/2 starch, 1 fat
Holly's hint: Any combination of cheeses may be used, such as mozzarella, provolone or Parmesan.

Strawberry Heart Cake
This awesome cake is too good to save for only Valentine's Day. Bake it year-round with 9-inch round pans.
1 18.25-oz. box white cake mix
1/4 cup canola oil
2 eggs
2 egg whites
1 3-oz. package strawberry gelatin
1/2 10-oz. package frozen sliced strawberries (1/2 cup); reserve extra for frosting
1/2 cup skim milk
Strawberry Frosting (recipe follows)
Strawberry Frosting
3 Tbsp. butter
1 16-oz. box confectioners' sugar
1/2 10-oz. package frozen sliced strawberries (1/2 cup)
In medium mixing bowl, mix together butter, confectioners' sugar and remaining strawberries until well blended.
Nutritional information per serving: Calories 336 | Protein 3g | Carbohydrate 60g | Fat 9g | Calories from fat 25% | Saturated fat 2g | Dietary fiber 1g | Cholesterol 27mg | Sodium 262mg | Diabetic exchanges: 4 other carbohydrate, 2 fat

Snappy Salmon Burgers
Fresh salmon makes all the difference with these sensationally delicious burgers full of snap and pop!
2 lbs. fresh salmon fillets, skinned
1/2 cup chopped green onions
1/2 tsp. minced garlic
2 Tbsp. lemon juice
1/2 tsp. dried dill weed leaves
Salt and pepper to taste
1 egg
1 egg white
2 cups crisp rice cereal
With knife or food processor, chop salmon into small pieces. In large bowl, mix together salmon, green onions, garlic, lemon juice and dill, and season to taste. In another bowl, whisk together egg and egg white, and add to salmon mixture. Using your hands, gently mix salmon mixture with cereal (mixture will be loose). Form mixture into burgers. Heat large nonstick skillet coated with nonstick cooking spray over medium heat. Cook 3 to 4 minutes on each side or until golden brown. Makes 8 burgers.
Nutritional information per serving: Calories 188 | Calories from fat 29% | Fat 6g | Saturated fat 1g | Cholesterol 76mg | Sodium 142mg | Carbohydrates 7g | Dietary fiber 0g | Total sugars 1g | Protein 25g | Dietary exchanges: 1/2 starch, 3 lean meat
Holly's hint: Salmon patties may be made ahead of time and refrigerated until ready to cook. If grilling, place salmon patties in freezer about 20-30 minutes and they will hold together better.
| | |
| --- | --- |
| | Holly Clegg is the author of the best-selling trim&TERRIFIC cookbooks, Eating Well Through Cancer and Too Hot in the Kitchen: Secrets to Sizzle at Any Age. For more information, visit hollyclegg.com or thehealthycookingblog.com. |