Dinner in the Field celebrates local chefs, farms and foods
---
The day after torrential rains tore through much of our city and surrounding areas, a cool breeze and sunny skies welcomed guests to the annual Dinner in the Field event at the James Grace House in Plaquemine. Stationed in a 3,000-square-foot barn original to the property, the farm-to-table fundraising event by Slow Food Baton Rouge aimed to increase the awareness and use of fresh, local food products in specialty cuisine created by area chefs.
"Working in agriculture, you understand the need to promote more local foods as an economic development driver, instead of the industrial agriculture system," says Carl Motsenbocker, who, along with his wife Cheryl Giles, first brought Slow Food to Baton Rouge in 2009. They both worked in LSU's agriculture department and are dedicated to spreading knowledge about state resources. "It's fresh, local, good food that's environmentally friendly. Dinner in the Field is a celebration of local foods, farmers and families. Plus we have local chefs."
Some, like Chef Ryan André, were seasoned veterans of Slow Food events. Formerly with City Pork and now the upcoming executive chef of Soji, a new Asian restaurant coming to Mid City, André has been involved in all six Dinner in the Field events and takes any opportunity he can to work with local farmers.
"I love to support local," André says. "I always have, ever since I became a chef in Baton Rouge. Local is where it's at, and in Louisiana, we have such great products to offer."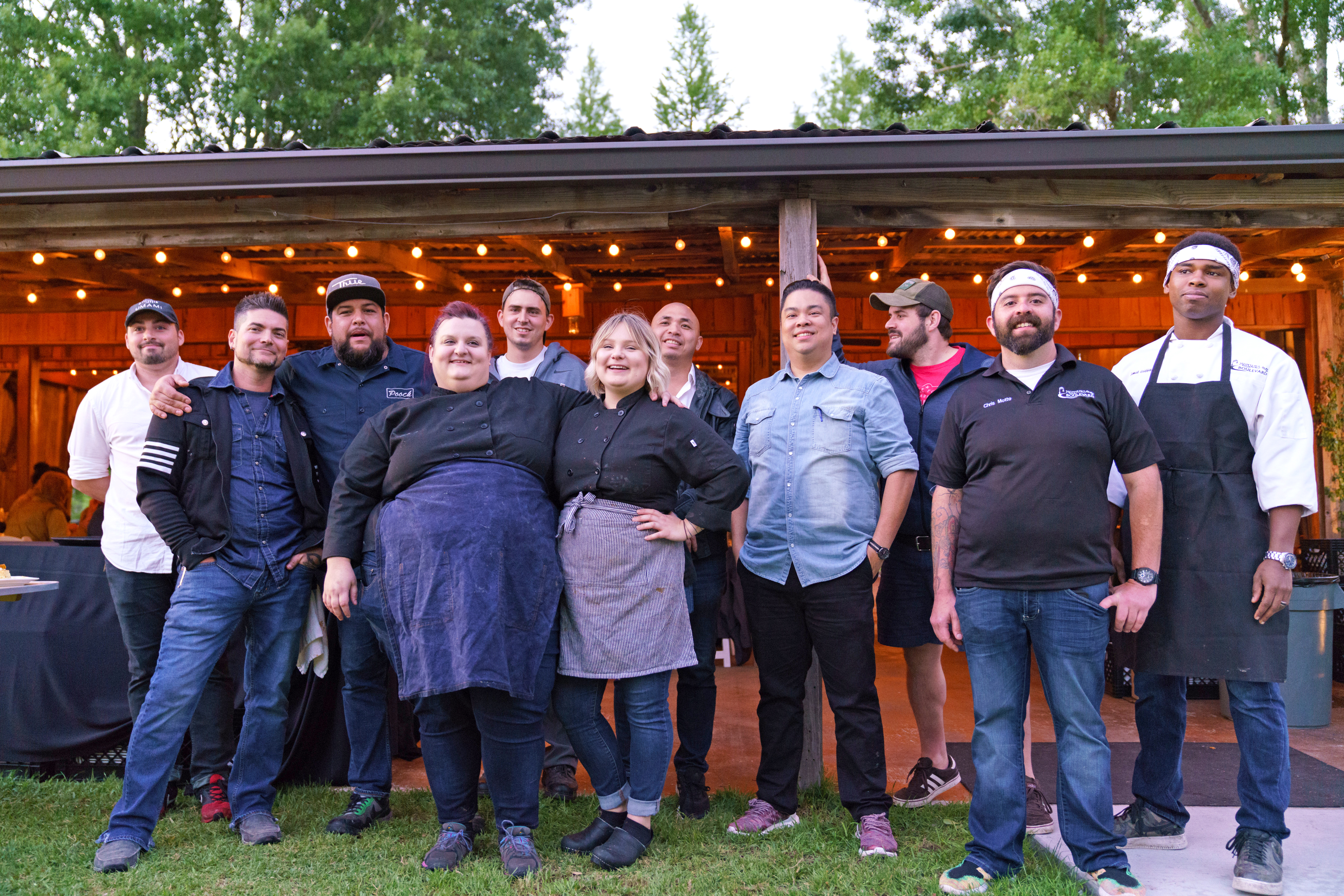 Others, like Umami's Cong Nguyen, were relatively new to the Slow Food scene, but appear just as passionate.
"Farmers are hard-working and very underappreciated," Nguyen says. "We are here as chefs to do anything we can do to help out."
Among the throngs of guests were several local farmers as well, excited to see their products presented to new consumers in unique ways. And while Slow Food BR typically embraces the traditional Creole cuisine, this year the chefs decided to switch it up to show off some of the different ways local foods can be prepared.
"We just knew that we wanted to do something different," says Sean Rivera, who serves on the Slow Food BR Board of Directors and as executive chef of Driftwood Cask and Barrel downtown. "So we figured why not use the Slow Food opportunity to make the event an Asian pop-up."
Asian-inspired appetizers included chargrilled oysters and boudin bites. A variety of wines accompanied the six-course meal, which offered a good balance of hot and cold, sweet and savory, and crunchy and smooth elements. Vietnamese coffee caramel cake rounded out the evening.
"We celebrate so much culture in Louisiana, but what we don't celebrate is the industries that bring us that culture," says Rivera. "The chef is always praised, not the farmer or the people doing the work or the people who are out there fishing and whatnot. Those are the backbone and the blood of what happens."
---
THE MENU:
Course 1 – Chef Ryan André: Vietnamese Bo Luc Luc, Banh Hoi, fresh mint, Fullness Farms baby romaine and pickled red onions
Course 2 – Chef Cong Nguyen: Tuna, salmon, seaweed and cucumber tossed with gochujang vinaigrette and topped with fried shallot, microcilantro and sesame
Course 3 – Chef Chris Motto: Laotian rice soup (Khao Piak Khao) served with crunchy garlic, smoked chili oil, microcilantro and watercress from Westdome Nursery garnished with a spiced chicken meatball
Course 4 – Chef Sydney Harkins: Vietnamese spiced mushroom Bolognese with egg noodles and porcini oil toasted panko
Course 5 – Chef Nick Poletti: Wild caught Anna Marie Gulf shrimp sautéed with locally grown peppers in a creamy lemongrass and coconut sauce, served with a sweet broken rice cake, topped with curried candied pecans
Course 6 – Chef Jamie Brown: Coconut citrus cardamom tres leches with Vietnamese coffee caramel, ginger whipped cream and toasted sesame pink peppercorn brittle
---
See more photos from Dinner in the Field 2018 in our gallery below: