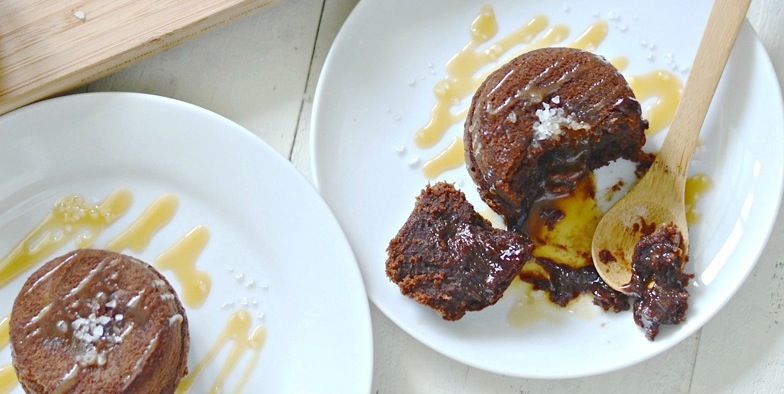 Dad's Day Indulgence: Salted Caramel Lava Cakes
Photos by Aimee Broussard
Each year when Father's Day rolls around, the struggle is often coming up with a dessert that is aesthetically pleasing, enjoyable for everyone, yet masculine enough not to be confused with any ordinary celebration. I once made a multi-layer strawberry shortcake that my father didn't want to cut into because he thought it was too pretty to eat! I vowed to never make that mistake again and instead to focus on treats that aren't quite so "pretty" but still shine in the deliciousness department.
These Salted Caramel Chocolate Lava Cakes are the perfect combination of a rich and decadent baked treat that is also, dare I say, manly. Prepared in individual ramekins, they are perfectly proportioned too, eliminating all concerns over cutting into a pretty cake.
The wonderful oozing of caramel is an unexpected twist on a traditional chocolate molten lava cake, and the sprinkling of sea salt plays nicely with all the chocolate going on inside the cake. It's the perfect sweet and salty treat … and it's even a bit messy, just like Dad. Enjoy!

Aimee Broussard is a food blogger and author of The Traveling Apron Cookbook. You can find her serving up weekly treats as well as behind the scenes of her next cookbook at aimeebroussard.com.
---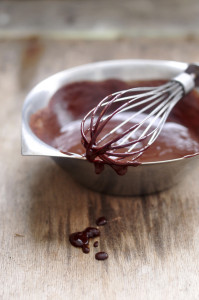 Salted Caramel Chocolate Lava Cakes
4 oz. semi-sweet baking chocolate squares
3⁄4 stick butter
1⁄3 cup sugar
2 large eggs
1⁄3 cup all-purpose flour
6 to 8 Hershey's Caramel Kisses
Caramel sauce (optional)
Sea salt
Heat oven to 425 degrees. Spray each of 4 ramekins with non-stick cooking spray and set aside. In a large microwave-safe bowl, break up chocolate squares and heat with butter for about 1 minute. Don't worry about chocolate being completely melted. Remove from microwave and whisk until butter and chocolate are combined. Add sugar and mix well. Whisk in eggs, then gently stir in flour until well-combined. Divide batter among ramekins. Gently push unwrapped Hershey's Kisses (2 per lava cake) into batter, covering them completely
Place ramekins on a cookie sheet, and bake for 10 to 14 minutes. Lava cakes are ready when they have a domed appearance, the center is a little moist, and the edges are dry and firm. Remove from oven, insert a knife along edges of cakes, and invert onto serving plates. Heat caramel sauce just until warm and drizzle over the top of each cake, if desired. Sprinkle sea salt on top.