Three healthy sweet potato recipes perfect for fall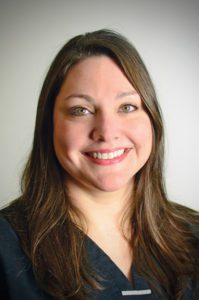 Which local agricultural staple has an annual festival in its honor, holds the title as Louisiana's official state vegetable and has grown to be one of Louisiana's largest crops? The sweet potato!
Last year's 9,000-acre sweet potato harvest in Louisiana was worth almost $53 million. The sweet potato is not only rich for our state's economy but also in nutritional value. It gets its bright orange color from beta-carotene, a precursor to vitamin A found in plants. Vitamin A is important for many functions in the body, including healthy eye function and development. The sweet potato is so rich in beta-carotene that one small potato provides more than 200%of our daily vitamin A needs.
We at LSU Pennington Biomedical Research Center's Metabolic Kitchen celebrate the cultural and nutritious value of sweet potatoes this month by creating healthy recipes that show how versatile they can be while adding sweetness to your Sunday brunch.
Our delicious Sweet Potato Waffles put a nutritious twist on traditional waffles. They get their flavor from the natural sweetness of sweet potatoes and honey instead of refined sugars. These waffles are a great source of protein, unsaturated fats and dietary fiber. This recipe works for both waffles and pancakes and tastes even better when topped with fresh fruit, chopped nuts, syrup or honey. If sweet flavors for brunch aren't your thing, try topping the waffles with fresh avocado slices, bacon and a fried egg for a savory meal.
Whether we're ready to admit it or not, the holidays are fast approaching! Our Sweet Potato Gingerbread Biscotti puts a holiday spin on the classic Italian cookie. We replaced the butter and oil with sweet potatoes, decreasing fat and calories and increasing dietary fiber. Add toasted pecans to the batter to give it extra crunch (and some heart-healthy unsaturated fat) and dried cranberries to provide a little sweetness and more dietary fiber. Topping them with a bit of dark chocolate drizzle is optional, but enjoying them with a cup of hot coffee or tea is a must!
Our last recipe demonstrates how well sweet potatoes fit into savory dishes. This Sweet Potato Breakfast Casserole is packed with colorful veggies and is hearty enough to serve as a main dish. Leave out the sausage for a vegetarian version that still provides plenty of protein and fat to keep you satisfied well into the afternoon. Save time by preparing the casserole the night before and storing it in the refrigerator overnight. In the morning, pop it into the oven to bake and use the time you saved to enjoy another cup of coffee (or a mimosa!).
---
SWEET POTATO WAFFLES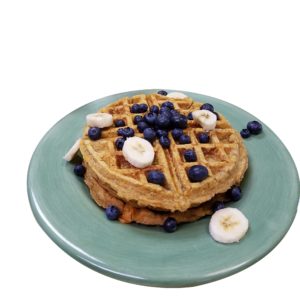 1 cup quick oats
1 cup whole wheat or all-purpose flour (or a mixture of both)
½ tsp. baking powder
1 tsp. cinnamon
¼ tsp. salt
2 eggs, whisked
1 cup mashed sweet potato, cooled
1 Tbsp. honey
¾ cup 1%-fat milk
½ cup lowfat plain yogurt
2 Tbsp. butter, melted and cooled
Optional toppings:
1 sliced banana, 1 cup fresh berries, ½ cup chopped pecans, maple syrup or syrup of choice
In a large bowl, mix oats, flour, baking powder, cinnamon and salt. Add eggs, sweet potato, honey, milk, yogurt and butter, and mix everything until thoroughly combined. Let batter stand for 10 minutes. If batter looks too thick, add milk in 1-Tbsp. increments to thin out. Pour batter into a preheated waffle iron and cook according to waffle iron directions. Batter can also be used to make pancakes.
Serve waffles or pancakes with sliced bananas, fresh berries, chopped nuts and/or syrup of choice.
Makes about 16 servings.
Nutrition info per serving:
Calories 140 | Protein 4g | Carbohydrates 19g
 | 

Fiber 2g | Fat 6g
---
SWEET POTATO GINGERBREAD BISCOTTI
1½ cups whole wheat flour
1 cup all-purpose flour
1 tsp. baking powder
1 tsp. ground cinnamon
1 tsp. ground ginger

1

⁄

8

tsp. ground cloves


1

⁄

8

tsp. black pepper
¼ tsp. salt
2 large eggs
½ cup granulated sugar
½ cup light brown sugar
½ cup mashed sweet potato, cooled
1 tsp. vanilla extract
¼ cup dark chocolate chips
Optional mix-ins:
¼ cup toasted & chopped pecans, ¼ cup chopped dried cranberries
Heat oven to 350 degrees, and line a baking sheet with parchment paper. In a large bowl, stir together flours, baking powder, spices and salt. In a medium bowl, whisk together eggs, sugars, sweet potato and vanilla extract. Add wet ingredients to dry mixture and stir to combine. Once combined, fold chocolate chips and any additional mix-ins into batter.
Divide dough in half, place both halves on a baking sheet, and form each into a log (about 10 inches long and 2 to 3 inches wide). Press logs down slightly until they are about ½ inch thick. Dough will be sticky. Bake until golden brown, about 25 minutes. Let logs cool slightly, then slice each into 13 slices. Place slices cut side down on baking sheet and return to oven for about 15 minutes, flipping slices halfway through. Once biscotti are cooled, melt dark chocolate and drizzle on top.
Makes 26 servings.
Nutrition info per serving:
Calories 85 | Protein 2g | Carbohydrates 18g
 | 

Fiber 1g | Fat 1g
---
SWEET POTATO BREAKFAST CASSEROLE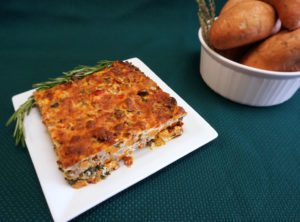 1 Tbsp. olive oil, divided
2 large sweet potatoes, washed and diced into ½-inch cubes
1 red onion, chopped
1 tsp. garlic, minced
1 red bell pepper, deseeded and diced
1 green bell pepper, deseeded and diced
2 cups mushrooms, sliced
2 cups spinach, raw and washed
1 lb. turkey sausage or sausage of choice, fully cooked and diced
1 cup sundried tomatoes, chopped
Salt, black pepper and Tony Chachere's Creole Seasoning to taste
1 Tbsp. fresh oregano or sage, chopped
10 large eggs

1

⁄

3

cup light coconut milk, canned
1 cup mozzarella cheese, shredded
Preheat oven to 375 degrees. Spray a large 9 x 13-inch baking dish with cooking spray. In a large nonstick skillet, heat ½ Tbsp. olive oil over medium-high heat; add diced sweet potatoes. Cook until tender and crispy on the outside, about 10 to 15 minutes. Set sweet potatoes aside in a large bowl to cool.
In the same skillet, add remaining ½ Tbsp. olive oil along with red onion and garlic. Sauté until onions are translucent. Add bell peppers and mushrooms to the skillet and cook until tender. Add spinach in the last few minutes of cooking. Place all cooked vegetables in large bowl with sweet potatoes; add cooked sausage, sundried tomatoes and seasonings, and mix thoroughly. Transfer vegetable mixture to the large baking dish and spread mixture evenly.
In another large bowl, whisk eggs with coconut milk. Pour egg mixture over vegetable mixture in baking dish, and top with mozzarella cheese.
Bake, uncovered, for about 40 to 45 minutes or until eggs are fully cooked and top is golden brown. Serve warm.
Makes 12 servings.
Nutrition info per serving:
Calories 244 | Protein 17.3g | Carbohydrates 18.6g | Fiber 3.1g | Fat 12.2g