---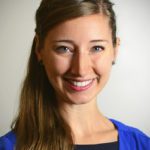 Fourth of July celebrations, family vacations and cookouts full of friends wouldn't be the same without those tasty treats that we identify as summer staples—hearty burgers, frosty desserts and crispy veggies straight off the grill.
Believe it or not, you don't have to pack on thousands of extra calories to get your summer food fix. Our team of registered dietitians in the metabolic kitchen at LSU's Pennington Biomedical Research Center whipped up some of our favorite dishes of the season that pack in an unbelievable amount of flavor while sneaking in nutritious vitamins and minerals. A bonus? All three recipes involve the grill, so fire up that propane or charcoal!
These Summer Chicken Burgers are a great way to sneak in a few vegetables that are higher in fiber, vitamins and antioxidants than a regular burger—while preserving that delicious grilled taste. Add even more flavor and nutrients to your burger by topping it with cheese (we suggest provolone, Swiss or goat cheese), greens (try fresh spinach, romaine or Bibb lettuce), tomato slices, sautéed mushrooms, avocado, sprouts or pesto mayonnaise. We've gotten rave reviews for this one and we think you will, too.
If you're looking for a great meatless dish to serve at your next cookout, try our Caprese Stuffed Tomatoes. Our recipe is delicious, nutritious and very easy to prepare. We all know how mouthwatering tomatoes from our garden or the local farmers market can be in the summer. These stuffed tomatoes provide three of the five food groups and are a great source of vitamin A, calcium and heart-healthy fats. If the grill is hot, wrap them in aluminum foil and grill for added flavor!
It may be hard to beat homemade ice cream in the summer, but we're giving it a run for its money with our Frozen Yogurt with Roasted Peaches recipe. It's sweet, refreshing and tangy, and it provides protein and calcium without the saturated fat of traditional ice cream. An excellent addition to this crisp yogurt treat is a side of scrumptious grilled Louisiana peaches. These peaches can be roasted in the oven or cooked on the grill in foil pouches. They're a delicious complement to the yogurt while providing a healthy dose of vitamin A, vitamin C and potassium.
Once you've sampled these three made-over classics, we suggest getting creative with the grill this summer. You'd be surprised how many fruits and vegetables enjoy new and enhanced flavors once they're grilled—and it's a great way to cook meat without all the added fat of frying. Happy grilling!
---
Summer Chicken Burgers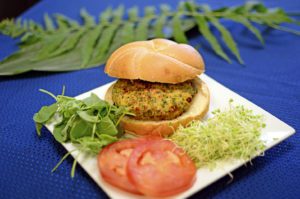 2 cloves garlic, minced

1

⁄2 cup shallots, chopped
1 whole egg, beaten


1

⁄2 Tbsp. Dijon or Creole mustard


1

⁄2 cup sun-dried tomatoes, chopped
1 cup kale, stems removed and chopped finely
1 Tbsp. olive oil
1 Tbsp. oregano, chopped (fresh herb is best!)
16 oz. ground chicken


1

⁄4 cup shredded Parmesan cheese
Salt, black pepper, Creole seasoning and lemon pepper to taste
Mix all ingredients in a large bowl until well blended. Form into patties and place on a pan lined with waxed paper; cover and let sit in refrigerator for 30 to 60 minutes. Remove from refrigerator and cook on hot grill, pan fry on stove, or bake in oven for 15 to 20 minutes at 350 to 400 degrees, until juice runs clear from center of burger when pierced with tip of knife. Patties can also be frozen and cooked later. Makes 4 (4-oz.) burgers.
Nutritional information per serving: Calories 257 | Fat 15g | Carbohydrates 10g | Fiber 2g | Protein 22g
---
Caprese Stuffed Tomatoes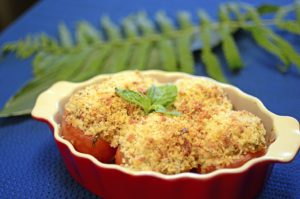 5 whole medium-size tomatoes
1 cup cooked quinoa
4 oz. fresh mozzarella, cut into
1

⁄2-inch cubes
6 basil leaves, thinly sliced
2 Tbsp. olive oil, divided


1

⁄2 Tbsp. balsamic vinegar


1

⁄4 plus

1

⁄8 tsp. garlic powder, divided
Salt and pepper to taste


1

⁄2 cup panko breadcrumbs


1

⁄4 cup shredded mozzarella cheese
Preheat oven to 350 degrees. Slice tops off of tomatoes. Using a spoon, scoop out inner parts of each tomato (leaving just a shell). Dice scooped portion and set aside in a bowl. Place hollowed tomatoes into a small oven-safe dish. To the bowl with diced tomatoes, add quinoa, fresh mozzarella cubes, basil, 1 Tbsp. olive oil, vinegar and
1

⁄4 tsp. garlic powder. Gently mix together until all ingredients are well distributed, and season with salt and pepper to taste. Spoon filling into each tomato.
For topping, combine panko breadcrumbs, mozzarella cheese, 1 Tbsp. olive oil,
1

⁄8 tsp. garlic powder,

1

⁄4 tsp. salt, and pepper to taste. Spoon mixture onto tops of stuffed tomatoes. Bake for 15 to 20 minutes or until tops are browned and tomatoes are soft. Alternatively, cook tomatoes on a preheated grill until tops are browned and tomatoes are soft. Makes 5 servings.
Nutritional information per serving: Calories 230 | Fat 13g | Carbohydrates 20g | Fiber 3g | Protein 10g
---
Frozen Yogurt with Roasted Peaches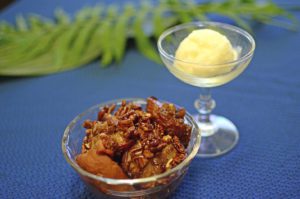 2 peaches
2 (1-foot-long) pieces foil

1

⁄4 cup brown sugar


1

⁄2 cup pecan halves, chopped
Pinch each of cinnamon, nutmeg and salt
1 qt. fat-free plain yogurt


1

⁄2 cup low-fat buttermilk


1

⁄2 cup honey
Preheat oven to 350 degrees. Cut peaches in half and remove pits. Place 2 peach halves onto each piece of foil. To each peach half, add 1 Tbsp. brown sugar and 2 Tbsp. chopped pecans, and sprinkle with cinnamon, nutmeg and salt. Fold up foil and seal ends to create pouches. Place pouches onto a sheet pan and roast in oven for 1 hour, or cook pouches on a preheated grill until softened.
In the meantime, mix yogurt, buttermilk, and honey until combined and as smooth as possible (it's okay if there are a few small lumps). Add mixture to an ice cream maker and churn for 20 minutes. Transfer yogurt into a shallow dish (an 8-inch square casserole dish works well), and freeze until peaches are finished roasting.
Once peaches are finished roasting, place
1

⁄2 cup yogurt into a bowl with

1

⁄2 of a peach half. Makes 8 servings.
Nutritional information per serving: Calories 200 | Fat 5g | Carbohydrates 37g | Fiber 1g | Protein 8g