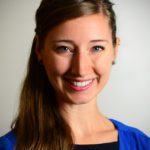 Raise your hand if you're up for trading the decadent and savory flavors of the holidays for health food that tastes like cardboard! No hands raised? We didn't think so.
It turns out that you can have it all—nutritious treats and delicious flavors. Like many people in south Louisiana, we in the Pennington Biomedical Research Center metabolic research kitchen are foodies who revel in creating the right blend of flavors for every dish. Given our work with scientists who study the best ways to stay healthy and prevent chronic diseases such as obesity and diabetes, finding healthy alternatives to traditional calorie-laden dishes is typically part of our job description, and always on our minds.
We all want to enjoy those traditional staples—turkey, dressing, desserts—so it's not always realistic to try to deny yourself the holiday foods you enjoy. What we suggest is taking a few recipes at a time and seeing where you can work in extra fruits and veggies—it doesn't have to be the whole meal, but that helps you add back in some essential vitamins and minerals.
Our team developed, tested and perfected three made-over versions of holiday classics that will spice up your holiday table. Our Green Apple Dressing is lower in calories and saturated fat than many traditional dressing recipes. It's also higher in vitamins like A and C from carrots and green apples, but it is still savory and filling.
Shhh! No one will know our Fruit and Nut Dark Chocolate Bark is a lower-sugar alternative to nut brittles! It's also much quicker and easier to prepare. The dark chocolate and ginger boast antioxidants, while the walnuts offer heart-healthy polyunsaturated fats.
Our Sparkling Berry Mocktail is perfect for sipping with appetizers and serving at holiday parties. Traditional cocktails can pile on extra calories from alcohol and sugars, but this fizzy beverage boasts antioxidants and vitamin C, along with fewer calories.
---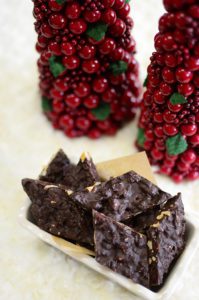 Fruit and Nut Dark Chocolate Bark
1 to 1
1

⁄2 cups walnut halves
9 oz. dark chocolate


1

⁄2 cup dried cranberries
2 Tbsp. crystallized ginger, chopped into small pieces
Preheat oven to 350 degrees. Spread walnut halves on a baking sheet in an even layer, and toast for 5 minutes. When cool, chop into small pieces.
Place chocolate in a microwave-safe bowl and microwave in 30-second increments, stirring after each increment, until melted. Fold walnuts, cranberries, and ginger into chocolate, and spread out on a baking sheet lined with parchment paper.
When completely cooled, cut or break bark into pieces. Makes 20 servings.
Nutritional info per serving:
Calories 135 | Protein 2.1g
 | 

Carbohydrates 11.1g | Fiber 1.6g

 | 

Fat 10g (1.5g monounsaturated, 4.3g polyunsaturated)
---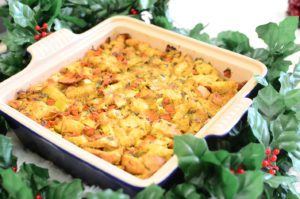 Green Apple Dressing
14 oz. French or sourdough bread (preferably stale), cut into small (about

1

⁄2-inch) pieces
3 Tbsp. salted butter
1 large onion, chopped
1 tsp. salt


1

⁄4 tsp. ground thyme


1

⁄2 tsp. ground sage
2 Tbsp. dried parsley


1

⁄4 tsp. pepper
2 to 3 celery stalks, chopped
3 medium carrots, peeled and chopped
2 cloves garlic, minced
2 Granny Smith apples, cored and chopped
2

1

⁄2 cups broth, divided
2 eggs
Preheat oven to 350 degrees.  If bread is fresh and soft, spread in a single layer on a baking sheet and bake until crispy, about 8 minutes.
Meanwhile, in a skillet over medium heat, melt butter and sauté onions and seasonings for 3 minutes or until they begin to soften. Add celery, carrots and garlic, and sauté for 3 more minutes. Add apples and sauté for 5 more minutes.
Combine bread and apple mixture in a large bowl. In a separate bowl, whisk together 1
1

⁄2 cups broth and eggs. Add egg mixture to bowl with rest of ingredients, and gently mix until combined.
Spoon mixture into greased 3-qt. baking dish (deeper dishes work better) and press down.  Slowly pour remaining 1 cup broth over the top. Bake for 30 minutes or until no liquid remains and top of dressing is browned. Makes 10 servings.
Nutritional info per serving:
Calories 200 | Protein 6.9g
 | 

Carbohydrates 30.3g | Fiber 2.7g | Fat 5.4g
---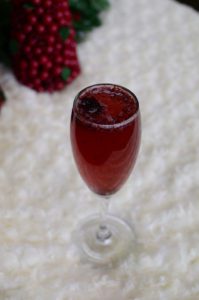 Sparkling Berry Mocktail
16 ounces frozen blackberries, thawed

1

⁄4 cup sugar
White cranberry juice
Sparkling water
Mint for garnish
To prepare blackberry purée, add thawed blackberries and sugar to a food processor, and process until smooth. If desired, strain mixture to remove seeds.
Add 1
1

⁄2 oz. blackberry purée to each glass, followed by 2 oz. cranberry juice and 2 to 3 oz. sparkling water. Garnish with mint sprig.
Nutritional info per serving:
Calories 71 | Protein 0.4g | Carbohydrates 17.8g | Fiber 1.8g | Fat 0.2g