---
All Louisianans know that one of the best things about our local culture is the food. We are well known for rich dishes like bisques and étouffées, and tasty sweets like king cakes and beignets. But plenty of Louisiana classics featuring local foods are healthy and on the lighter side.
Mirliton is a squash-like vegetable that grows here in Louisiana during the winter. This Mirliton Casserole is inspired by the mirliton casserole my grandfather prepares for every gathering at his house in St. James, Louisiana. It's a dish we all look forward to eating on the holidays and has even caused fights between families over who gets the leftovers!
In addition to the mirliton, which provides fiber and vitamin C, this dish contains shrimp, which are a great local source of lean protein. Mirliton, also called chayote, can be found at your local grocery store or produce stand during the fall and winter months. Extra points are rewarded for using the mirliton growing in your garden, as my grandfather has done for years.
While this dish takes multiple steps during the cooking and planning process, the finished product is worth it. To save time, the mirliton mixture can be cooked ahead of time and refrigerated for up to a week, or placed in a freezer bag and frozen for up to six months.
Corn Maque Choux is a classic Louisiana side dish that highlights hearty local veggies like corn and bell peppers, both available nearly year round. This colorful version gets its flavor from onion, bell pepper, celery and garlic and is vegetarian and vegan-friendly. At close to 100 calories per serving, it's a great option for a low-calorie side dish, and also provides key vitamins and minerals.
Our last recipe highlights another Louisiana staple and a vital ingredient in Louisiana cuisine—rice! Our Brown and Wild Rice Pilaf uses a blend of whole grains. Unlike white rice, brown rice still has its bran and germ, which means it contains more essential nutrients like fiber, protein, B vitamins and minerals, magnesium, selenium, zinc and phytonutrients.
This recipe also contains pecans, another local staple. Pecans add a rich flavor to many dishes ranging from sweet to savory. They are one of the most antioxidant-rich nuts and contain fiber, mono- and polyunsaturated fats, 19 vitamins and minerals, phosphorus, magnesium and zinc. Almost 90% of the fat in pecans is unsaturated, which means they are great for your heart.
Try jazzing up our basic pilaf recipe with mushrooms (chop them and add to the pan with the garlic and shallots), or with raisins or dried cranberries (add with the broth if you prefer them softer, or stir them in at the end if you prefer a chewier texture).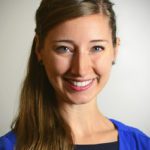 Renee Puyau is a registered dietitian and the director of the Metabolic Kitchen at LSU's Pennington Biomedical Research Center. Find more recipes at pbrc.edu/kitchen.
---
MIRLITON CASSEROLE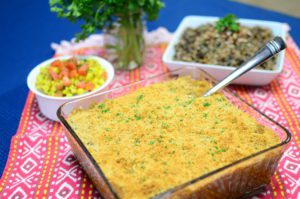 Mirliton casserole is an old Louisiana favorite made with homegrown ingredients. Our version is low in saturated fat and packed with veggies for a nutritious side dish! Add a whole grain like brown rice to the plate and this dish can also serve as an entrée.
Ingredients:
2 Tbsp. olive oil
1 lb. raw shrimp, chopped
2 bunches green onions, chopped
1 medium yellow onion, chopped
1 medium green bell pepper, chopped
2 ribs celery
1 tsp. salt
1 tsp. garlic powder
1 Tbsp. minced garlic
¼ cup flour
32 oz. chicken broth
8 mirliton, peeled, seed removed, and cubed
¼ cup shredded parmesan cheese
½ cup whole wheat bread crumbs
Seasoning salt to taste
Add olive oil to a large stockpot over medium-high heat. Add shrimp to pot and sauté until cooked through, about 5 minutes. Remove shrimp from pot and set aside. Add green and yellow onions, bell pepper, celery, salt and garlic powder to pot, and sauté until soft and translucent, about 10 minutes. Add garlic, and sauté for 5 minutes more. Sprinkle flour over veggies, and stir until flour is no longer visible. Add broth and deglaze pan. Add mirliton and shrimp; cover and simmer for 2 hours. Uncover and use a potato masher or the back of a spoon to mash mirliton. Simmer for an additional hour, uncovered. (At this point, mirliton mixture can be refrigerated for up to 1 week or frozen for up to 6 months.)
Preheat oven to 350 degrees. Pour mirliton into a greased casserole dish. Sprinkle top with parmesan cheese, then with bread crumbs, then with seasoning salt. Bake for 45 minutes or until top is brown and sides are bubbling.
Makes 10 servings.
Nutritional information per serving: 160 calories, 13g protein, 16g carbohydrate, 4g fiber, 5g fat, 1g saturated fat, 5g sugars
---
CORN MAQUE CHOUX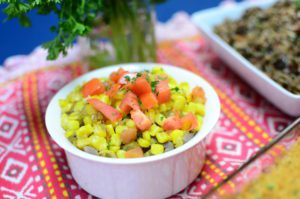 Corn Maque Choux is a delicious side dish that takes advantage of the great fresh produce available to us in south Louisiana. This meatless version is great as a side dish and fits in anywhere from the holiday table to the picnic table.
Ingredients:
4 ears fresh corn, husks and silks removed
2 Tbsp. olive oil
½ cup chopped onion
2 ribs celery, chopped
1 small green or red bell pepper, chopped
3 cloves garlic, minced
1 tomato, chopped
¼ cup green onions, sliced
Salt and black pepper to taste
Use a sharp knife to cut corn kernels off cobs. Set a medium-size pot over medium heat, and add olive oil to pot. When oil is hot, add onion, celery and bell pepper, and cook for about 5 minutes or until tender and translucent. Add garlic and cook for an additional minute. Add corn, tomato and green onions. Stir everything together and cook for about 5 minutes, uncovered. Cover pot, reduce heat to low and cook for 45 minutes. Add salt and pepper to taste.
Makes 6 servings.
Nutritional information per serving: 110 calories, 5g fat, 15g carbohydrate, 3g fiber, 3g protein
---
BROWN AND WILD RICE PILAF
Did you know that wild rice is actually the seed of a long-grain marsh grass? Although it's not local to Louisiana, it is native to North America. Wild rice is high in protein, fiber, vitamin C and E, B vitamins, phosphorus, magnesium and zinc. Naturally gluten-free, it is low in fat and sodium and high in antioxidants. Wild rice has a nutty flavor and is delicious alone or mixed with other whole grains, like the brown rice in this recipe.
Ingredients:
1 tbsp. unsalted butter
1 tbsp. olive oil
2 to 3 cloves garlic, minced
3 Tbsp. shallots, minced
2 cups wild and brown rice blend (such as Lundberg Wild Blend Rice)
3 cups low-sodium chicken broth
¼ tsp. salt

1

⁄

8

tsp. ground black pepper
¼ cup fresh parsley, chopped
½ cup toasted pecans, chopped
Zest of ½ lemon (optional)
Heat butter and olive oil over medium heat in a heavy-bottom pot with a tight-fitting lid. Add garlic and shallots, and stir until they begin to brown, about 2 minutes. Add wild and brown rice blend, and stir until all grains are coated in oil mixture and lightly toasted, about 1 to 2 minutes. Add broth, salt and black pepper, and bring up to a boil. Cover and reduce heat to very low for 50 minutes; do not lift lid during this time.
After 50 minutes, remove rice from heat and lift lid. Test rice on top for doneness. If rice is still wet and not yet cooked, re-cover and cook in 10-minute increments until almost done with just a little bit of crunch left (al dente). When rice reaches the al dente point, stir and season to taste with more salt and pepper if needed. Replace lid and allow to rest for 10 minutes to finish cooking until all broth is absorbed. Add parsley and toasted pecans (and lemon zest, if desired), and fluff with a fork.
Makes 10 (2⁄3-cup) servings.
Nutritional information per serving: 240 calories, 9g fat, 35g carbohydrate, 4g fiber, 6g protein