Cuisine: Fresh and refreshing
---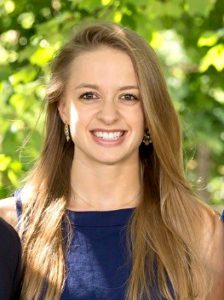 Haley Schlechter is a registered dietitian at Pennington Biomedical Research Center. Find more healthy recipes at pbrc.edu/kitchen.[/caption]
As I spend my first summer living in Baton Rouge, and the South in general, there are two things I plan on doing: enjoying all of the local food, and doing everything I can to not melt. They told me it would be hot, but this summer heat is something else and has me looking for both fresh and refreshing meals. Luckily there are plenty of excellent summer dishes that fit the criteria!
The heat brought peach season, so what better way to celebrate than cooling off with a fresh peach treat! Our refreshing and nutritious Peach Dreamsicle Smoothie is sure to help break the morning humidity or midday swelter. This recipe is low in fat and provides a full serving of Vitamin C- and potassium-rich fruits, as well as a serving of calcium-rich dairy. Whether you are looking for a refreshing snack or a healthy breakfast to run out the door with, this nutritious treat is sure to be a go-to recipe this summer.
Our second recipe, Grilled Pear and Halloumi Salad with Lemon-Basil Vinaigrette, follows suit with its fresh ingredients. New to Halloumi? If you have ever ordered a grilled cheese plate as an appetizer at a Greek or Lebanese restaurant, it was likely a version of Halloumi cheese. This white, firm cheese is generally a mixture between goat's and sheep's milk, but sometimes contains cow's milk as well. Halloumi is a brine-preserved cheese, making it a slightly saltier cheese with a higher melting point, which makes it perfect for grilling. Although higher in fat, this recipe provides more heart-healthy mono- and polyunsaturated fats than saturated fats. Overall, this recipe is low in calories, high in antioxidants and a good source of fiber, and it includes a serving of protein-rich dairy.
Nothing says summer quite like grilling up some kababs, and our protein-rich Teriyaki Salmon and Pineapple Skewers are the perfect balance of sweet and savory. Let the whole family assemble their own skewers with their desired combination of salmon, pineapple and pepper, so even the picky eater can enjoy! Salmon is a great source of omega-3 fatty acid, which promotes brain and heart health, and pineapples are a good source of manganese, which supports bone health and energy production. Serve this twist on a summer favorite with brown rice and a green salad for a nutritious summer meal.
Since moving to the South, I have thoroughly enjoyed having the ability to buy locally grown produce just about year-round, and I have noticed how much fresher everything tastes. Choosing recipes with seasonal and locally grown ingredients can greatly improve not only the tastiness, but the nutrition quality of any dish. When you choose to buy local, in-season produce, you support the local economy and some of the true heroes of our time, farmers! Other benefits of buying ingredients locally include avoiding paying higher premiums for foods that have to travel farther and reducing energy costs associated with transporting foods from hundreds of miles away.
Also, buying local ingredients just makes you feel more rooted (pun intended) in your community, which is an awesome feeling.
Keep in mind that local produce may not always look the prettiest, but nothing beats a slice of freshly cut local watermelon on a hot summer day by the pool!
---
PEACH DREAMSICLE SMOOTHIES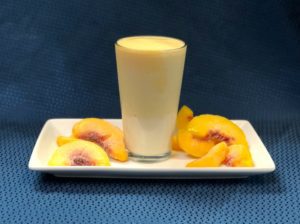 Add yogurt and vanilla extract to a blender and pulse to combine. Add
1

⁄

3

cup of yogurt mixture from blender to the bottom of each of 2 (12-oz.) glasses. Add banana and orange juice to blender with remaining yogurt mixture and blend until puréed. Add ½ cup of mixture to each glass. Gently shake glasses from side to side to distribute mixture in an even layer. Add peaches to ingredients remaining in blender, and blend until puréed. Use a spoon to gently add purée to each glass, dividing remaining mixture evenly between the glasses.
Makes 2 servings.
Ingredients:
2 cups vanilla low-fat yogurt
1 tsp. vanilla extract
1 large banana
½ cup orange juice
1 cup fresh or frozen sliced peaches
Nutrition info per serving:
Calories 315 | Fat 2g | Carbohydrates 68g | Dietary fiber 3g | Protein 9g
---
GRILLED PEAR AND HALLOUMI SALAD WITH LEMON BASIL VINAIGRETTE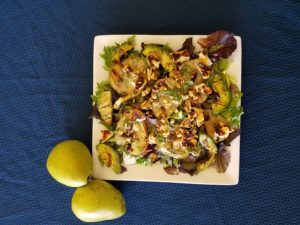 Ingredients:
2 garlic cloves, minced
1 Tbsp. lemon juice
Zest of ½ lemon
2 tsp. maple syrup
1 Tbsp. apple cider vinegar
1 Tbsp. rice vinegar
¼ cup olive oil
1 cup basil leaves, finely chopped
Salt and pepper to taste
3 pears, sliced lengthways top to bottom
7 oz. Halloumi cheese, sliced into 6 pieces
2 avocados, sliced
5 cups mixed salad greens
½ cup walnuts, toasted
Optional add-ins:
Crumbled cooked bacon
Quinoa
Asparagus
Green beans
For dressing, in a small bowl or a blender, mix together first 7 ingredients; if using a bowl, whisk olive oil in once all other ingredients are mixed together. Add chopped basil last, and stir to mix thoroughly. Set aside or refrigerate until ready to assemble salad.
For salad, preheat a grill pan or grill over high heat. Brush pear and Halloumi slices with a little olive oil on either side. Depending on size of grill pan or grill, you may need to work in batches.
 

Cook each slice for about 3 to 4 minutes per side. The Halloumi tastes best with a nice crispy char on the outside. You can also grill the avocado slices or serve without grilling.
Place mixed greens on a large serving plate. Arrange pears, cheese and avocado slices around top of mixed greens. Halloumi can be cut into smaller pieces if desired. Drizzle dressing on top of salad and sprinkle walnuts on top, along with any other desired add-ins.
Makes 5 servings.
Nutrition info per serving:
Calories 370 | Fat 32g | Saturated fat 9.8g | Carbohydrates 12.1g | Dietary fiber 3.9g | Total sugars 0.9g | Protein 11.8g
---
TERIYAKI SALMON & PINEAPPLE SKEWERS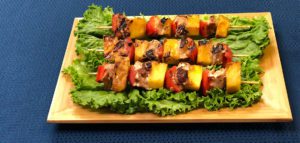 Ingredients:
4 wood skewers
1 lb. raw salmon, skin removed
1 red bell pepper
2 cups fresh pineapple cubes
4 Tbsp. low-sodium soy sauce
1 Tbsp. sesame oil
2 Tbsp. brown sugar
½ Tbsp. cornstarch
1 tsp. garlic powder
½ tsp. ground ginger
Salt and pepper to taste
If using an outdoor grill, soak skewers in water for 30 minutes (this is not necessary if using a grill pan). Cut salmon and bell pepper into 1-in. pieces. You will need at least 16 pieces each of salmon, bell pepper and pineapple. Thread salmon, bell pepper and pineapple onto each skewer until 4 of each have been threaded. Place skewers into a baking dish or pan.
Combine soy sauce, sesame oil, brown sugar, cornstarch, garlic powder and ground ginger, and whisk together until thoroughly combined. Spoon or brush mixture onto skewers, making sure all sides of skewers are coated. Sprinkle skewers with salt and pepper and place in refrigerator for 15 to 30 minutes to marinate.
Preheat grill or grill pan to medium heat. Once hot, spray grill or pan surface with oil. Place skewers on grill and cook for about 2 minutes per side, 8 to 10 minutes total. Remove skewers from grill and place on a clean plate to serve.
Makes 4 servings.
Nutrition info per serving:
Calories 310 | Fat 16g | Saturated fat 3g | Polyunsaturated fat 6g
  | 

Monounsaturated fat 6g | Carbohydrates 17g | Dietary fiber 2g | Protein 25g