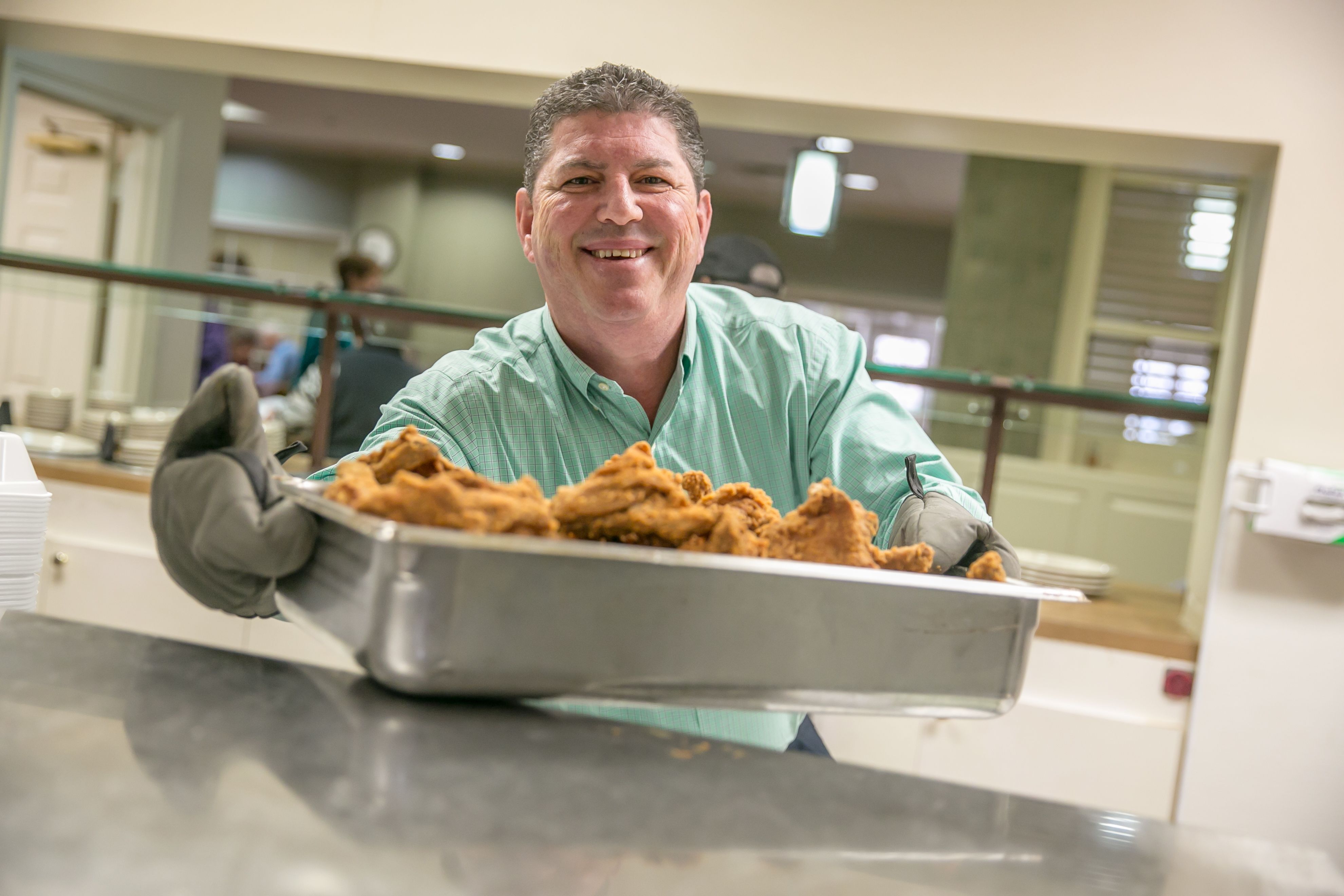 Crowd pleaser: St. James Place serves up delectable dishes that cater to residents' needs
---
What's for dinner? An easy question with an easy answer … unless you're Mike Michelle, director of dining services at St. James Place retirement community, where on an average day, about 750 meals are served.
For Michelle and his staff of 60, including four chefs, 16 cooks, an experienced baker, 20 wait staff, and other support workers, there are many challenges that come with the responsibility of dishing out dinner to so many diners. "The main difference between our restaurants and public restaurants is the challenge of offering enough variety, because we serve the same people every day," he says. "A public restaurant doesn't have to regroup and prep nearly as much as we do daily, since our menu changes daily."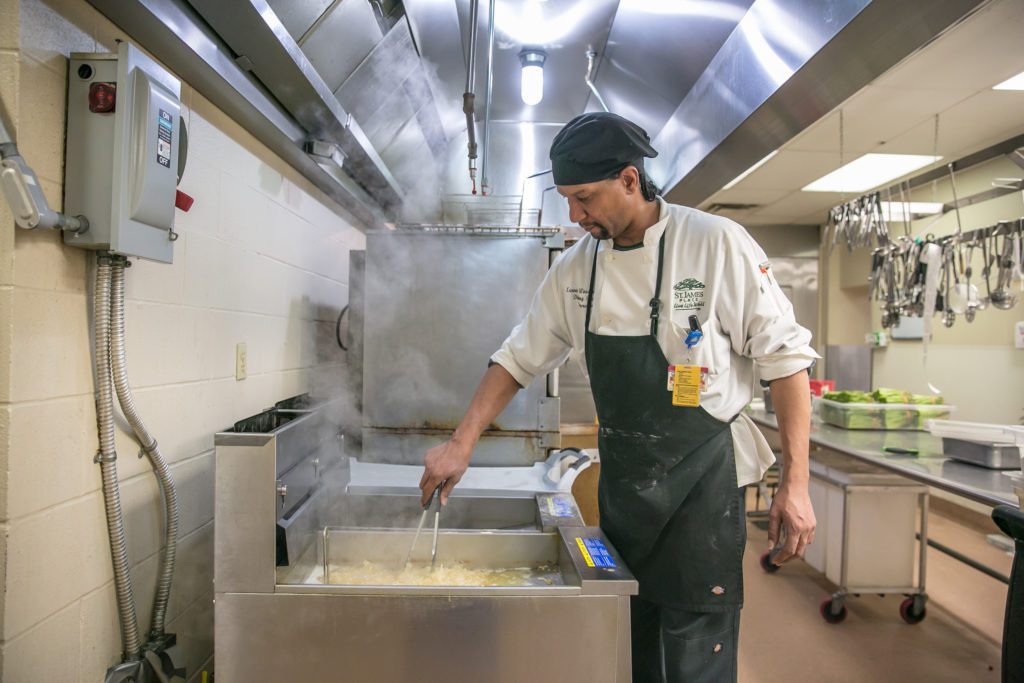 The St. James Place menus are on a seven-week cycle that was developed in order to provide a wide range of options that allow diners to make choices based on their personal dietary health requirements. "The menus are updated continuously by our executive chef and sous chef manager and approved by a registered dietitian based on feedback from the residents and current trends," Michelle says. "We strive to always provide healthy options such as low-sodium items."
Even with a myriad of health-conscious choices, Michelle notes that St. James Place's signature fried chicken—served only on Mondays—is its most popular dish. "We serve about 400 pounds of it each time," he says. "Many say we offer the best fried chicken in the entire Baton Rouge area."
About 200 pounds of vegetables and side dishes are served from the St. James Place kitchens each day, "and that's excluding salads," says Michelle.
St. James Place offers different levels of care that demand special attention as far as menu choices are concerned. Meals are available buffet style or with table service in two on-campus restaurants. Sunday brunch is a popular eating and visiting experience for families and friends. "It is one of our most popular meals of the week with a variety of choices including waffles or omelets," says Michelle. "But our monthly Dine to the Nines dinner is the most popular. Our residents invite guests to join them to dine on a selection of menu items such as lobster bisque, carved beef tenderloin, and shrimp scampi."
To avoid monotony, Michelle and his staff plan special meals on a monthly basis, such as a casual backyard barbecue, a recent Mardi Gras party, a Mexican fiesta, a crawfish boil or other meals revolving around themes suggested by residents.
It requires a person with a calm and accepting personality to handle a job such as the one that faces Michelle on a daily basis. The food business is challenging in general, and the older generation admittedly can be a tough audience.
"Not a day goes by that I don't get conflicting comments about how our offerings are prepared," he says. "For example, someone will tell me that we never cook our broccoli long enough, and another person 20 minutes later will tell me we overcook our broccoli every time we serve it. This even happens with the fried chicken. I am told it's the best ever, and then someone comes along and says it's always too salty or not salty enough, overcooked or undercooked. We try our best to adjust as much as possible, but it's just a part of my job to grin and bear it!"
Michelle faces each situation as it arises and clings to his sense of humor. "Basically, when I receive a compliment about the way something is prepared, all I have to do is wait a few minutes and I will get a complaint about it," he says with a smile. "Hopefully, the last comment of the day is one of the positive ones."
---
ST. JAMES PLACE FRIED CHICKEN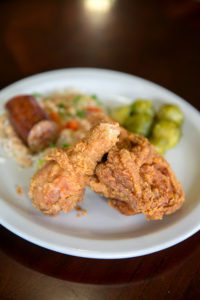 5 lbs. of 8 pc.-cut chicken
1 tsp. paprika
3 Tbsp. low-sodium seasoned salt, divided
4 cups all-purpose flour
1 tsp. granulated garlic
1 Tbsp. salt or to taste
1¼ Tbsp. onion powder
½ Tbsp. black pepper or to taste
10 cups canola oil (enough to cover chicken by at least ½ in.)
Season chicken with paprika and 2 Tbsp. seasoned salt. Marinate chicken in refrigerator for at least 6 hours.
Combine remaining dry ingredients and mix well in a large bowl. Dredge chicken in mixture. Fry in oil at 350 degrees for 15 minutes or until internal temperature reaches 165 degrees as determined with thermometer.
Makes 10 servings.