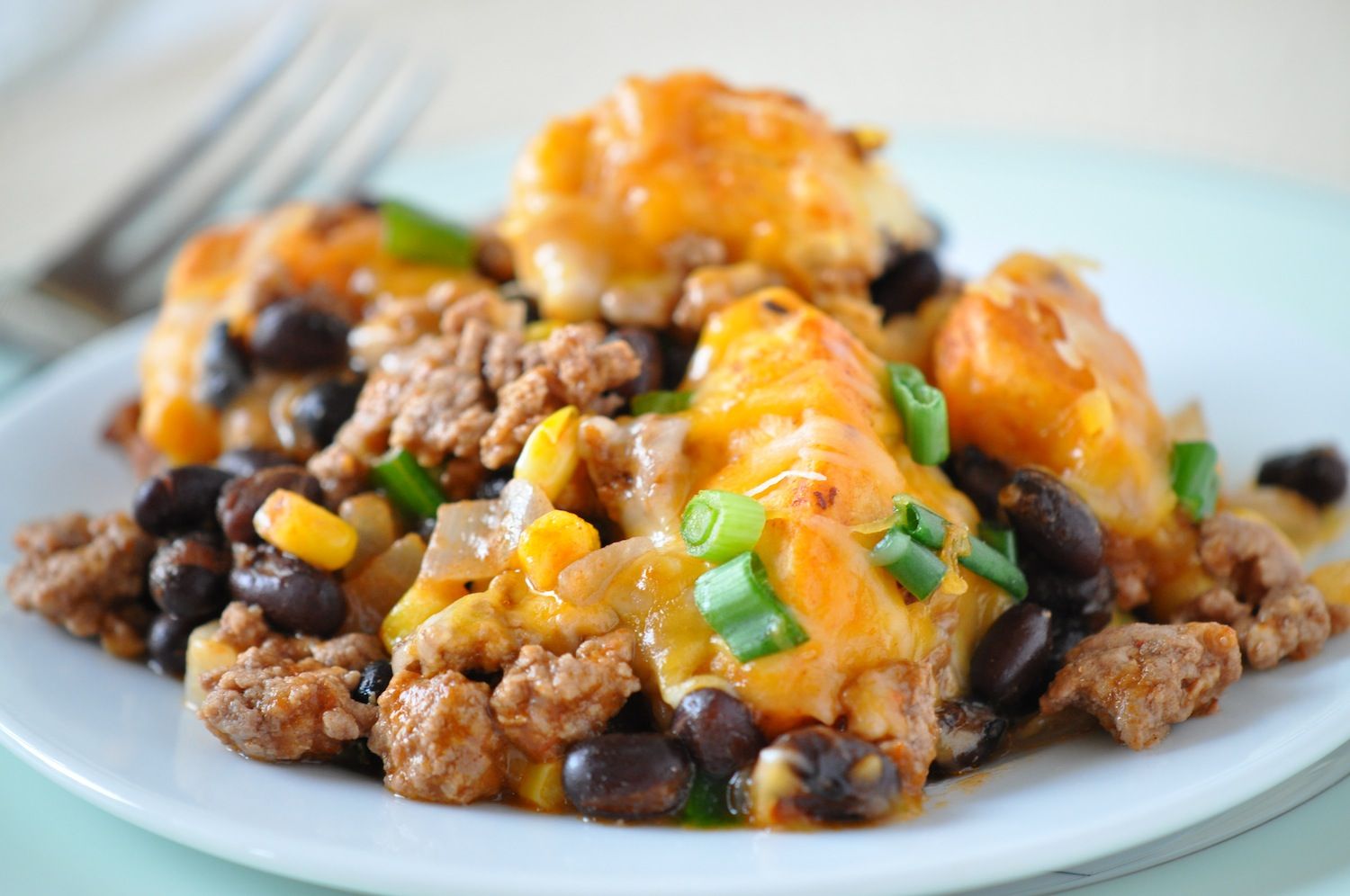 By Holly Clegg
October is a busy month, with kids back in school, daytime meetings, evening activities, and more—you need a meal on the table, and you need it fast! My rush-hour recipes are the perfect solution to your daily dinner challenge. Kids and adults alike will enjoy digging into these delicious meals, and you will love how quick and easy they are to prepare—letting nothing stand in your way of providing healthy home-cooked meals!
Convenience in cooking is key, and that is what my new book, Kitchen 101: Secrets to Cooking Confidence, is all about. This book helps guide you through the kitchen with easy recipes as well as basic tools and tips you need to cook nutritious meals.
From the "Fix It Fast" chapter, my family has found a new all-time favorite dish: Simple Southwestern Casserole. It's a flavorful blend of Tex-Mex ingredients combined with mouthwatering biscuits. In addition, I love the ease and convenience of rotisserie chicken, so I added a whole "Rapid Rotisserie Chicken" chapter. Pulled Chicken is a great meal and it can be whipped up in minutes and served in a variety of ways. It is delicious as an entrée or on buns or sliders. And you can double the recipe as needed for a savory football tailgate pickup.
Kitchen 101: Secrets to Cooking Confidence would not have been complete without the "Crock Pot Convenience" chapter. The ultimate in convenience cooking, slow cookers enable you to prep on your own schedule and have a meal ready at the end of the day. In this chapter, Meaty Lasagna is a sure winner. Yes, you can make lasagna in a slow cooker! This lighter version of the traditional family-favorite does not compromise on taste. I love to freeze it in individual portions for my own TV dinner—just pull out at a moment's notice.
You can't do much about mile-long to-do lists and hectic schedules. But with these quick and easy recipes, you can have a flavorful meal on the table in no time!
---
 Simple Southwestern Casserole
Zesty, meaty casserole with a biscuit surprise: You will be amazed at how extraordinarily tasty this simple combination is.
1 lb. ground sirloin
1 onion, chopped
1 10-oz. can enchilada sauce
1 8-oz. can tomato sauce
1 15-oz. can black beans, rinsed and drained
1 cup frozen corn
1 8-10 count can reduced-fat refrigerator biscuits
1 cup shredded reduced-fat Mexican blend cheese
1⁄3 cup chopped green onions
Preheat oven to 350 degrees. Coat 13x9x2-inch baking dish with nonstick cooking spray. In large nonstick skillet, cook meat and onion until meat is done; drain excess fat. Add enchilada sauce, tomato sauce, black beans and corn, stirring well. Cut biscuits into fourths and stir into meat mixture. Transfer to prepared pan. Bake 25 minutes. Remove from oven, sprinkle with cheese and green onions. Return to oven and bake 5-7 minutes more or until cheese is melted. Makes nine 1-cup servings.
Holly's hint: Substitute salsa if you have trouble finding enchilada sauce.
Nutritional information per serving: Calories 257 | Calories from fat 28% | Fat 8g | Saturated fat 4g | Cholesterol 36mg Sodium 815mg | Carbohydrates 27g | Dietary fiber 4g | Total sugars 5g | Protein 20g | Dietary exchanges: 1˝ starch, 1 vegetable, 2 lean meat

Pulled Chicken
1 cup chopped onion
˝ tsp. minced garlic
2 Tbsp. cider vinegar
˝ cup chili sauce
1 Tbsp. light brown sugar
1 tsp. cocoa
˝ tsp. ground cumin
˝ cup fat-free chicken broth
2 cups shredded skinless rotisserie chicken breast
In nonstick pot coated with nonstick cooking spray, sauté onion until tender. Add remaining ingredients except chicken, stirring. Cook about 7 minutes. Add chicken and continue cooking until well heated. Makes four 3/4-cup servings.
Holly's hint: If you want to substitute ketchup for chili sauce, add 1 teaspoon chili powder to ketchup.
Serving option: Serve in sandwiches and sliders or as an entrée.
Nutritional information per serving: Calories 170 | Calories from fat 14% | Fat 3g | Saturated fat 1g | Cholesterol 63mg Sodium 821mg Carbohydrates 16g | Dietary fiber 1g | Total sugars 11g Protein 21g Dietary exchanges: 1 other carbohydrate, 3 lean meat

Crock Pot Meaty Lasagna
1Ľ lbs. ground sirloin
1 onion, chopped
1 tsp. minced garlic
1 tsp. dried basil leaves
1 tsp. dried oregano leaves
1 24-oz. jar marinara sauce
˝ cup water
1 15-oz. container part-skim ricotta cheese
1 egg white
1˝ cups shredded part-skim mozzarella cheese
1 8-oz. box lasagna noodles
In large nonstick skillet, cook meat, onion, and garlic until meat is done. Drain any excess liquid. Add basil, oregano, marinara sauce and water. In small bowl, mix ricotta, egg white and mozzarella. In a slow cooker, from 3.5 quarts to 6 quarts, insert plastic liner if desired, and layer 1 cup meat sauce, half the noodles (broken in pieces to make fit), and half the cheese mixture. Cover with 2 cups meat sauce, remaining noodles, and cheese mixture. Top with remaining meat sauce. Cook on high 4 hours or until pasta is done. Don't overcook. Makes 8-10 servings.
Nutritional information per serving: Calories 301 | Calories from fat 30% | Fat 10g | Saturated fat 5g | Cholesterol 59mg | Sodium 486mg | Carbohydrates 29g Dietary fiber 2g | Total sugars 10g | Protein 25g Dietary exchanges: 1˝ starch, 1 vegetable, 3˝ lean meat
| | |
| --- | --- |
| | Holly Clegg is the author of the best-selling trim&TERRIFIC cookbooks, Eating Well Through Cancer and Too Hot in the Kitchen: Secrets to Sizzle at Any Age. For more information, visit hollyclegg.com or thehealthycookingblog.com. |