Shake it up with creative cocktails made for the holiday season and beyond
---
They say no great party ever started with a salad. And while we won't disparage our leafy greens in that way, we agree that a good celebration requires a little something extra. 
This year, we're hoping to make our get-togethers extra special with a little cocktail magic courtesy of Katherine Roberts of @cocktails_with_katherine. She whipped up four drinks made for getting the party started—or keeping it going—all holiday season long. Read on for the recipes.
---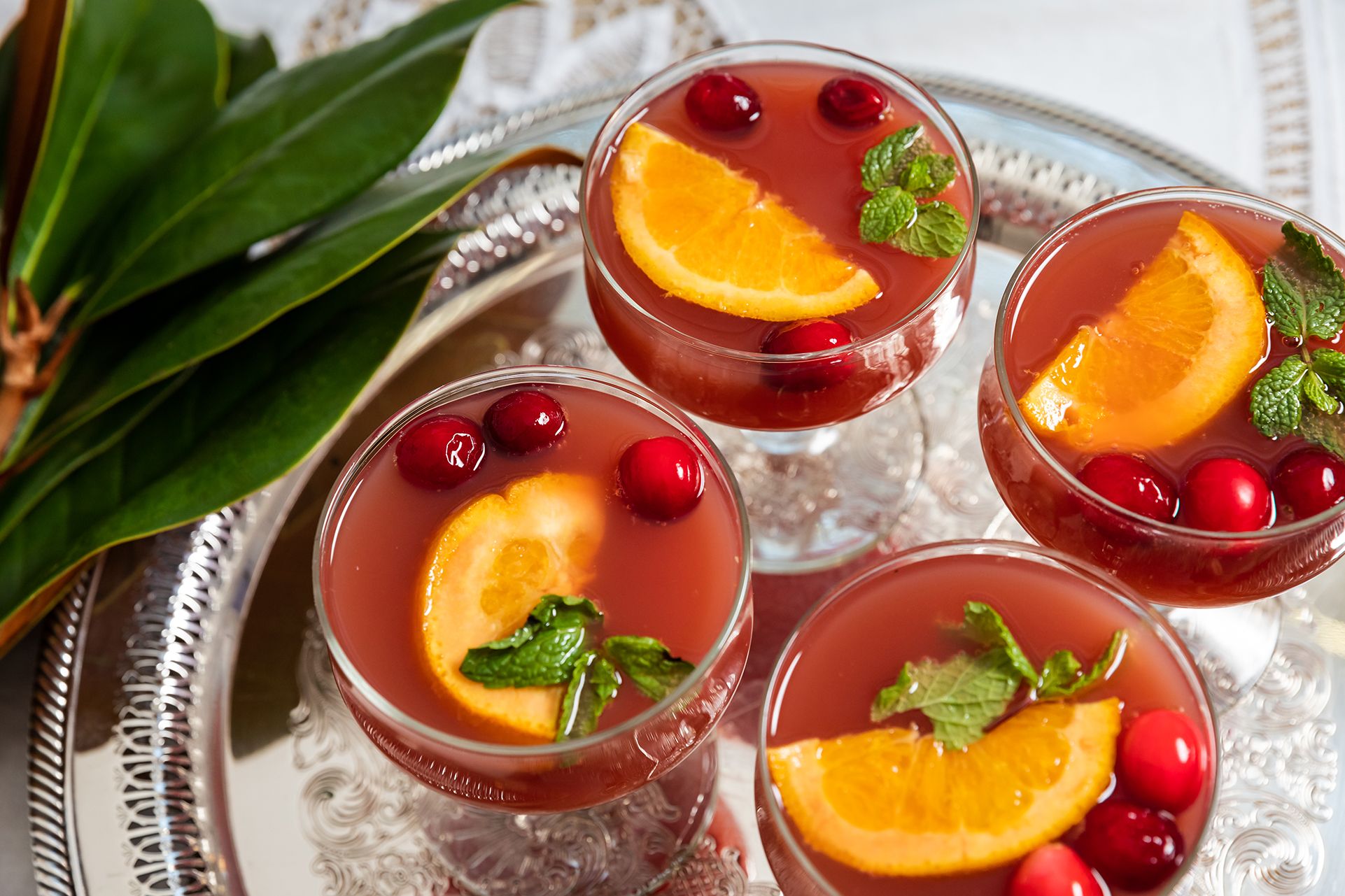 Giving Thanks Punch
"I created this last year for a Friendsgiving dinner, and it was a hit," Roberts says. "It is boozy, but you won't taste the booze, so watch out. This punch will sneak up on you. I suggest planning to make at least three rounds of this one, if not more. It's best if you chill everything the night before and freeze your orange slices and cranberries to avoid using ice."
Ingredients:
25 oz. (1 bottle) sparkling wine
25 oz. orange juice
25 oz. cranberry juice
12 oz. Grand Marnier liqueur
12 oz. cranberry liqueur
1 orange, sliced
1 cup cranberries
Several mint leaves
Chill all ingredients several hours beforehand or overnight if possible. Combine all ingredients in a large punch bowl. Stir gently and enjoy.
---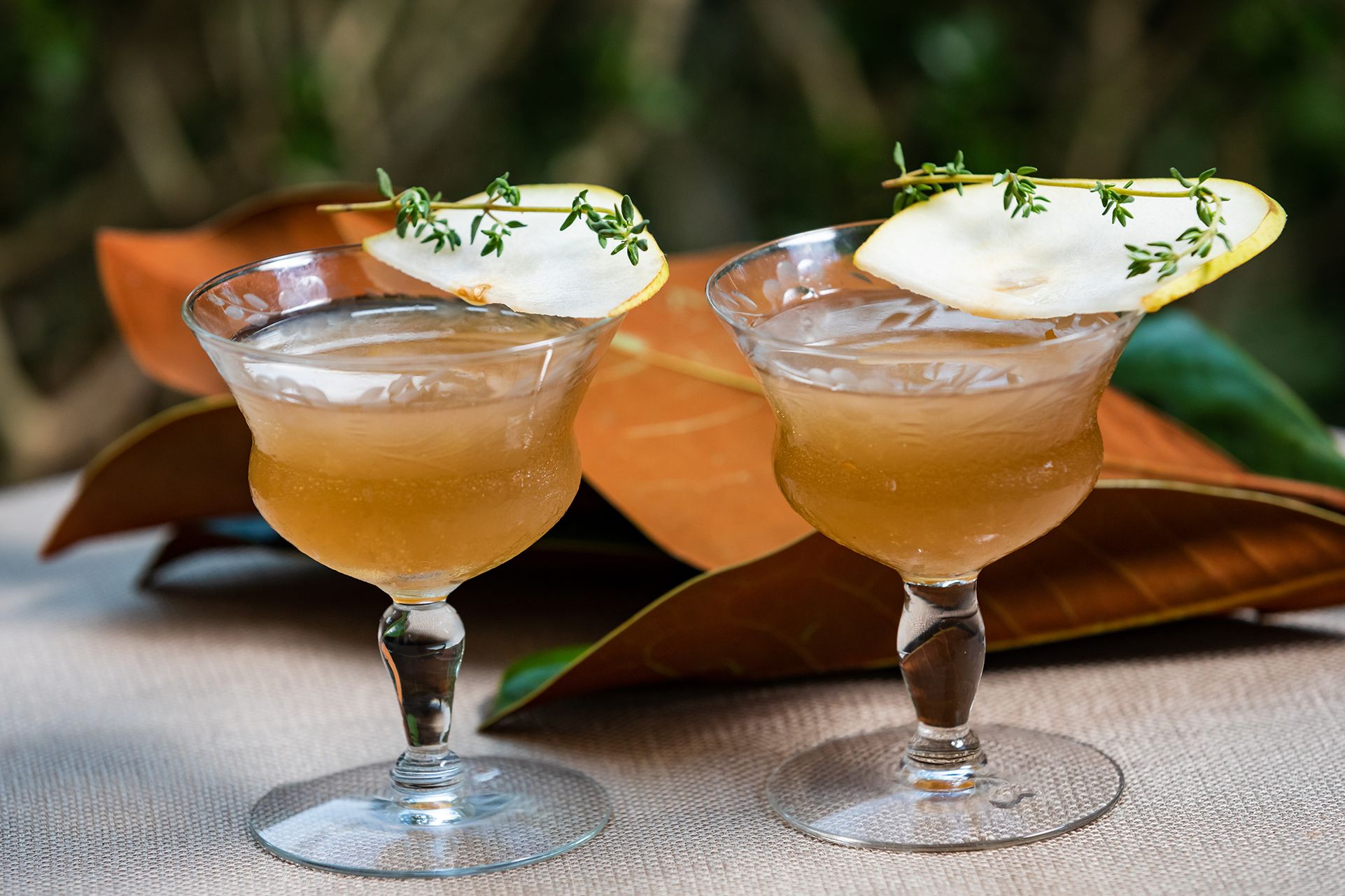 Gin-Soaked Pear
"This cocktail is absolutely amazing and perfect for the holiday season," Roberts explains. "The quantities below will make two cocktails, but you can certainly double or triple the recipe for a larger group. I like to let my pear slice soak while I enjoy my cocktail and then eat it last. It packs quite the punch."
Ingredients:
1 pear, diced
1 oz. fresh lemon juice
3 oz. gin
1 ½ oz. ginger liqueur
6 dashes cardamon bitters
Pear slice and thyme sprig for garnish
Add pear and lemon juice to a shaker, and gentle muddle pear. Add gin, ginger liqueur, cardamon bitters and ice. Shake and double strain into a chilled coupe glass. Garnish with a pear slice and thyme sprig.
---

Bourbon Milk Punch
"I always use oat milk in my milk punch and eggnog, especially when making it in large batches," Roberts says. "You can use regular milk if you prefer, but I recommend a dairy-free option to accommodate dietary preferences. If you want your milk punch to be creamier, freeze it overnight and then give it a quick whisk just before guests arrive."
Ingredients:
12 oz. bourbon (I use Woodford Reserve)
12 oz. St. Elizabeth Allspice Dram
24 oz. oat milk
¼ cup powdered sugar
3 tsp. vanilla extract
Grated nutmeg and orange peels for garnish
Chill all ingredients for several hours overnight. Combine everything in a large punch bowl and gently stir. Serve with grated nutmeg and several orange peels as garnish.
---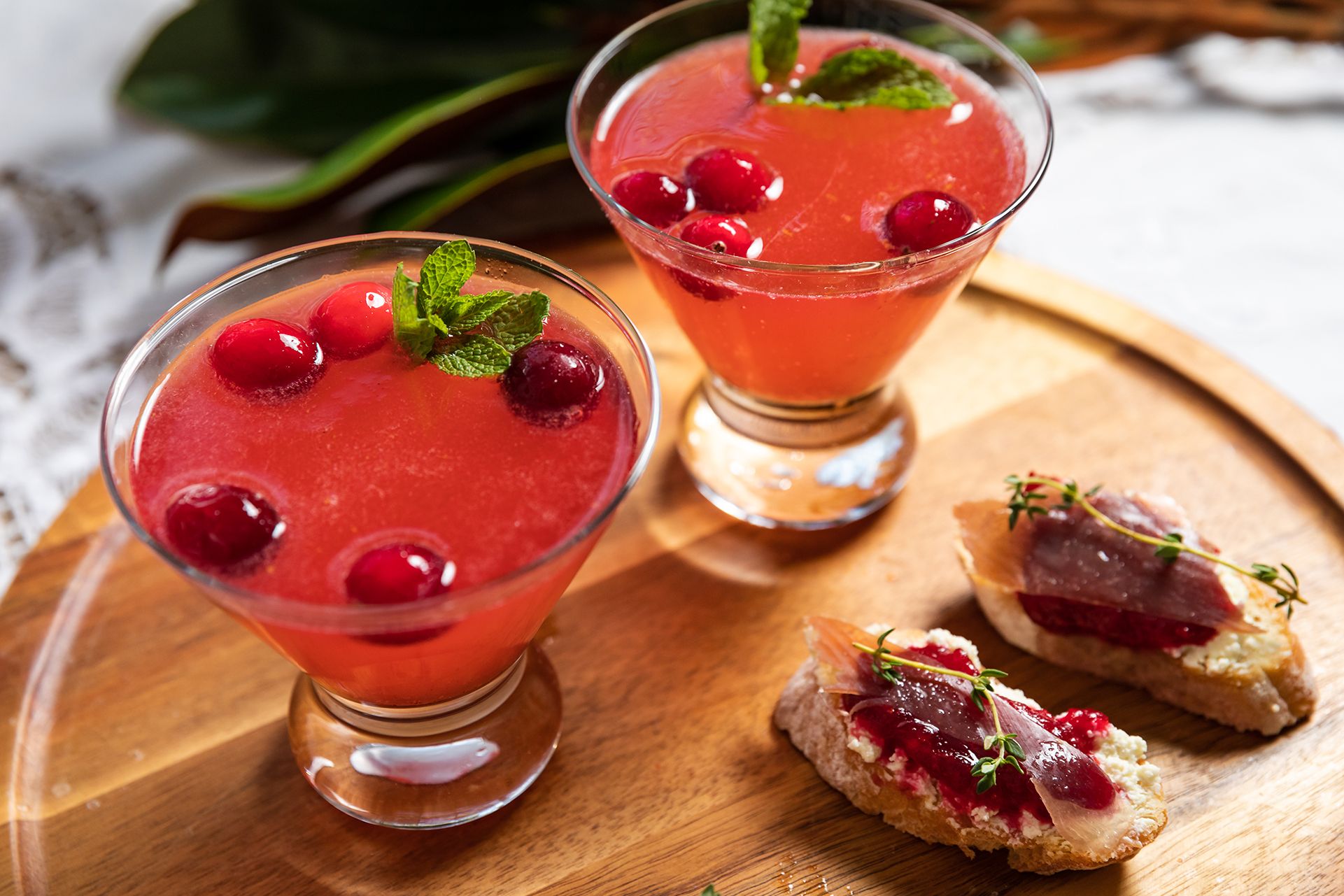 Cranberry Moscow Mule
"This cranberry sauce recipe came to me from my sister-in-law and makes about a pint's worth. It can also be used to create a fantastic appetizer. Top a crostini with goat cheese, cranberry sauce, prosciutto and a sprig of thyme for a snack to serve alongside your cocktail."
Ingredients:
Cranberry Sauce:

1

⁄

3

cup white sugar


1

⁄

3

cup brown sugar
½ cup orange juice
12 oz. cranberries
¼ tsp. cinnamon
¼ tsp. salt
½ tsp. orange zest
Cocktail:
4 oz. vodka
1 ½ oz. Cranberry Sauce
1 oz. lime juice
6 oz. ginger beer
Cranberries and mint for garnish
For Cranberry Sauce, combine both sugars and orange juice in a pot and heat until sugars have dissolved. Add cranberries and increase heat to a boil, then reduce to a simmer and stir constantly for 15 minutes. Remove from heat and add cinnamon, salt and orange zest.
For Cocktail, combine vodka, Cranberry Sauce and lime juice to a shaker with ice. Double strain into a chilled glass over ice, and top with ginger beer. Garnish with cranberries and mint sprig.