Festival feasting: Chef Derrick Beverly dishes on Mardi Gras eats
Even before Chef Derrick Beverly moved to Louisiana in 2015, he knew that Mardi Gras was a special time for food. "Ever since I started in this business," he says, "you hear about king cakes, king cakes, king cakes." Beverly says that he had a mythical idea of what a king cake was and what it represented. Working at a country club in Virginia, he decided to have one delivered. "When I got it," he remembers. "I was like … this is a cinnamon roll."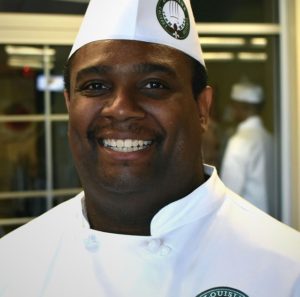 Today, working as a full-time chef instructor at the Louisiana Culinary Institute, Beverly has found himself totally immersed in the culture of Louisiana's Mardi Gras. On January 27, he'll be sharing his unique take on traditional and not-so-traditional Mardi Gras dishes in two LCI leisure classes, "Mardi Gras Pastries" and "Mardi Gras Party."
The morning pastry class will feature three sweet south Louisiana favorites: a No-Bake Bananas Foster's Cheesecake, a Sassy Fat Tuesday Pear Frani Pani, and of course, a King Cake. "We won't be making a cinnamon roll in our class," says Beverly. "It'll be a traditional Danish dough king cake."
The afternoon class will provide students with all the tools needed to feed hungry revelers at any Mardi Gras feast. The menu includes Chilled Muffaletta Pasta  Salad, Confetti Hushpuppies, Zapp's Kick'n Cajun Chicken, and a Monkey Bread King Cake.
Beverly says that when he creates menus for themed classes such as these, he tries to tap into people's expectations while adding a certain little twist. "The leisure classes that I do are usually not real Cajun or Creole based," he says. "I feel like there are chefs here that can do that better than I can. I bring to the table what I can do best, which is more international and focused on fresh herbs and seasonings."
All the same, when creating his Mardi Gras-themed dishes, he can't resist the urge to have fun with the regional inspirations. He laughs as he fumbles trying to read out the Cajun names of dishes on his Mardi Gras pastry menu last year–names like Dat Baby in the Bouche or Pate a Choux.
When preparing a meal for this year's Fat Tuesday, Chef Beverly has one main bit of advice: "Do make dishes that are from the heart. Do what makes you feel good and that you're going to like."
To learn more entertaining secrets from the man himself, sign up for Chef Beverly's Mardi Gras classes here. However, just in case you can't join him next Saturday, the chef has shared with inRegister recipes for two of his favorite Mardi Gras eats:
---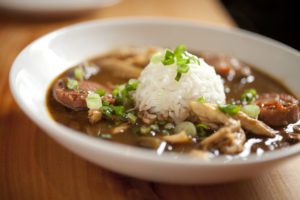 CHICKEN & ANDOUILLE SAUSAGE GUMBO
Chef Beverly says the key to finding the perfect Mardi Gras dish is to do something fun and party-esque, but to retain a level of comfort. "Classics like gumbo and stew are perfect," he says. "They are expected, they're comfort food, but they still have a party type of feel."
1 1/4 to 2 1/2 cups all-purpose flour
Salt, pepper, Cajun seasoning and cayenne pepper to taste
4 to 8  chicken thighs
1 to 2 cups oil, lard or duck fat
 1/4 to 1/2 cup diced onions
1/4 to 1/2 cup diced green and red bell peppers
1/4 to 1/2 cup diced celery
3 to 6 cups chicken stock or water
3/4 to 1 1/2 cups andouille sausage (sliced or chopped)
1 to 2 tsp. minced garlic
1 to 2 cups cooked white rice
Gumbo filé to taste
In a Ziploc bag, add flour, salt, pepper, Cajun seasonings and cayenne. Add chicken and shake well to coat evenly.
Heat oil in a cast-iron skillet or Dutch oven. Brown chicken on all sides, remove and set aside. Scrape pan to loosen any renderings. Dust with equal amount of seasoned flour. Stir, and let cook on low heat until roux mixture begins to turn darker reddish brown. Be careful not to let scorch.
Add vegetables to roux mixture and continue to cook. Add stock or water, and bring to boil, then reduce heat to simmer. Add chicken back to pot, along with andouille sausage and garlic, and let simmer until chicken is fully cooked. Adjust seasonings while simmering. Serve over rice, and season with gumbo filé to taste.
---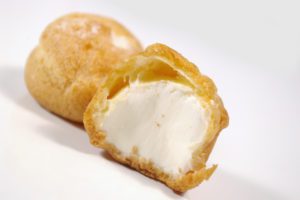 PATE A CHOUX
Beverly loves the eccentricity of Mardi Gras and the possibilities that brings for food. "What better way to celebrate Mardi Gras than to have real flashy festival-type foods that are reserved just for that type of event?" This dish is a statement alternative to the traditional king cake, and a great and easy way to wow your guests. 
8 oz. water
4 oz. shortening
1/2 tsp. salt
6 oz bread flour
5 eggs
Combine water, shortening and salt in a heavy saucepan. Bring to a boil. Remove from heat and add all of the flour at once. Stir quickly. Return pan to moderate heat, and continue to stir vigorously until dough forms a ball and pulls away from sides of pan. Transfer dough to the bowl of a mixer. Mix on low speed with a paddle until slightly cooled. Mixture will still be warm, but not hot to touch.
At medium speed, add eggs a little at a time until eggs are incorporated before adding more. Once all eggs have been incorporated, using a piping bag, or a Ziploc bag with the corner clipped off, squeeze the paste into desired forms and shapes (balls for traditional cream puffs).
Bake at 400 degrees for the first 5 minutes or until full expansion of the dough. Turn oven down to 375 degrees to dry puffs out.
Using a piping bag or Ziploc, fill each puff with filling of choice (chocolate, whipped cream, honey, etc.).
Arrange pate a choux puffs into a tower fit for the Carnival king, decorating as your heart desires. And don't forget to stick a baby in there!