Celebrate National Mac & Cheese Day with these three easy recipes
July 14 is National Macaroni and Cheese Day. Even though this crowd-favorite comfort food will be celebrated tomorrow, we've got recipes for making all year long.
Who wants to fire up the grill in this summer heat when you can turn the classic cheeseburger into Aimee Broussard's Homemade Cheeseburger Macaroni? For a lighter option, try out her Quick Macaroni Salad. The pastabilites are endless when it comes to macaroni, as April Hamilton demonstrates with her savory Mushroom Stroganoff. Are you hungry yet? Check out these recipes from past issues below.
---
Homemade Cheeseburger Macaroni
Ingredients:
1 lb. ground beef (ground turkey can also be used)
½ cup onions, chopped
1 Tbsp. butter
2 cups milk
1 cup cold water
2 cups elbow macaroni, uncooked
1 tsp. salt
¼ tsp. black pepper
¾ tsp. oregano
¾ tsp. parsley
¾ tsp. garlic powder
½ tsp. chili powder
1 tsp. paprika
2 cups cheddar cheese, shredded
In a skillet over medium heat, brown ground meat until nearly done. Add onions and cook until tender. Drain meat and onions and return to skillet. Add remaining ingredients except cheese. Stir to combine and bring mixture to a boil.
Reduce heat, cover and cook until pasta is tender, about 8 to 10 minutes, stirring occasionally to avoid anything sticking. Do not overcook pasta. Remove from heat and stir in cheese. Sauce may be thin. Let pasta sit to thicken sauce; meanwhile, adjust seasonings if needed.
Makes 6 servings.
– Aimee Broussard
---
Quick Macaroni Salad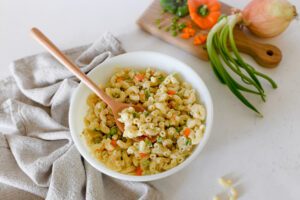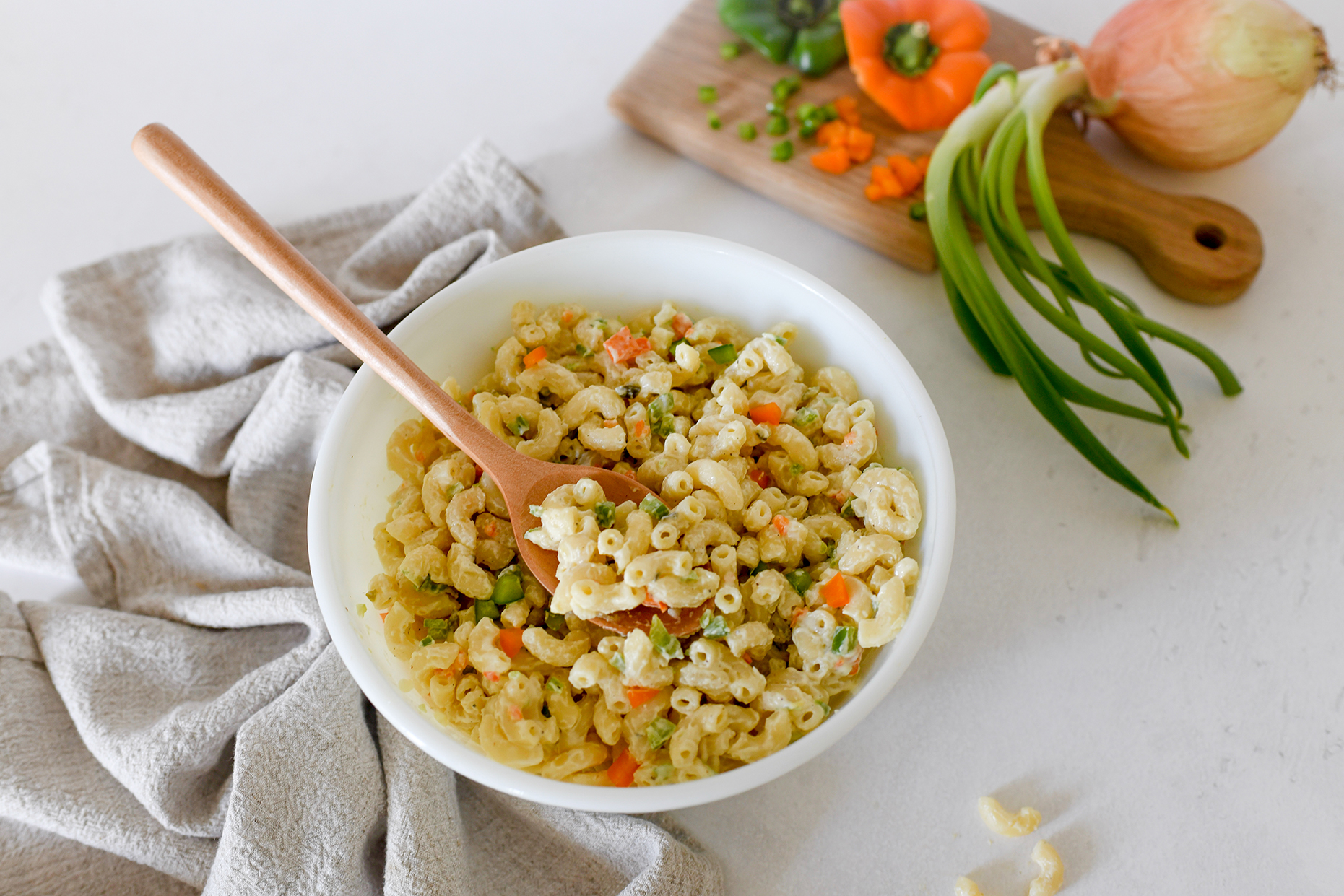 Ingredients:
8 to 10 oz. dry macaroni pasta (elbow or corkscrew)
¾ cup mayonnaise
¼ cup sour cream
3 Tbsp. finely chopped bread and butter pickles
¼ tsp. salt
½ tsp. pepper
½ green bell pepper, diced
½ yellow bell pepper, diced
¼ cup sweet yellow onion, finely diced
Cook pasta according to package instructions. Drain and rinse under cold water.
For dressing, in a small bowl, whisk together mayonnaise, sour cream, pickles, salt and pepper until well-combined.
In a large bowl, combine pasta, dressing and remaining ingredients. Mix well to combine. Cover and refrigerate for at least
1 hour before serving.
Makes 6 servings.
– Aimee Broussard
---
Mushroom Stroganoff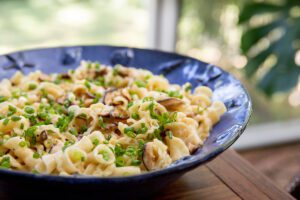 A delicious discovery from a Cordon Bleu-trained chef who happily shared her recipe. Créme fraîche adds a dose of luxury to this comfort dish. I used campanelle pasta, a bell shape with a ruffled edge.
Ingredients:
12 oz. fettuccine, egg noodles or your favorite pasta shape that will catch the sauce
4 Tbsp. butter, divided
8 oz. fresh mushrooms, sliced
1 medium onion, finely chopped
3 Tbsp. dry sherry*
3 Tbsp. unbleached flour
1 cup milk
1 tsp. coarse salt
½ tsp. ground pepper
1 cup crème fraîche (sour cream can be substituted, though it can "break" when heated)
3 Tbsp. chopped green onions
Cook pasta according to package directions to roughly time the pasta to finish cooking when the sauce is done.
Melt 1 Tbsp. butter in a large skillet or Dutch oven over medium heat. Add mushrooms and onions, and cook until tender. Add sherry and cook for 1 minute. Transfer mixture to a large bowl, and set aside. Reserve pan.
Measure flour, salt and pepper into a bowl, and slowly whisk in milk. Heat pan again over medium heat, and melt remaining 3 Tbsp. butter. Pour milk mixture into hot pan, whisking constantly over medium heat. Cook until bubbly and thick, about 3 to 5 minutes. Remove from heat and stir in crème fraîche, then add reserved mushroom mixture. Combine with cooked pasta and stir gently. Divide into 6 bowls and serve with a green onion garnish.
Makes 6 servings.
– April Hamilton