Bowl me over: George Graham's Raspberry Trifle is for sharing and savoring
---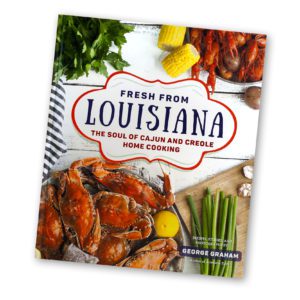 From the pages of my new cookbook, Fresh From Louisiana: The Soul of Cajun and Creole Home Cooking, this recipe is both dramatic to look at and delicious to eat. Oh, and easy, too.
It's the first bite that stops you in your tracks. With just a smidgen of sweet liqueur soaking into the spongy cake, this delicate Raspberry Trifle bursts with the flavors of fresh berries against a tangy cream filling dusted with bittersweet chocolate. Oh yeah, this is a keeper!
As I walked into the produce section of my local supermarket, I stopped to inspect the strawberries that unfortunately were not up to my standards. Louisiana strawberry season was months away, and these were out-of-town berries that were no match for our Ponchatoula beauties.
But the raspberries were spectacular; I grabbed two cartons. And there next to them was a neatly stacked end cap full of packaged madeleine cookies and containers of sponge cake. Instant inspiration! These delicate butter cookies with their distinctive shell shape are a French classic made from a génoise batter. And just like sponge cake, I like how they absorb any flavors that they touch—a perfect platform for building my dessert.
To me, cooking is an art form as sure as paint on canvas. English trifles, French charlottes, or French-Canadian bagatelles are constructed desserts layered with fresh fruit, cake and cream filling. Sometimes alcohol is used, sometimes not. And with this dessert, I choose to paint with a splash of Grand Marnier, a dollop of sculptured cream, a brushstroke of shaved chocolate and a garnish of fresh mint.
Nothing to bake here! With an hour to chill so all the flavors come together, this trifle is ready for its unveiling.
---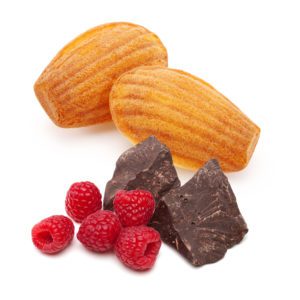 Raspberry Trifle
Ingredients:
1 sponge cake
6 Tbsp. Grand Marnier liqueur, divided
4 Tbsp. freshly squeezed orange juice
1 pkg. madeleine cookies
2½ cups crema or whipped cream
2 packets stevia or 2 Tbsp. sugar
2 cups fresh raspberries
4 Tbsp. freshly grated bittersweet chocolate
Sprig of fresh mint
In a glass trifle bowl, line the bottom with thick slices of sponge cake to come halfway up the sides. Drizzle cake slices with 4 Tbsp. of the liqueur and the orange juice. Place madeleine cookies along edge of trifle bowl with shell-shaped sides facing outward.
In a small mixing bowl, stir crema with stevia or sugar and remaining 2 Tbsp. liqueur. Pour 2 cups of crema mixture into center of trifle bowl, and reserve remaining ½ cup.
Arrange raspberries on top of crema and garnish with remaining crema. Sift grated chocolate over top, and garnish with a sprig of mint. Chill for 1 hour before serving.
Notes: The choice of vessel is key; find a decorative glass bowl with a pedestal. I buy the Salvadorean crema (tastes like crème fraîche) at my local Hispanic grocery; I love the tangy flavor sweetened with stevia. I'm a sucker for the elegant flavor of Grand Marnier, but any sweet liqueur (framboise, Cointreau, or even dark rum) will work. You can use regular sweetened chocolate powder, but the intense flavor of freshly shaved bittersweet chocolate rocks this dessert. These days, I see the madeleine cookies everywhere (even Walmart). Raspberries are my choice, but blueberries, blackberries or strawberries (in season, please) would be equally tasty.
Makes 4 servings.
---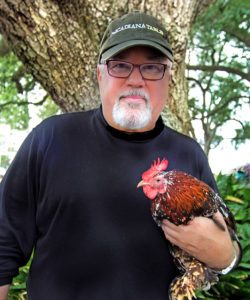 George Graham is a writer and photographer who tells stories of Louisiana cooking and Cajun Creole culture on his blog, AcadianaTable.com. His second cookbook, Fresh From Louisiana, was published in 2020.