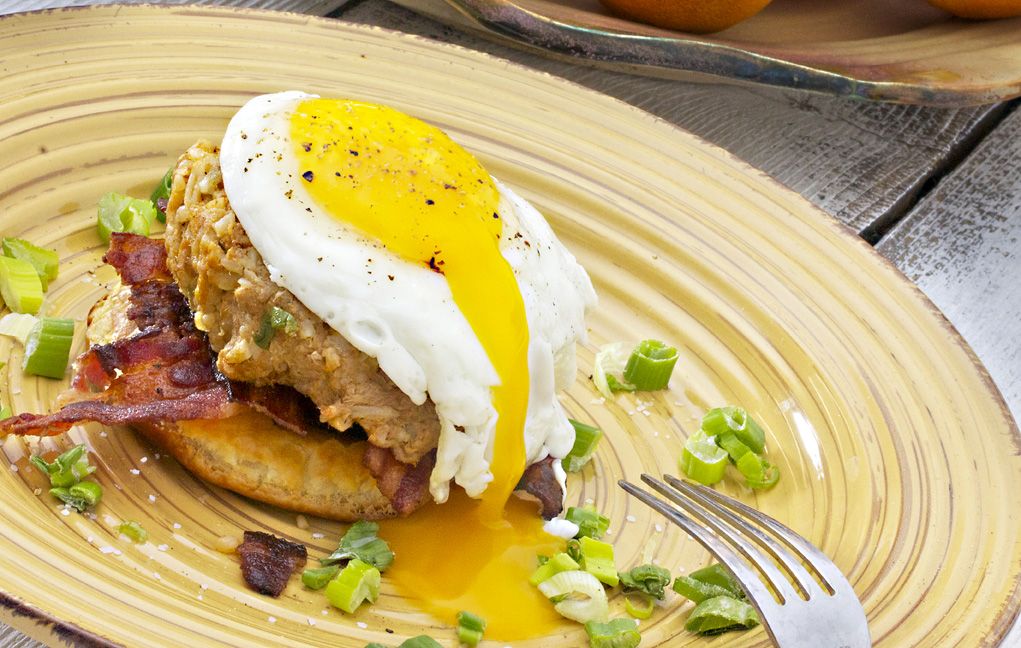 Article, recipe, and photo (above) by George Graham
For my money, you can put a perfectly fried egg atop just about anything and I'd eat it. But crown a spicy patty made of Cajun boudin and we're talking the goose (uh, chicken) that laid the golden egg. In south Louisiana, combining boudin and eggs is a natural. Hearty country Cajun breakfasts are well-known, and boudin frequently competes for center of the plate with farm-fresh eggs. Yep, boudin is the perfect nest for my egg.
I am inspired by restaurant chefs who take tried-and-true, down-home recipes and reinterpret them with creative flair. Chef Justin Girouard is a great example. A product of Lafayette, Justin honed his skills cooking in the French Quarter. He and his wife Margaret dreamed of returning to their roots in Acadiana, and several years ago they converted the old Tribune Printing building in downtown Lafayette into The French Press. A James Beard-nominated chef, Justin is known for many things, but his Saturday and Sunday brunch is not to be missed. The one dish that takes Cajun breakfast to a whole new level is his Sweet Baby Breesus—boudin topped with Tabasco honey butter on a buttermilk biscuit. It is righteous food indeed.
Over in St. Martin Parish, Dickie Breaux's Café des Amis is packing them in for his Saturday zydeco brunch. In between two-steppin' on the dance floor, guests are downing plate after plate of his Eggs des Amis, a spicy boudin patty topped with two eggs. Do you see a trend starting here? Even my friend Chef John Folse at his five-star Restaurant R'evolution in New Orleans is serving up boudin and poached eggs with cracklins and black pepper Choron sauce at his weekend jazz brunch.
I proclaim boudin and eggs the new eggs and bacon. But hey, why not compromise? In the spirit of diplomacy and an acknowledgment of the culinary kinship of these ingredients, why not bacon, eggs and boudin together?
Oh yeah! Brunch is served.
George Graham is a writer and photographer who tells stories of Louisiana cooking and Cajun Creole culture on his blog, AcadianaTable.com.
---
Eggs and boudin 
Biscuits:
2 cups self-rising flour, plus extra
1⁄2 cup buttermilk
1⁄2 cup mayonnaise
2 Tbsp. unsalted butter, softened, divided
Preheat oven to 450 degrees. In a large bowl, sift 2 cups flour. In a separate container, add buttermilk and whisk in mayonnaise and 1 Tbsp. softened butter. Make a well in center of flour and add buttermilk mixture. Using a spoon, slowly incorporate flour into wet ingredients by folding over until all comes together. Pour dough onto work surface sprinkled with flour. If dough is too wet, add a little more flour. Using your hands, gently bring mixture together and pat down into a 1⁄2-inch-thick rectangle. Fold dough over onto itself and pat down again. Repeat once more and pat to 1⁄2-inch thickness.
Using a 3-inch-diameter biscuit cutter, cut out 4 biscuit rounds and transfer to a parchment-lined baking sheet. Bake until golden brown, about 15 to 20 minutes. Split open and brush with remaining butter. Keep warm until serving.
---
Pork boudin:
1 (2-lb.) pork roast, fat trimmed
Water (for braising and boiling)
1 (1⁄2-lb.) pork liver
1 cup Louisiana long-grain white rice
1 large yellow onion, diced
2 Tbsp. minced garlic
2 Tbsp. Cajun seasoning
1⁄2 Tbsp. cayenne pepper
1 bunch green onions, diced
Kosher salt and freshly ground black pepper to taste
Dash hot sauce
Preheat oven to 400 degrees. In a heavy pot with tight-fitting lid, add pork roast and fill pot with water to a depth of 4 inches. Cover, place in hot oven, and braise for 2 hours or until falling apart. Remove pork from pot, reserving cooking liquid.
In a pot filled with water over high heat, add liver and boil until well done, about 10 minutes. Remove and drain on a paper towel-lined plate.
In a rice cooker, prepare rice according to package directions; keep warm until ready to use.
In a food processor, pulse roast meat and liver with onion and garlic until it reaches a smooth yet chunky consistency. Be careful not to overprocess to a pasty, mushy stage. Incorporate cooked rice in a ratio of 80% meat mixture to 20% rice. Gradually add some reserved cooking liquid until mixture is moist. Add Cajun seasoning, cayenne and green onions. Add salt, pepper and hot sauce to taste. Evenly mix ingredients together. Shape boudin into 4 (3-inch-diameter) patties about 1 inch thick.
To keep boudin warm without drying out, wrap tightly in aluminum foil and place in a slow cooker set to warm with 1⁄2 inch water.
With any leftovers, shape boudin into balls, dredge in cracker crumbs, and pan-fry for a Cajun delicacy.
---
Bacon and eggs:
1 lb. smoked bacon
4 large eggs
4 Tbsp. diced green onion tops
Kosher salt and freshly ground black pepper to taste
Pinch Cajun seasoning
In a large skillet over medium-high heat, add bacon and cook until crispy. Turn off heat, remove bacon, drain on paper towels, and set aside. Pour off all but 2 Tbsp. bacon fat, and return skillet to stove. On each of 4 plates, add bottom half of a biscuit and top with 2 strips bacon. Add boudin patty.
When guests are seated, turn burner under skillet to medium. Crack eggs into a small bowl, then add to pan to fry. With a spatula, remove fried eggs from grease and directly onto each plated boudin patty, being careful not to break yolks. Sprinkle with green onion and season with salt, pepper and Cajun seasoning.
Note: If buying boudin at the store, you will need two pounds (four links). If in links, remove boudin from casing. You can order great-quality pork boudin online at Cajungrocer.com.