Aimee's Pretty Palate: When life gives you lemons
---
If that old saying about life and lemons was ever appropriate, now would be the time. But though the adage might tell you to simply make lemonade, the height of citrus season is still upon us, so I say why stop at lemonade? You should also bake up something sweet with all those lemons life has been handing—err, throwing at—us lately. 
On the following pages, I've included a staple lemonade recipe, not because I think you're incapable of making lemonade on your own, but because it serves as the base for all the options you have at your leisure to add a bit of pizzazz to basic lemonade. For example, strawberries easily transform basic lemonade into a fruity offering, while sweet tea creates an Arnold Palmer or my beloved Almond Tea in a snap. Feeling frisky? Spike it with a bit of peach and vodka. You'll find at least five different lemonade combinations on my website, and all begin with a lemonade base. 
Now let's talk baking, though, because that is where my heart lies, and lemon recipes are my absolute favorite. One bite of my Iced Lemon Loaf will have you skipping the line at a certain coffee establishment, and I am betting you will never pay $3 for a slice of lemon loaf ever again. It's light, lemony and downright delicious. 
Thinking ahead for a low-key Easter dessert? Then look no further than these insanely delicious Lemon Cheesecake Parfaits. I've used vanilla wafers, but you can certainly use graham crackers. Layer them in Mason jars for a sweet treat hard to beat. 
And finally, the heat will be here before we know it. Keep your kitchen cool with my twist on a time-honored, from-scratch favorite: a No-Bake Lemon Icebox Pie. It requires a bit of prep time, but it's the ultimate lemon dessert. 
And speaking of, if those lemons keep coming our way, I've got more recipes where these came from.  So to them, I say bring it on.
---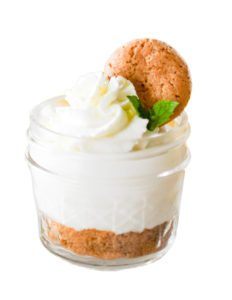 Lemon Cheesecake Parfaits
Ingredients
1 (8-oz.) pkg. cream cheese, softened

1

⁄

3

cup sugar
1/4 cup sour cream
Juice of 2 small Meyer lemons
1tsp. lemon zest, plus more for garnish
1 (5-oz.) pkg. vanilla cookies, crumbled (can substitute vanilla wafers or graham crackers)
1 Tbsp. butter, melted
Homemade whipped cream (optional)
Mint sprig (optional, for garnish)
In a medium bowl, combine cream cheese, sugar, sour cream, lemon juice and 1 tsp. lemon zest; beat at medium speed until mixture is smooth and creamy.
In a separate bowl, combine vanilla cookie crumbs and melted butter. Spoon cookie "crust" into 4 small Mason jars, Weck jars or parfait dishes. Layer cream cheese mixture on top of crust. Top with whipped cream (if desired), lemon zest, an extra cookie and a sprig of mint.
Note: My jars are the 4-oz. quilted jars from Ball. Larger jars will result in fewer servings.
Makes 4 servings.
---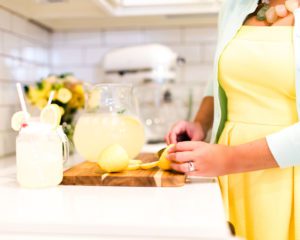 Southern Sweet Lemonade
Ingredients
1 cup sugar
1 cup water (for simple syrup)
1 cup fresh lemon juice (4 to 6 lemons)
3 to 4 cups cold water
Make a simple syrup by heating sugar and 1 cup water in a small saucepan until sugar dissolves completely.
While sugar is dissolving, juice lemons. Add lemon juice and simple syrup to a pitcher. Add 3 to 4 cups cold water, more or less, to desired strength. Refrigerate for 30 minutes.
Note: For more intense lemon flavor and stronger color, zest 1 fresh lemon, and add to the simple syrup as you are making it. Once sugar is dissolved in the water, remove from heat, and let zest steep several minutes, then strain when you add the simple syrup to the lemon juice.
Makes 1½ quarts.
---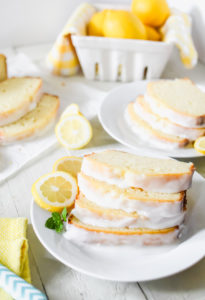 Homemade Iced Lemon Loaf
Ingredients
3 eggs
3/4 cup sugar
1 cup light Greek yogurt
1/2 cup vegetable oil
1 Tbsp. lemon zest (or zest from 1 large lemon)
1 to 2 Tbsp. plus ¼ tsp. lemon juice, divided
2 Tbsp. lemon extract
1 1/2 cups all-purpose flour
2 tsp. baking powder
1/2 tsp. salt
1/2 cup confectioners' sugar
Preheat oven to 350 degrees.
Spray a loaf pan with nonstick cooking spray
and set aside.
In a large bowl, combine eggs, sugar and yogurt, and whisk until smooth. Drizzle in oil and continue whisking. Add lemon zest, ¼ tsp. lemon juice and extract and continue to whisk. In a medium bowl, combine flour, baking powder and salt. Add to lemon mixture a little at a time, and whisk for about 1 minute until fully combined. Do not overmix. Pour batter into loaf pan and smooth top. Bake for 50 minutes or until a toothpick inserted in center comes out clean. Allow loaf to cool completely in loaf pan. Gently remove loaf from pan and allow it to cool on a wire rack for another hour or two until completely cooled.
For Glaze, in a small bowl, add confectioners' sugar. Slowly mix in 1 to 2 Tbsp. lemon juice and continually stir until smooth. Evenly drizzle glaze over bread. Allow glaze to set and dry before slicing.
Makes 1 loaf.
---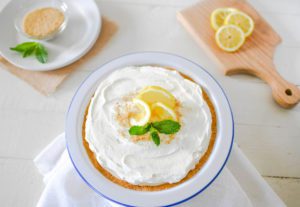 No-Bake Lemon Icebox Pie
Ingredients
1 1/2 cups graham crackers, crushed
1/4 cup light brown sugar
Pinch salt
6 Tbsp. butter, melted
2 1/2 cups heavy whipping cream
3 Tbsp. confectioners' sugar
Juice of 4 large lemons
1 Tbsp. lemon zest
1 (14-oz.) can condensed milk
Graham cracker crumbs, lemon slices and mint (optional, for garnish)
In a medium bowl, mix together first 4 ingredients. Press evenly and firmly into an ungreased 9-in. pie plate. Refrigerate for 1 hour.
While crust is refrigerating, prepare whipped topping: In the bowl of a stand mixer with the whisk attachment, whip heavy cream and confectioners' sugar together at medium-high speed until medium to stiff peaks form. Cover tightly, and place in refrigerator until ready to use.
In a large bowl, mix together lemon juice and zest with condensed milk. Fold in 2 cups of the prepared homemade whipped topping, saving the remainder for topping. Once filling is smooth, spread evenly into piecrust. Return pie to the refrigerator for an additional 3 hours.
When ready to serve, top with remaining whipped topping. Garnish with graham cracker crumbs and lemon slices with mint if desired.
Makes 1 (9-in.) pie.
---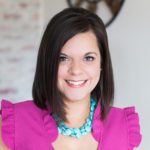 Aimee Broussard is a Southern food blogger and award-winning cookbook author. Seen on QVC, Rachael Ray and more, she is a self-proclaimed accidental entrepreneur with a penchant for porches and sweet hospitality. Find her online at aimeebroussard.com.