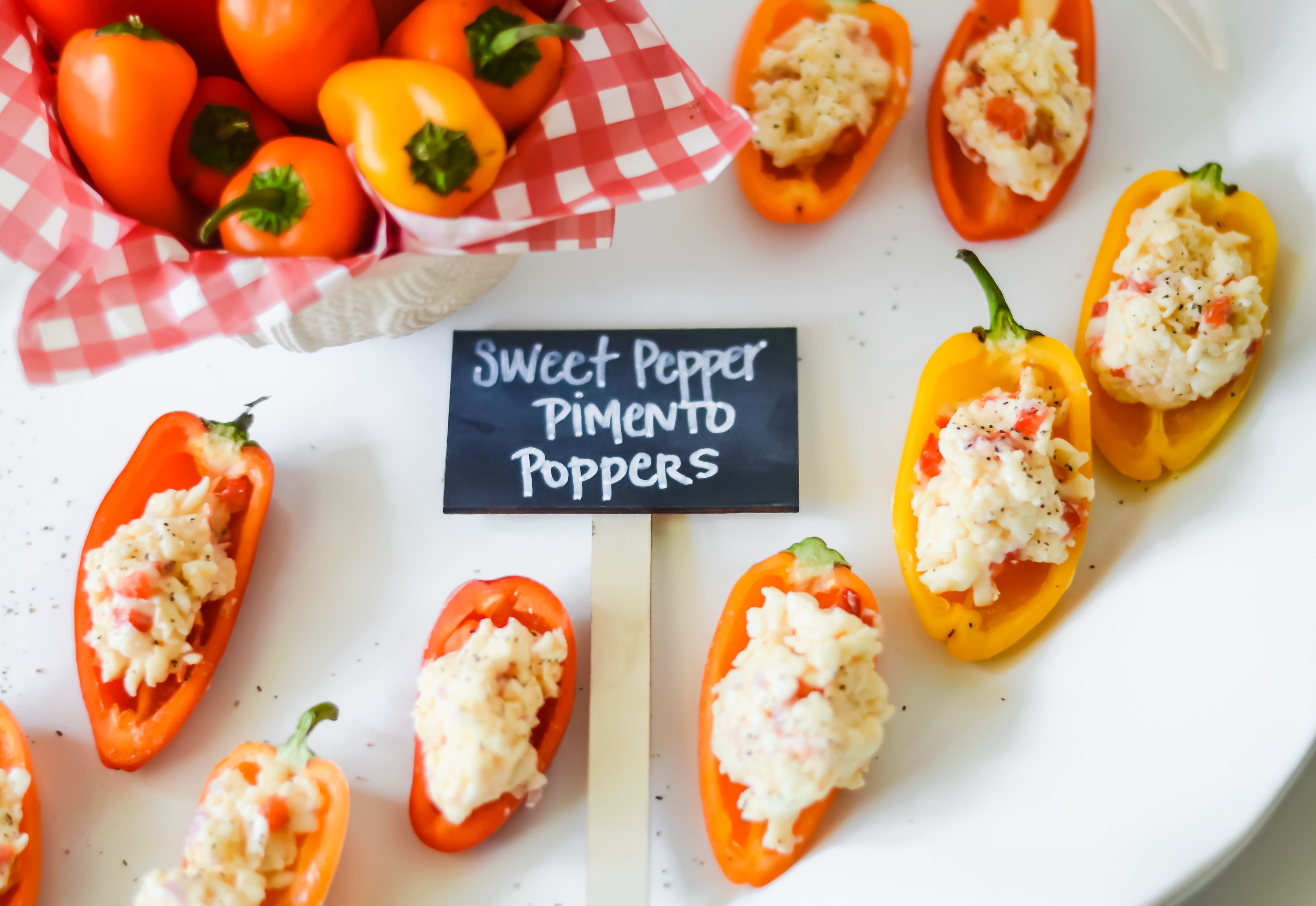 Aimee's Pretty Palate: There's an app for that
---
I don't know about you, but my favorite part of any gathering that includes food is the appetizers, hands down. They are a casual way of immediately putting guests at ease, giving them something to do (hello, snacks!) and ensuring that no one will starve to death while waiting for the main course.  They can be as simple as a homemade dip for eating chips or veggies during family movie night, mini pizzas for cheering on your favorite sports team, or maybe something a little more elegant prior to a dinner party.
But more than for their function, I love that appetizers are an invitation to explore your creativity and to deliver something delicious and memorable … all in bite-size form!
My Sweet Pepper Pimento Poppers have been a hit at every single gathering where I have offered them. In fact, I pre-made a batch before heading to Pennsylvania for my husband to serve during my QVC watch party and had two different neighbors request that I bring them to their upcoming events. They have kept "popping" up ever since.
While veggie dip isn't the most glamorous offering on the appetizer table, it is essential for your friends and family members who are trying to keep things light and healthy. My Fiesta Veggie Dip is perfect for quite literally any party you may have.
And before you say, "Oh, there she goes again—another deviled egg recipe," you guys have got to stuff my Muffuletta Dip into your deviled eggs.  I whipped these up for the Super Bowl, simply adjusting the way I hollowed out and served the eggs, and if I ever thought that dip couldn't be topped, well, I proved it can.
Happy snacking!
---
FIESTA VEGGIE DIP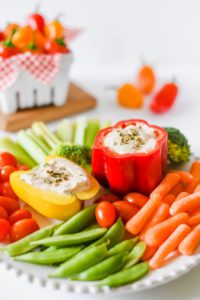 Ingredients:
1 cup mayonnaise
½ cup sour cream
1 Tbsp. minced chives
1 Tbsp. minced onion
½ tsp. lemon juice
½ tsp. Worcestershire sauce
¼ tsp. salt
¼ tsp. paprika
¼ Creole seasoning

1

⁄

8

tsp. curry powder


1

⁄

8

tsp. pepper
2 medium bell peppers
Assorted raw vegetables for dipping
In a large bowl, combine all ingredients except bell peppers and raw veggies. Cover and refrigerate for at least 1 hour.
Either lay each bell pepper on its side and make a horizontal slice just above the stem, creating a boat, or slice off the top and sit the pepper upright. Remove top pieces, membrane and seeds. Fill peppers with veggie dip. Serve chilled with raw vegetables.
Makes approximately 1 ½ cups.
---
MUFFULETTA STUFFED DEVILED EGGS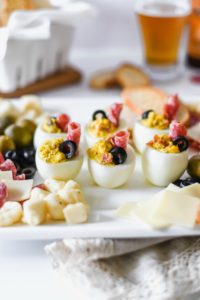 Ingredients:
12 large eggs
¼ cup mayonnaise
5 Tbsp. Italian olive salad, drained
½ cup (about 4 oz.) diced salami
4 oz. provolone cheese, diced
¼ cup grated Parmesan cheese
Boil eggs according to preference. Allow to cool, and peel under cold running water. Rather than slicing eggs in half, slice a tiny bit off the bottom of each egg to allow it to sit upright, then cut off top of egg. Carefully remove yolk.
Mash yolks with a fork in a bowl. Stir in mayonnaise, olive salad, salami and both cheeses. Add mixture to a large Ziploc bag and snip the end (creating a piping bag). Fill each egg. Serve immediately or chill for up to 24 hours.
Makes 6 servings.
---
SWEET PEPPER PIMENTO POPPERS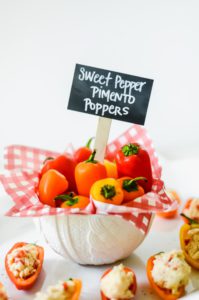 Ingredients:
1 large pimento or sweet red bell pepper, halved
Olive oil
Sea salt to taste
1 lb. sharp white cheddar cheese, shredded
4 Tbsp. mayonnaise
¼ cup minced red onion
½ tsp. garlic
½ tsp. black pepper
24 tricolor sweet mini peppers, halved lengthwise, seeded
Preheat oven to 450 degrees. Place large pepper halves on baking sheet, brush with olive oil, and sprinkle with sea salt. Roast until bell pepper skin is blistered, about 15 minutes. When cool enough to handle, remove skin, chop pepper, and place in a large bowl. Add cheese, mayonnaise, red onion, garlic and black pepper. Gently stir until pepper pieces are evenly mixed and mayonnaise binds with cheese. Add more sea salt to taste.
To assemble poppers, stuff each sweet mini pepper half with about 2 tsp. pimento cheese mixture. Sprinkle with additional freshly ground black pepper if desired. Refrigerate until ready to serve.
Makes 24 servings.
---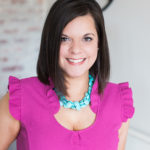 Aimee Broussard is a Southern food blogger and award-winning author. Her recent cookbook Picnics, Potlucks & Porch Parties debuted exclusively on QVC. Join Aimee for weekly recipes with a side of Southern hospitality on her blog, southernfromscratch.com.