Aimee's Pretty Palate: Take it slow
---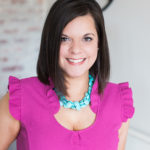 If you're anything like me, the last thing you want to think about after a holiday season of making and eating ALL THE THINGS is cook. Give yourself some grace with these easy, yet incredibly delicious slow-cooker meals.
The Slow-Cooker Turkey Chili is a healthier version of a chili recipe you probably already have in your repertoire. Lightened up and tossed into the slow cooker, it is perfect for the (hopefully) chilly weekends ahead. If the cornbread in the photos excites you, you'll find the recipe for the Sweet Onion Skillet Cornbread on my website; it makes the perfect accompaniment.
Speaking of chilly weekends and cooler temperatures … those guys often like to bring with them runny noses and scratchy throats. Plan ahead to soothe them with my Slow-Cooker Chicken Noodle Soup. Homemade yet super easy, it is comfort food at its finest. And you don't even have to crank up the stove!
And lastly, the Banana Bread Breakfast Cookies taste exactly as they sound. Bite-size banana bread deliciousness that creatively eliminates all flour. A healthy breakfast cookie to keep your New Year's resolutions intact? You betcha!
---
SLOW-COOKER TURKEY CHILI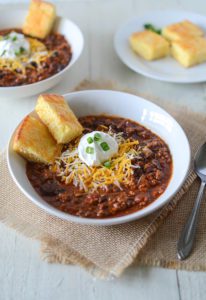 Ingredients:
2 lbs. ground turkey
1½ cups chopped onions
1 small green bell pepper, chopped
1 (15-oz.) can red kidney beans, rinsed and drained
1 (15-oz.) can pinto beans, rinsed and drained
1 (28-oz.) can crushed tomatoes (or diced if you like the chunks)
1 Tbsp. chili powder
1 tsp. salt
1 tsp. pepper
1½ tsp. cumin
½ tsp. oregano
¼ tsp. cayenne pepper (optional)
Cook first 3 ingredients in a large skillet over medium-high heat, breaking up meat crumbles and cooking until meat is no longer pink; drain.
Place meat mixture in a 6-quart slow cooker and stir in beans. Add tomatoes and seasonings. Cook on high for 3 hours or low for 5 to 6 hours.
Serve with my Sweet Onion Skillet Cornbread (find the easy recipe on southernfromscratch.com).
Makes 6-8 servings.
---
SLOW-COOKER CHICKEN NOODLE SOUP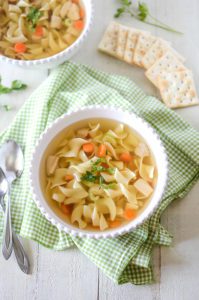 Ingredients:
1½ lbs. boneless, skinless chicken breasts
1 medium yellow onion, diced
2 cups carrots, peeled and sliced
2 celery stalks, chopped
3 to 4 cloves garlic, minced
½ tsp. thyme
½ tsp. turmeric
32 oz. chicken broth
Salt and pepper to taste
2 cups wide egg noodles
2 Tbsp. fresh parsley for garnish
Place whole chicken breasts on bottom of a 6-quart slow cooker and top with onion, carrots, celery, garlic, thyme and turmeric.
Add chicken broth and season with salt and pepper (I used about ½ tsp. of each, but the broth you use will determine if you need more). Cover and cook on low for 6 to 7 hours.
Remove chicken breasts and cut into bite-size pieces. Return chicken to slow cooker. Add egg noodles. Cover and cook until noodles are tender, about 10 minutes. Garnish with fresh parsley.
Note: If you're not ready to enjoy the soup right away, skip adding the noodles and instead cook them separately and add to the soup when ready.
Makes 6-8 servings.
---
BANANA BREAD BREAKFAST COOKIES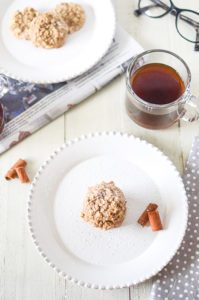 Ingredients:
3 cups old-fashioned oats, divided
½ cup brown sugar
1 tsp.baking powder
1 tsp.ground cinnamon
tsp. salt
½ cup almond milk
¼ cup maple syrup
1 egg
1 tsp. vanilla extract
1 large ripe banana, mashed
Preheat oven to 350 degrees. Line a large baking sheet with parchment paper or use a non-stick baking mat.
Using a high-power blender, pulverize 2½ cups old-fashioned oats. Note: We are omitting flour from this recipe. If you don't have a blender capable of reducing the oats to your liking, add ¾ cups all-purpose flour in its place.
Combine blended oats with remaining ½ cup old-fashioned oats. Stir in remaining ingredients and mix well until everything is combined.
Use a cookie scoop (I used a mini) to scoop batter onto baking sheet. Gently pat down tops of cookies to flatten a bit. Bake for 15 to 17 minutes or until golden brown and cooked through. Cool on a wire rack for a few minutes and, like banana bread, serve warm or cold.
Makes 12 large cookies or 24 mini cookies.