Aimee's Pretty Palate: Sweet summer sips

---
Sip, sip, hooray, the warm weather is heading our way! This month I'm bringing you my all-time favorite beat-the-heat summertime sip, the Spiked Peach Tea. A pitcher of tea is perfect for those sweaty afternoons on the front porch when it's nice to have something on hand for your neighbor strolling by. I have befriended more neighbors by simply positioning myself out on my front porch with drinks at the ready! Try it, you'll see.
Because wedding season is also upon us, I'm throwing in a mimosa recipe that is sure to garner rave reviews at your next bridal brunch. An easy addition to the traditional orange juice and champagne concoction, the Cran-Orange Mimosa is both flavorful and pretty.
Speaking of wedding season, I can't help but be reminded that while sipping on an Italian Margarita at a Jimmy Buffet restaurant in Florida I determined that we would modify the recipe to work for my own wedding reception cocktail hour. For a girl whose colors were pink, pink and more pink, it's no surprise that I turned the margaritas pink to coordinate with my wedding party. Served in Mason jars rimmed with sugar, the pretty pink drinks are porch party perfection.
Cheers, y'all!
---
A spin on a classic mimosa, the addition of cranberry juice provides a wonderful flavor and a slightly pink hue. Drop in some cranberries for an extra pop of color.
4 cups cranberry juice, chilled, divided
4 cups orange juice, chilled, divided
2 (750-ml) bottles Champagne, chilled
6 orange slices, for garnish
Fill 12 Champagne glassed with ice; pour 1⁄3 cup cranberry juice into each glass. Top each serving with 1⁄3 cup orange juice and about 1⁄2 cup Champagne.
Garnish with a halved orange slice.
Makes 12 servings; recipe may be divided in half if you are serving a smaller crowd.
---
Sanding sugar
16 oz. margarita mix
6 oz. Margaritaville Calypso Coconut Tequila
2 oz. amaretto
2 to 3 Tbsp. grenadine, for color
4 to 6 cups ice (depending on consistency preferred)
Rim Mason jars with sanding sugar by lightly moistening rims and then pressing them into a shallow dish containing the sugar. Twist.
Combine margarita mix, tequila, amaretto and grenadine in a glass pitcher. Once combined, add to a blender with 4 to 6 cups of ice and blend on high until ice is crushed and smooth. Continue to add more ice if you like your margaritas more frozen than slushy.
Makes 4-8 servings, depending on size of Mason jars. I use 6-oz. jars to yield 8 servings.
---
Our signature "porch party" beverage of choice. Perfect for a hot summer day when you want to have something on hand for a neighbor strolling by.
3 large tea bags for iced tea
8 fresh mint sprigs
4 cups lemonade made from frozen concentrate

1

⁄2 cup peach-flavored vodka
Ice cubes
1 peach, sliced, for garnish
Let tea bags steep in 3 cups boiling water for about 5 to 7 minutes. Remove and let cool. Carefully discard tea bags.
Place mint sprigs in a large pitcher; mash with a muddler or the handle of a wooden spoon until slightly bruised. Pour in tea, lemonade and vodka. Chill in refrigerator before serving.
Fill 8 highball glasses or Mason jars with ice. Pour tea into glasses. Garnish with peach slices and an additional sprig of mint.
Makes 6-8 servings.
---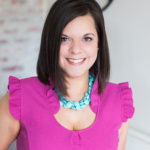 Aimee Broussard is a Southern food blogger and award-winning author. Her recent cookbook Picnics, Potlucks & Porch Parties debuted exclusively on QVC. Join Aimee for weekly recipes with a side of Southern hospitality on her blog, southernfromscratch.com.