Aimee's Pretty Palate: Summer's Bounty
---
In my attempt for our family to eat more seasonally grown produce, I joined the Luckett Farms Community Supported Agriculture program, or CSA for short.  The way that it works is you invest in fresh, local, homegrown, seasonal vegetables and correspond personally with the farmers who grow your food. In this case, your emails come from Kacie Luckett herself.
My relationship with vegetables is not the greatest. If you're wondering why I typically avoid most of them, I blame not being made to try them as a child. I have maybe four vegetables that I enjoy and I generally keep those on rotation, regardless of how boring it gets.
Being given weekly vegetables that fall outside of that short list, however, has challenged me to experiment with additional ways to prepare produce and expand my palate.  For a while, zucchini was in every single pickup. I'll be honest and admit that when the program began, zucchini was not among the four vegetables I ate. With that said, I'm happy to report that I have come up with ways that make eating zucchini, I dare say, enjoyable. Loaded Zucchini Skins that hardly remind you that are eating zucchini? I've got you and your picky eaters covered. They are crispy and crunchy and make great appetizers for outdoor snacking. 
Throw some Sweet Chili Yogurt Chicken Kebabs on the grill and keep your appetizers light and easy. Combined with the Loaded Zucchini Skins, they are perfect for enjoying poolside or patio picnicking.
And while we are talking about outside grilling, Grilled Mexican Corn prepared off the cob eliminates the mess yet still brings the flavors of traditional street corn. Because corn is among my four preferred vegetables, I was not opposed to receiving it fresh every week, but I did need to do something with it beyond merely eating it off the cob. This Mexican corn recipe hits the spot and is a summertime staple. 
You'll need to head over to my blog at aimeebroussard.com to see what I did with the acorn squash and okra—also among my weekly CSA deliveries.
---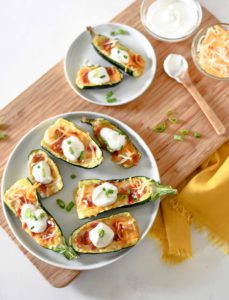 LOADED ZUCCHINI SKINS
Ingredients:
2 large zucchinis
2 Tbsp. olive oil
¼ tsp. garlic powder
¼ tsp. paprika
Salt and pepper to taste
1 cup shredded cheddar cheese
3 slices bacon, cooked, crumbled
¼ cup sour cream
1 green onion, chopped
Preheat oven to 400 degrees. Line a rimmed baking sheet with aluminum foil; set aside.
Cut zucchinis in half lengthwise, then crosswise (so that the 2 zucchinis create 8 pieces). Scoop pulp out of each piece, leaving ¼ inch outer shell on all aides.
Arrange a single layer of zucchini on the foil-lined baking pan. Brush both sides of zucchini with olive oil, then season the cut side with garlic powder, paprika and salt and pepper. Bake for 5 minutes. Remove from oven; top with cheddar cheese and bacon and return to oven for an additional 10 minutes or until cheese is bubbly and zucchini is tender. Top with sour cream and chopped green onions. Serve immediately.
Makes 4 servings.
---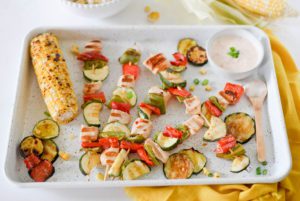 SWEET CHILI YOGURT CHICKEN KEBABS
Ingredients:
½ cup plain Greek yogurt
2 Tbsp. sweet chili sauce
1 lb. skinless, boneless chicken breast, cut into cubes
1 large red bell pepper, cut into small pieces
1 large green bell pepper, cut into small pieces
1 medium zucchini (about 8 oz.), cut into slices, then halved
If using wooden skewers, soak them in water for 30 minutes before assembling kebabs.
Combine yogurt and sweet chili sauce in a medium-size bowl. Remove half and set aside for dipping. Add chicken, bell peppers and zucchini into remaining yogurt sauce; toss.
Heat grill to medium-high heat. Thread chicken cubes, bell pepper pieces and zucchini slices alternately onto each skewer; coat kebabs with cooking spray. Grill kebabs for 4 to 5 minutes on each side or until chicken is done and vegetables are lightly charred. Serve with reserved yogurt sauce.
Makes 6 servings.
---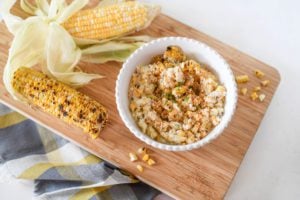 GRILLED MEXICAN CORN
Ingredients:
4 large ears corn, husked
2 Tbsp. mayonnaise
2 Tbsp. sour cream
1 scallion, sliced
¾ cup queso fresco cheese, crumbled plus more for garnish
1 Tbsp. lime juice
¼ tsp. salt
Pinch chipotle chile powder
Preheat grill to medium-high heat. Grill corn, turning occasionally, until lightly charred and tender, 8 to 12 minutes.
While corn is grilling, whisk mayonnaise, sour cream, scallion, cheese, lime juice, salt and chile powder in a medium bowl. Set aside.
Once corn has cooled enough to handle, cut kernels from cobs. Add corn to cream mixture and toss to combine.
Makes 6 servings.
---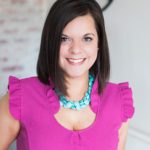 Aimee Broussard is a Southern food blogger and award-winning cookbook author. Seen on QVC, Rachael Ray and more, she is a self-proclaimed accidental entrepreneur with a penchant for porches and sweet hospitality. Find her online at aimeebroussard.com.