Aimee's Pretty Palate: Smooth Moves
---
During the summer when the heat becomes unbearable, I find myself craving a trip to a certain establishment—aka Smoothie King—to give myself the opportunity to drink my nutrition rather than eat it. On one such occasion, I watched eagerly as the ingredients were tossed into a high-powered blender, thinking to myself, "Self, there is nothing keeping you from making these things at home, anytime you please."
Shortly thereafter, I slapped a Vitamix on my birthday wish list, and the rest is history.
Kickstarting your morning with a Fuzzy Navel Smoothie will likely have you singing throughout the day. The orange juice lends itself to a breakfast option beautifully, but the frozen peaches create an almost dessert-like vibe, making it perfect for any time of day.
The Smoothie King Angel Food smoothie is ridiculously easy to whip together, made even easier by Smoothie King listing out the ingredients on its website.  Strawberries, bananas, nonfat milk, turbinado. While they don't list the quantities, this seems easy enough to duplicate, right? Right. I've substituted agave nectar for the turbinado, though creating a simple syrup with turbinado sugar has been on my to-do list. If you're feeling ambitious, try that out and report back.
Not that I needed an extra excuse to whip up more smoothies, but with smoothie bowls (swapping your straw for a spoon to enjoy your smoothie) becoming the trendy way to enjoy breakfast, combined with the arrival of peach season, I've wakened my blender from its winter sleep and made it known the time is now.
The Tropical Smoothie Bowl is a thick, creamy and sweet combination of pineapple and peaches, perfect for keeping cool and beating the summer heat. Enjoy it for a weekend breakfast or midday snack. How you choose to top your smoothie bowl is up to you; there are endless options like puffed rice cereal, pumpkin seeds, sunflower seeds, nuts and chocolate chips. Using a mini cookie cutter to shape your kiwi into hearts adds a little something special to this sweet summer treat.
Some helpful tips to keep in mind as you create your own smoothies at home: You'll notice my instructions ask you to freeze fresh fruit. This is for a couple of reasons. Frozen fruit creates thicker and colder smoothies, but it also tastes better! To freeze, wash the fruit and pat it dry, removing any pits. Cut the fruit into evenly sized pieces, then arrange in a single layer on a baking sheet lined with wax paper. Freeze until fruit is hard, about 4 hours. Transfer the frozen fruit into Ziploc freezer bags in small batches, squeezing out as much air as you can to maintain freshness.
---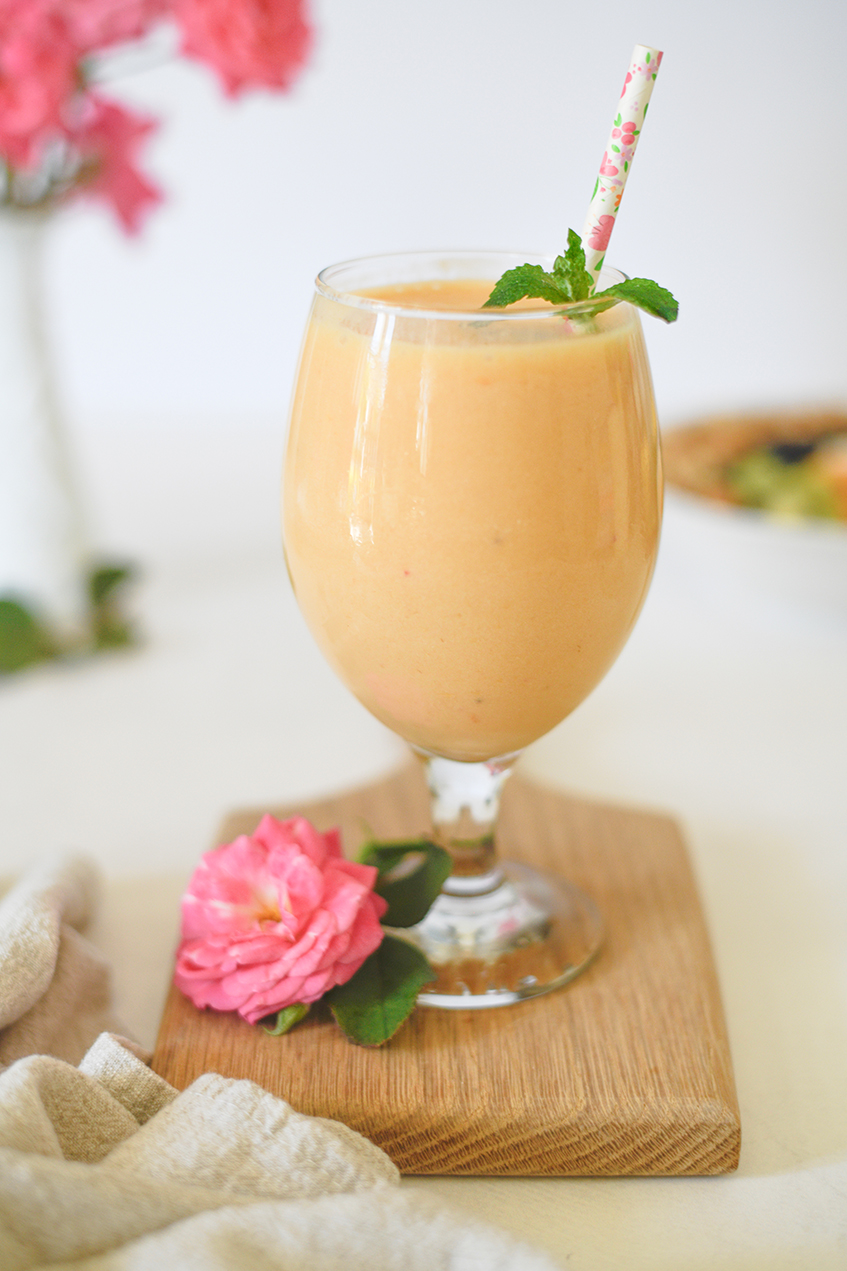 Fuzzy Navel Breakfast Smoothie
Ingredients:
1 cup frozen sliced peaches
1 medium ripe banana, sliced into pieces and frozen
1 cup orange juice
½ cup nonfat Greek yogurt
Dash salt
Instructions:
Combine all ingredients in a blender. Blend until smooth. Garnish with mint if desired.
Makes 2 servings.
---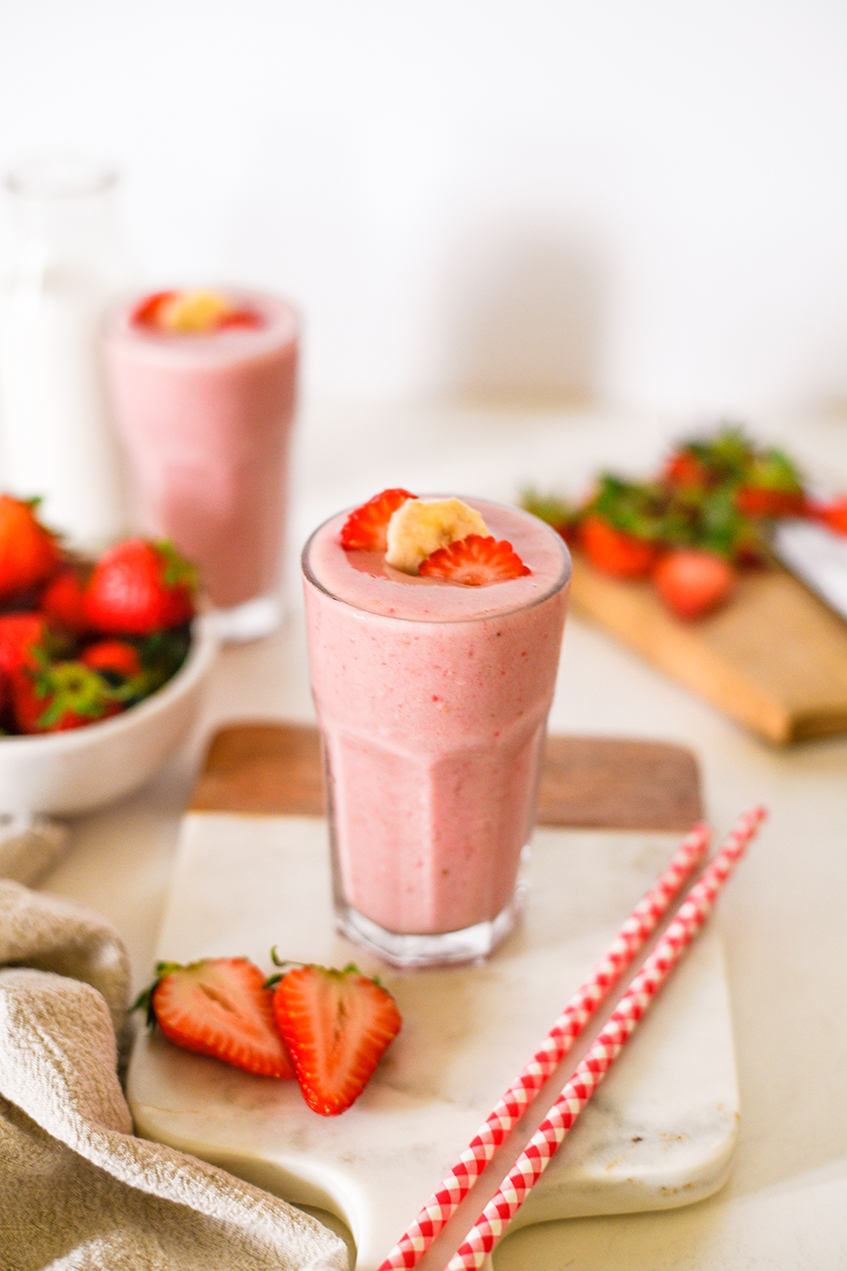 Smoothie King Angel Food Copycat
Ingredients:
1 cup frozen strawberries
1 medium ripe banana, sliced into pieces and frozen
½ cup unsweetened milk (almond, coconut, etc.)
1 Tbsp. agave nectar
½ cup crushed ice
Instructions:
Combine all ingredients in a blender; blend until smooth. For a thicker smoothie, add additional ice. Garnish with strawberry and banana slices if desired.
Makes 2 servings.
---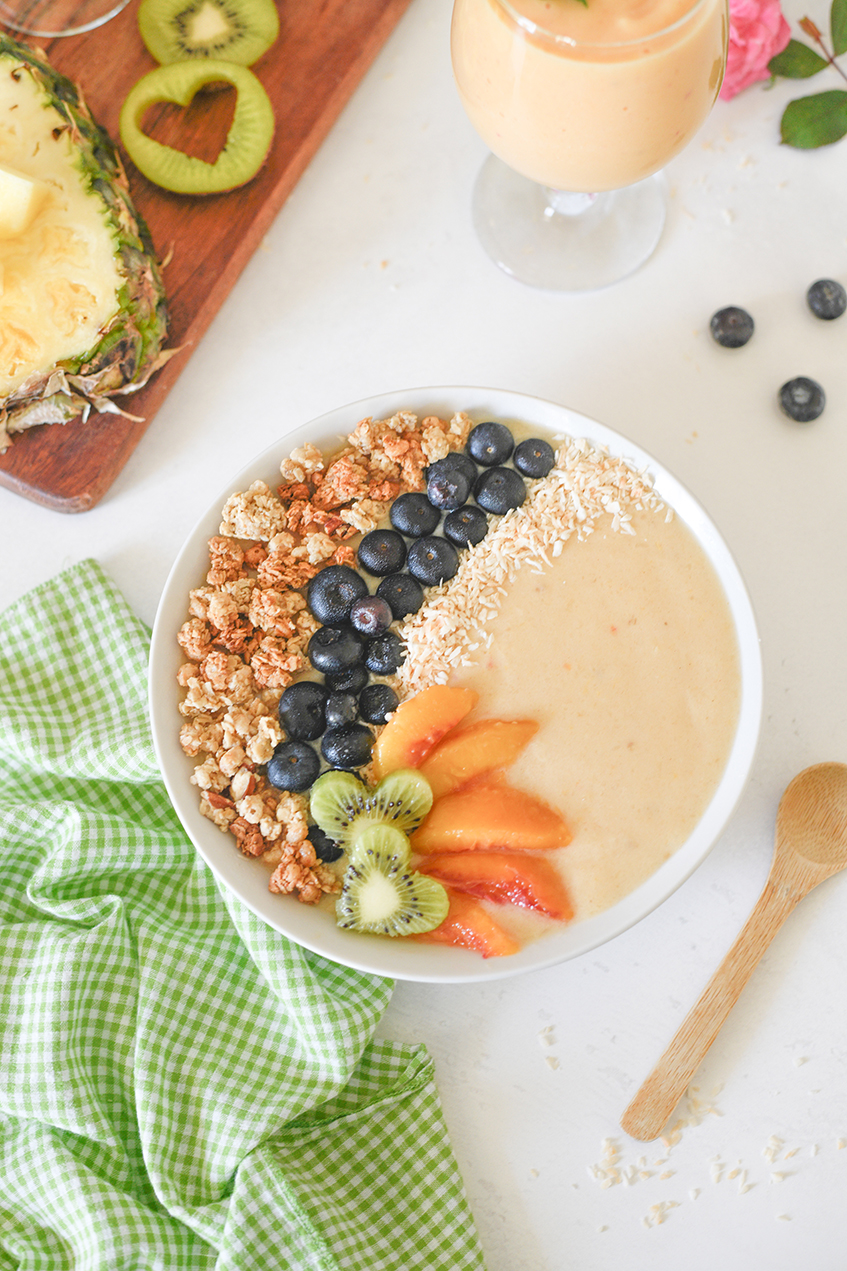 Tropical Smoothie Bowl
Ingredients:
½ cup fresh pineapple, frozen
1 medium ripe banana, sliced into pieces and frozen
¼ cup nonfat Greek yogurt
1 tsp. agave nectar
1 medium peach, sliced
½ cup granola
½ cup blueberries
1 small kiwi
Toasted coconut
Instructions:
Place frozen pineapple and banana into a blender. Add yogurt, agave and half of peach slices, reserving a few for top of bowl. Blend well until you get a smooth, thick mixture.
Pour mixture into a bowl, smoothing top. Top with desired toppings: granola, remaining peach slices, blueberries, sliced kiwi, toasted coconut. Enjoy immediately.
Makes 1 serving.
---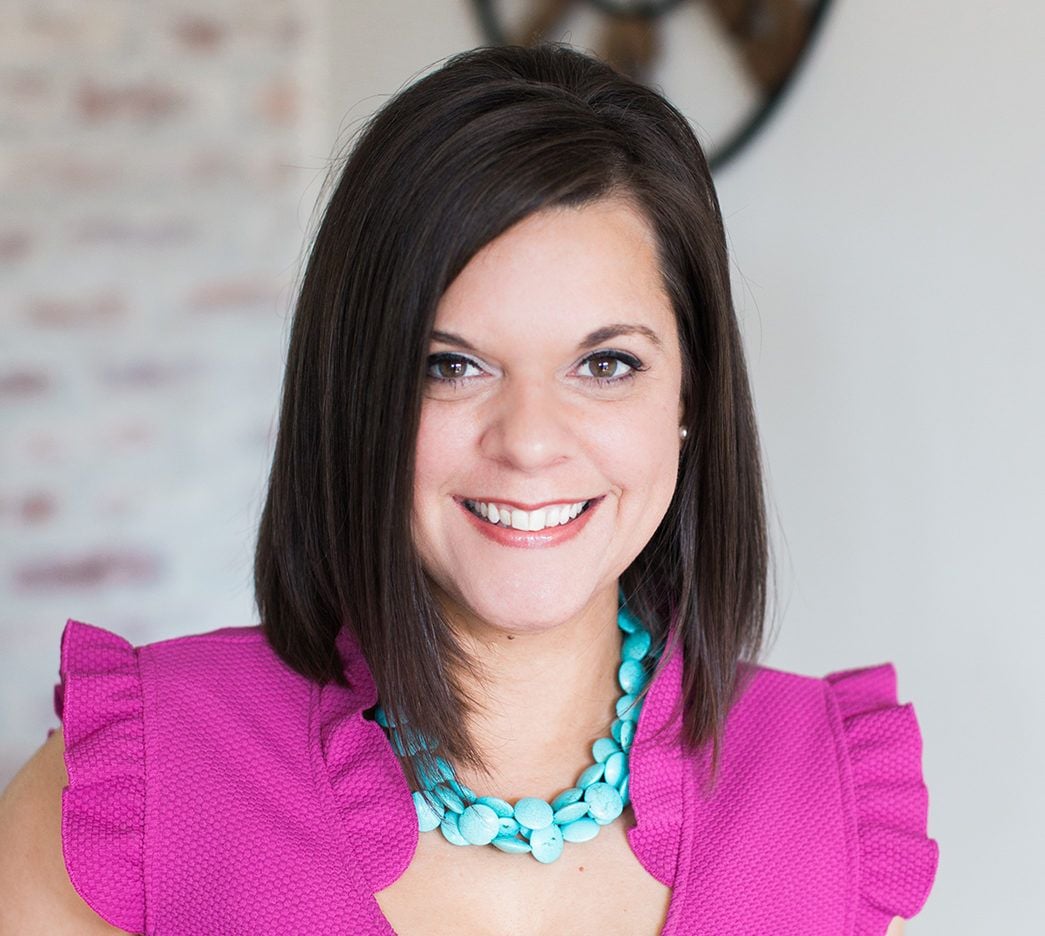 Aimee Broussard is a Southern food blogger and award-winning cookbook author. Seen on QVC, Rachael Ray and more, she is a self-proclaimed accidental entrepreneur with a penchant for porches and sweet hospitality. Find her online at aimeebroussard.com.