Aimee's Pretty Palate: Quick fix
---
Around mid-year, I like to send out a blog survey asking my readers what they'd like to see more (or less) of on my website. I realize that just because I'm passionate about baking, perhaps not everyone wants to see brownies and pies all the time. Hard to believe, I know.
The results this year were a bit all over the place, but the top two contenders for new recipe ideas were "celebratory recipes" for special occasions and entertaining, slightly edged out by "30-minute meals" for busy weeknights.
With back to school barely in our rearview mirror, I can understand the need for homemade meals that are delicious and nutritious … but prepared quickly, too.
My Bacon Cheeseburger Pie is a family-friendly recipe that looks like you put forth a lot of effort, but comes together super-quick. It was a featured recipe on my QVC episode and worthy of host David Venable doing the happy dance.
For something a bit lighter, my Shrimp & Corn Salsa Lettuce Cups are a weeknight winner. Keep things calorie friendly by serving on a bed of lettuce, or serve on tortillas for a tasty Taco Tuesday.
And you know when you're craving a homemade chocolate chip cookie, but every recipe you own produces way too many cookies, creating a dangerous snacking environment? Say no more, my friends. I have perfected a recipe for Small-Batch Chocolate Chip Cookies that not only taste fantastic (deemed by my pet sitter as so delicious she feared eating them all), but,  you guessed it, can be fixed in less than 30 minutes. A recipe that requires NO chilling and produces a controllable amount of cookies? That's a win in my book.
---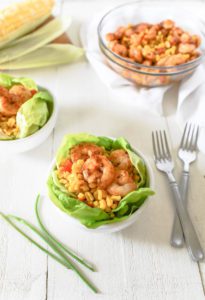 SHRIMP & CORN SALSA LETTUCE CUPS
1 cup roasted corn (I used a package of Green Giant Roasted Veggies)
1 tsp. olive oil
2 Tbsp. chopped green onions
2 Tbsp. fresh lime juice, divided
¼ tsp. salt
¼ tsp. pepper
1 avocado, peeled and diced
1 lb. shrimp, peeled and deveined
2 tsp. honey
1 head butter lettuce or 6 (6-inch) tortillas
Sour cream (optional)
Steam corn according to package instructions. Combine corn, green onions, 1 Tbsp. lime juice, salt, pepper and avocado in a medium bowl and toss. Heat a large grill pan over medium-high heat. In a medium bowl, combine shrimp, 1 Tbsp. lime juice and honey. Toss to coat. Add shrimp to pan and cook for about 2 minutes on each side or until done and shrimp turn pink. Add to corn mixture.
Line a bowl with several leaves of butter lettuce and top with shrimp and corn salsa. Or if serving with tortillas, top each tortilla with shrimp and corn salsa, and top with a dollop of sour cream.
Makes 4 servings.
---
BACON CHEESEBURGER PIE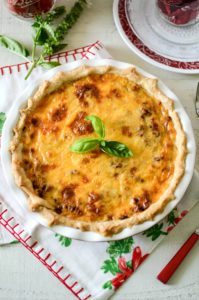 1 uncooked pie crust (store-bought or homemade)
1 lb. lean ground beef
1 onion, chopped
5 slices bacon, chopped
½ cup panko bread crumbs
1 tsp. yellow mustard
3 Tbsp. barbecue sauce
1 Tbsp. ketchup
2 tsp. Worcestershire sauce
½ tsp. black pepper
2 cups shredded cheddar cheese
1 egg
¼ cup milk
Fresh basil for garnish (optional)
Preheat oven to 400 degrees. Line a pie plate with crust, and poke holes along bottom. Brown ground beef, onion and bacon in a large skillet; drain well. Remove from heat and stir in bread crumbs, mustard, barbecue sauce, ketchup, Worcestershire and pepper. Place mixture in prepared pie crust. In a small bowl, combine cheese, egg and milk. Spread over meat mixture. Cover edges of pie crust with foil or a pie shield to prevent over-browning. Bake for 15 minutes, then remove foil and bake for an additional 15 minutes. Garnish with a sprig of fresh basil if desired.
Makes 8 servings.
---
SMALL-BATCH CHOCOLATE CHIP COOKIES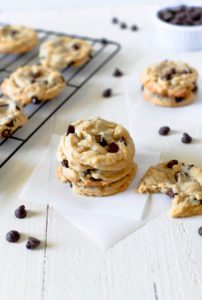 ½
 

cup all-purpose flour
¼ tsp. baking soda
tsp. fine sea salt
¼ cup (4 Tbsp.) unsalted butter, softened
½ cup brown sugar
2 Tbsp. granulated sugar
1 large egg yolk
1 tsp. vanilla extract
½ cup semi-sweet chocolate chips
Preheat oven to 350 degrees. Line a baking sheet with parchment paper or silicone baking mat. In a small bowl, whisk together flour, baking soda and salt. In the bowl of a stand mixer, whisk together butter and sugars until creamy. Add egg yolk and vanilla extract and mix well. Stir in flour mixture a little at a time, just until combined. Fold in chocolate chips. Dough may be a little crumbly—that's totally OK. Using a standard scoop or mini scoop, drop dough by rounded spoonfuls onto prepared baking sheet, gently flattening tops. Bake for 10-12 minutes. Allow cookies to cool on cookie sheet.
Tip: Lightly spraying cookie scoop with non-stick cooking spray will keep dough from sticking.
Makes 8 or more mini cookies or 6 regular-size cookies.
---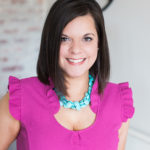 Aimee Broussard is a Southern food blogger and award-winning author. Her recent cookbook Picnics, Potlucks & Porch Parties debuted exclusively on QVC. Join Aimee for weekly recipes with a side of Southern hospitality on her blog, southernfromscratch.com, and find more at aimeebroussard.com.