Aimee's pretty palate: Parade pleasers
I vividly remember my first experience with the Baton Rouge St. Patrick's Day parade. I hadn't lived here very long and completely underestimated the magnitude with which Baton Rouge celebrates this occasion. My friend Jen did her best to explain the day's feasting itinerary: we would brunch at her home prior to the parade, and there would be a separate menu for after the parade. But even so, I still didn't quite understand just how many people would be attending. I naively thought arriving 30 minutes prior to the parade was plenty of time to join the festivities. Boy, was I wrong! My mint chocolate brownies and I found that the street to her house had long been blocked off, and the pre-parade crowd had made their way toward the parade route without me … taking the Bloody Marys along with them.
Since then, I do a bit more preparation. Along with learning the importance of arriving early, I've also learned that bite-size fare and parade-goers go hand in hand. Corned beef sliders and stuffed potatoes you can eat with your hands? A winning combination! And because you'll need dessert, the Mason Jar Grasshopper Pies are miniature versions of my beloved Grasshopper Pie recipe on my website. Made with a Girl Scout Thin Mint cookie crust, you'll be hard pressed to find a green dessert that will top these cuties.
---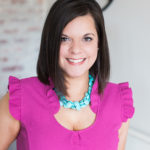 Aimee Broussard is a Southern food blogger and award-winning author. Her recent cookbook Picnics, Potlucks & Porch Parties debuted exclusively on QVC. Join Aimee for weekly recipes with a side of Southern hospitality on her blog, SouthernfromScratch.com.
---
Corned Beef Sliders with Homemade Thousand Island Dressing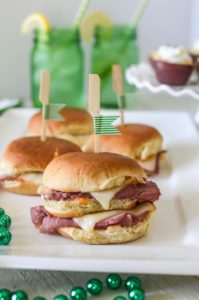 These are similar to a traditional Reuben sandwich, minus the sauerkraut. Since no one I know likes it, I've omitted it, but feel free to add if you want to be truly authentic.
1

⁄2 cup mayonnaise
2 Tbsp. ketchup
1 Tbsp. white vinegar
2 tsp. sugar
2 tsp. sweet pickle relish


1

⁄2 clove garlic, minced


1

⁄4 tsp. salt
Pepper to taste
1 pkg. Hawaiian sweet rolls, sliced open


1

⁄2 lb. corned beef, sliced thin


1

⁄4 lb. Swiss cheese, sliced
2 Tbsp. butter, melted
For dressing, in a small bowl, whisk together first 8 ingredients. Set aside.
Preheat oven to 350 degrees. Spray a 9 x 13-inch baking dish with non-stick spray. Place bottoms of rolls into dish. Spread a bit of dressing onto each roll half. Add corned beef, followed by cheese. (If adding sauerkraut, do so after beef and before cheese.) Repeat layers. Add slider tops. Using a pastry brush, top with melted butter. Bake for 15 to 20 minutes or until cheese is melted. Remove from baking dish and serve warm. Makes 12 servings.
---
Loaded "Irish" Potato Bites
20 red potatoes, small

1

⁄4 cup cheddar cheese, shredded


1

⁄2 cup corned beef, chopped
2 Tbsp. butter, melted
Salt and pepper to taste
Sour cream (optional)
Chives, chopped (optional)
Bring a large pot of salted water to a boil. Add potatoes and boil until fork tender. Preheat oven to 400 degrees. Once potatoes are cool enough to handle, cut each one in half and cut a small slice off the rounded end so that the potato can sit upright.
Scoop out pulp from inside potato skins and place in a bowl. Add cheese, corned beef and butter to potato pulp. Add salt and pepper to taste. Scoop potato pulp mixture back into skins and place on a baking sheet sprayed with non-stick cooking spray. Bake for 10 minutes. Remove from oven, and add a dollop of sour cream and chives if desired. Makes 8-10 servings.
---
Mason Jar Grasshopper Pies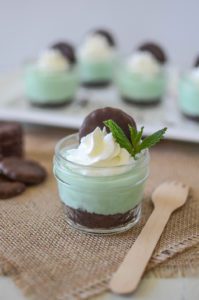 24 marshmallows

1

⁄4 cup milk


1

⁄4 cup crème de menthe (green colored)
2 Tbsp. crème de cacao
1 cup heavy cream
1 sleeve Thin Mint cookies, crumbed (about 16 cookies) (any thin mint chocolate cookie will work if you find yourself Girl Scout-less)
2 Tbsp. butter, melted
Melt marshmallows in milk over medium heat in a small saucepan and let cool. Watch carefully as to not scorch marshmallows. Add crème de menthe and crème de cacao.
In a chilled mixing bowl, whip cream until stiff peaks form; fold into marshmallow mixture and set aside.
For crust, in a separate bowl, add melted butter to cookie crumbs. Press about 2 Tbsp. cookie crumbs into bottom of 6 (4-oz.) Mason jars. Divide pie mixture evenly among jars. Place jars in freezer for about 2 hours. Allow to thaw on countertop for 10 minutes prior to serving. Garnish each with a swirl of whipped cream and an extra cookie, or crumble more cookies and add those. Best served chilled. Makes 6 servings.