Aimee's Pretty Palate: Oh, the Pastabilities!
Do you find yourself in need of quick and easy, family-friendly weeknight meals but tire of the same old same old? Then say hello to pasta … and its many possibilities.
The concept is simple. You boil some noodles, add some sauce, spice it up with toppings and you're all set for comfort food at its finest. Added bonus? Each of the recipes featured this month can be prepared in less than 30 minutes. High five!
The Sweet Pea & Pesto Pasta is a quick-fix summertime favorite. Light and healthy, you can add shrimp if you desire, but it's perfectly delicious on its own as a meal. Grab the leftovers for a no-frills, no-fuss lunch.
The Homemade Cheeseburger Macaroni (ahem, Hamburger Helper's much healthier cousin) has all the flavors the littles in your life enjoy but none of the weird processed ingredients that come from the box. Hearty, homemade and ready in a snap? You got it.
And lastly, my Easy Crawfish Fettuccine is just what the doctor ordered to get through the lull that comes with the departure of crawfish season. Just be sure you're checking the packaging on frozen crawfish—Louisiana is known for crawfish … not China.
So little time, so many pasta possibilities!
---
SWEET PEA & PESTO PASTA SALAD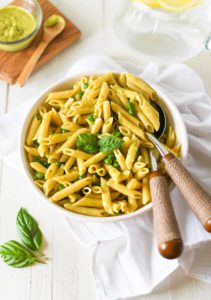 Ingredients: 
12 oz. pasta
¾ cups fresh basil leaves (or 1 [2-oz.] tube basil purée)
½ cup Parmesan cheese, grated
3 Tbsp. pine nuts
2 cloves garlic, minced
Salt and pepper to taste
½ cup extra-virgin olive oil
½ cup heavy cream
2 Tbsp. butter
1 ½ cups (about 8 oz.) frozen green peas, thawed
Cook pasta until al dente. Add basil leaves or purée, Parmesan, pine nuts, garlic, salt and pepper to a food processor or blender. As machine blends, drizzle in olive oil. Continue blending until well combined, adding additional olive oil if needed. Set aside.
Heat cream and butter in a small saucepan over medium-low heat. Add basil pesto and stir.
Drain pasta and place in a serving bowl. Add peas and pesto little by little until salad is dressed. Toss to combine.
Makes 6-8 servings.
---
HOMEMADE CHEESEBURGER MACARONI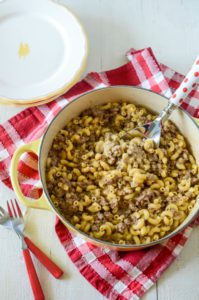 Ingredients: 
1 lb. ground beef (ground turkey can also be used)
½ cup onions, chopped
1 Tbsp. butter
2 cups milk
1 cup cold water
2 cups elbow macaroni, uncooked
1 tsp. salt
¼ tsp. black pepper
¾ tsp. oregano
¾ tsp. parsley
¾ tsp. garlic powder
½ tsp. chili powder
1 tsp. paprika
2 cups cheddar cheese, shredded
In a skillet over medium heat, brown ground meat until nearly done. Add onions and cook until tender. Drain meat and onions and return to skillet. Add remaining ingredients except cheese. Stir to combine and bring mixture to a boil.
Reduce heat, cover and cook until pasta is tender, about 8 to 10 minutes, stirring occasionally to avoid anything sticking. Do not overcook pasta. Remove from heat and stir in cheese. Sauce may be thin. Let pasta sit to thicken sauce; meanwhile, adjust seasonings if needed.
Makes 6 servings.
---
EASY CRAWFISH FETTUCINE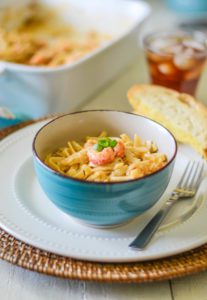 Ingredients:
12 oz. fettuccini noodles
1 large onion, chopped
1 cup chopped bell pepper
1 cup chopped celery
1 stick butter
2 (12-oz.) pkgs. frozen crawfish tails, thawed
1 (8-oz.) block jalapeño-Monterey Jack cheese
1 (8-oz.) pkg. shredded triple cheddar cheese blend
1 cup sour cream
½ cup grated Swiss cheese
Cook noodles according to package instructions. In a very large skillet or Dutch oven, sauté vegetables in butter until onions are translucent. Add crawfish. Using a grater, grate jalapeño cheese into skillet, then add cheddar cheese. Once melted, add sour cream. Stir in drained noodles. Pour into a greased casserole dish and sprinkle Swiss cheese over top. Bake in a 350-degree oven until cheese is melted and bubbly.
Makes 6-8 servings.
---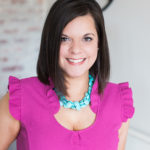 Aimee Broussard is a Southern food blogger and award-winning author. Her recent cookbook Picnics, Potlucks & Porch Parties debuted exclusively on QVC. Join Aimee for weekly recipes with a side of Southern hospitality on her blog, southernfromscratch.com, and find more at aimeebroussard.com.