Aimee's Pretty Palate: Monster Munch
---
If you were to drive by my house on Halloween night, you might think that I really, really love Halloween. Your reasoning would be confirmed by the orange glow from vintage-inspired light bulbs and the oversized skeleton, Esmeralda, with her giant bow and multiple stands of pearls.  But the truth is, I don't. I despise all things spiders, bats and ghosts, and the one time I dressed as a witch for a church Trunk or Treat contest (where I won first prize, I might add), I was a nice witch and refused to paint my face green. What I do love about Halloween, however, is that it is an excuse to gather with friends … and I do love those orange lights on my porch.
It should come as no surprise that I am a devout member of the "cute not creepy" club. Without fail, every Halloween, someone will comment something along the lines of "I wish I had the time to do all the creative things you do," and before I even argue that we all have the same amount of time in our days, I decided to challenge myself to create something beautiful in an insanely short amount of time. Something anyone could do.
My Halloween sweet and savory snack tray can be pulled together in 30 minutes flat. Most everything on it is store bought, so it's borderline cheating, but as long as you include something homemade, there's no need to slave over baking everything from scratch. The Salted Caramel Chocolate Chip Dip is so deliciously sweet that no one will mind your store-bought cookies and graham crackers.
Have a little more than 30 minutes to devote to your shindig? Then I suggest my Creepy Crawler Mini Cheese Balls. They're my basic cheese ball recipe, made into bite-size portions and decorated to resemble spiders. Let's just say these are the only spiders I will tolerate.
And if you really want to wow your guests or the little people in your life, my fun and festive Chocolate-dipped Brownie Pops hold the key to just about anyone's Halloween happiness. They are easy, they are fun, and they are guaranteed to steal the show.
So whether you grab your ghoul-friends for a girls' night out, celebrate with your little ghosts and goblins, or simply trick or treat your own self, I hope you'll find a way to enjoy the evening of the 31st.
---
SALTED CARAMEL CHOCOLATE CHIP DIP
8 oz. cream cheese
½ cup powdered sugar
1 Tbsp. brown sugar
1 tsp. vanilla extract
½ cup sea salt caramel baking chips, melted
½ cup mini chocolate chips
Blend cream cheese in a mixing bowl until creamy. Add powdered sugar, brown sugar and vanilla extract; mix well. Stir in melted caramel chips. Fold in mini chocolate chips. Refrigerate for at least 30 minutes to 1 hour. Serve with cookies or graham crackers.
Makes 6-8 servings.
---
CREEPY CRAWLER MINI CHEESE BALLS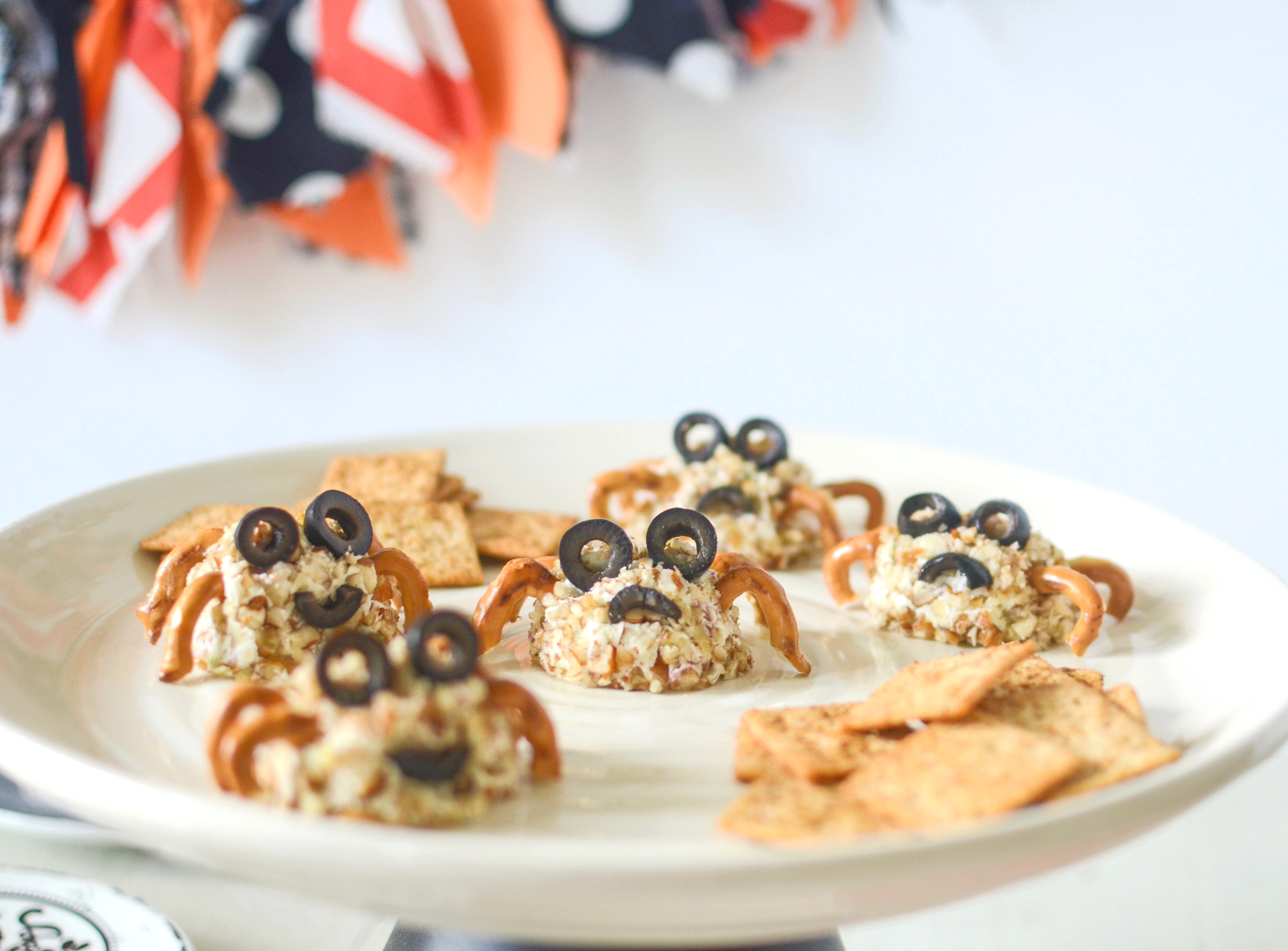 8 oz. cream cheese, softened
4 slices bacon, cooked crispy and crumbled
¼ cup chopped green onions
1 tsp. Worcestershire sauce
Salt and pepper to taste
¾ cup chopped pecans
Miniature pretzels (for spider legs)
Sliced black olives (for spider eyes)
Line a baking sheet with parchment paper. Beat cream cheese in a mixing bowl until creamy. Stir in bacon, green onions and Worcestershire sauce. Add salt and pepper to taste. Shape cream cheese mixture into small balls and place on baking sheet; use a mini ice cream scoop to keep size consistent. Coat cheese balls with chopped pecans (or substitute chopped bacon or sesame seeds for people with nut allergies). If cream cheese is too sticky, place in refrigerator to firm up, then remove and finish coating with pecans. Place coated cheese balls back in refrigerator to chill.
Assemble creepy crawlers by cutting off rounded parts of miniature pretzels and inserting them into sides of cheese balls for legs. Add 2 sliced olives for eyes. Serve chilled with crackers.
Makes 6-8 servings.
---
CHOCOLATE-DIPPED BROWNIE POPS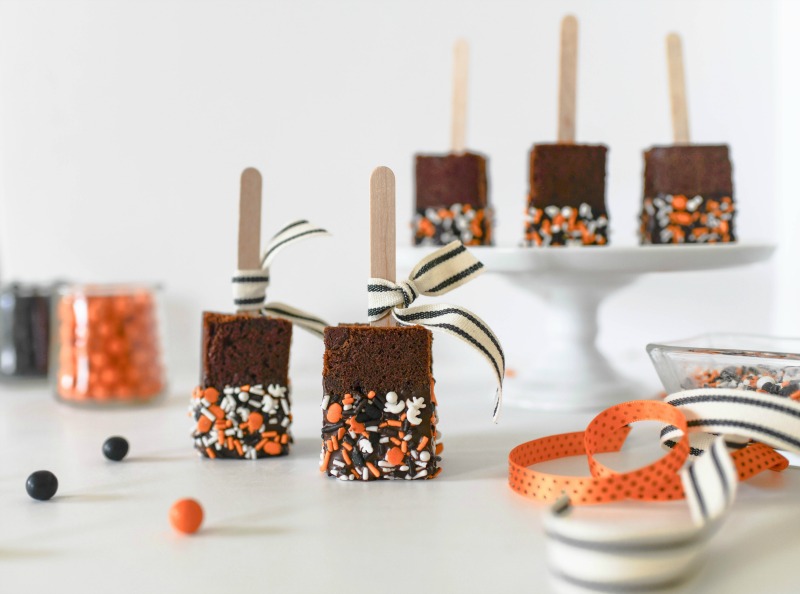 ½ cup Hershey's cocoa
½ tsp. baking soda

2

⁄

3

cup canola oil, divided
½ cup boiling water
1 cup granulated sugar
1 cup light brown sugar
2 large eggs
1½ cups all-purpose flour
1 tsp. vanilla extract
½ tsp. salt
¾ cup chocolate chips
1 (8-oz.) bar semi-sweet chocolate
1 Tbsp. vegetable oil
Colored sprinkles
Preheat oven to 350 degrees. Lightly spray an 8-inch-square baking pan (or a 9 x 13-inch pan for thinner brownies) with non-stick cooking spray, and place a piece of parchment paper inside pan with a bit of overhang. Overhang will serve as handles, so leave enough to lift brownies once layered.
In a medium bowl, stir together cocoa and baking soda. Blend
1

⁄

3

cup canola oil into cocoa mixture until well mixed and shiny. Carefully add boiling water, and stir until mixture thickens. Add sugars and stir in remaining

1

⁄

3

cup canola oil and eggs; mix until smooth. Slowly add flour, vanilla and salt. Fold in chocolate chips. Pour into prepared pan and bake for about 40 minutes or until toothpick in center comes out slightly wet. (If you wait until a toothpick comes out clean, you'll have dry brownies.)
Allow brownies to cool completely.
Break chocolate bar into small pieces and place in a microwave-safe dish (I use a 2-cup measuring cup) with vegetable oil. Microwave chocolate in 20-second intervals until chocolate is smooth, stirring between each interval.
Cut brownies into the desired size "pop" and place a wooden Popsicle stick in the center. Use Popsicle stick to dip brownie into melted chocolate, gently tapping off excess chocolate. Immediately add colored sprinkles while chocolate is still wet. Place on a piece of parchment paper and then in refrigerator to quickly harden chocolate.
Makes 6-8 servings, depending on size of pops.
---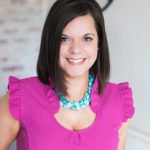 Aimee Broussard is a Southern food blogger and award-winning author. Her recent cookbook Picnics, Potlucks & Porch Parties debuted exclusively on QVC. Join Aimee for weekly recipes with a side of Southern hospitality on her blog, aimeebroussard.com.