Aimee's Pretty Palate: Merry Berries
---
It's the most wonderful time of year, filled to the brim with making memories and lots of good cheer!
Celebrate the season with these quick and easy, yet beautiful, holiday celebration menu items that will leave your guests wondering how in the world you do it all.
"Oh, it's nothing," you'll say.
And with a little bit of effort, it will really seem like nothing at all.
My Holiday Sangria is fruity, delicious and just about the most festive thing you'll see all season. By utilizing Granny Smith apples and vibrant red cranberries, it is everything that is wonderful about color-coordinating your beverages with the season. And let's face it, our temperatures haven't dictated that we need all that much hot chocolate, and who knows if we'll be left to ring in the New Year in shorts.
Speaking of cranberries, my homemade Cinnamon CranApple Sauce has become my new favorite thing. Originally created to replace the jiggly canned cranberry that my husband insists on having during every holiday meal, I have had so much fun blending it into just about everything.
CranApple Bread for Christmas morning? You can find that recipe on my blog. CranApple Breakfast Biscuits? Oh yes, I made those too. The highlight, however? Using the delicious sauce as a topping for some store-bought French bread crostini along with a bit of Brie and a pecan for garnish. It's a ridiculously simple yet elegant addition to your holiday table or even a New Year's Eve party.
Happy holidays from my kitchen to yours! I am so grateful to have spent another year with you and look forward to what we'll cook up next.
---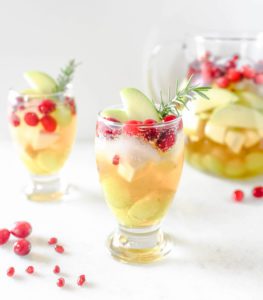 HOLIDAY SANGRIA
1 bottle riesling
1 cup white grape juice
2 Granny Smith apples, sliced thin
1 cup cranberries, fresh or frozen
1 cup green grapes
1 bottle prosecco
Rosemary sprigs for garnish (optional
In a large pitcher, stir together riesling and grape juice, then add fresh fruit. Chill in refrigerator. Just prior to serving, stir in prosecco. Garnish each drink with rosemary if desired.
Makes 6-8 servings.
---
CINNAMON CRANAPPLE SAUCE
3 to 4 apples, peeled, cored, chopped small
12 oz. cranberries, fresh or frozen
1 Tbsp. lemon juice
1 tsp. cinnamon
1 cup sugar
½ tsp. salt
1 cup water
In a large saucepan over medium heat, bring all ingredients to a boil, then lower heat to simmer and cover. Cook for 20 to 30 minutes or until apples can be easily mashed. Remove from heat. Using a potato masher, mash apples and cranberries until it is the consistency of jam. Allow to cool completely. Refrigerate unused sauce.
---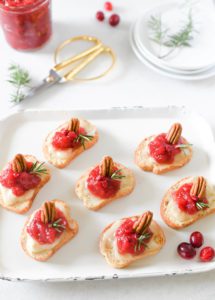 CRANAPPLE BRIE BITES
1 pkg. crostini (you can also use Melba toast)
4 oz. Brie
½ cup Cinnamon CranApple Sauce (recipe on pg. 69)
½ cup pecan halves
Rosemary sprigs for garnish (optional)
Handful of pomegranate seeds for garnish (optional)
Preheat oven to 350 degrees. Place crostini on a baking sheet and lightly toast, no more than about 6 to 8 minutes. Spread a bit of Brie on each crostini (heated crostini will soften the Brie), and top with about 1½ to 2 tsp. Cinnamon CranApple Sauce. If desired, garnish each bite with a pecan half, a bit of rosemary, and a couple of pomegranate seeds for added texture.
Makes 10-12 servings.
---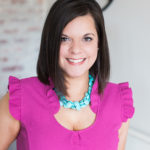 Aimee Broussard is a Southern food blogger and award-winning author. Her recent cookbook Picnics, Potlucks & Porch Parties debuted exclusively on QVC. Join Aimee for weekly recipes with a side of Southern hospitality on her blog, southernfromscratch.com, and find more great recipes at aimeebroussard.com.