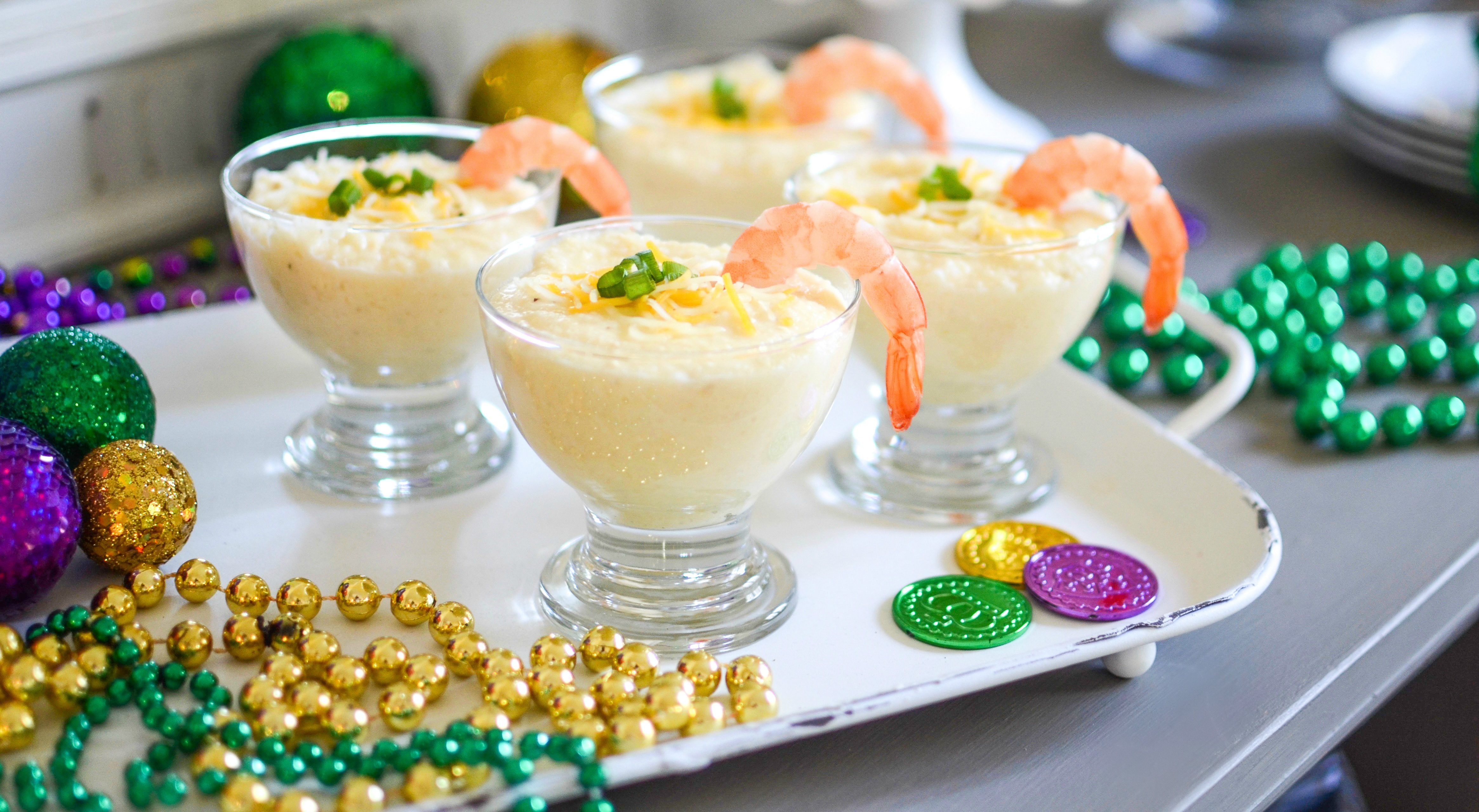 Aimee's Pretty Palate: Mardi Gras Brunch
---
You know what time it is. It's Mardi Gras time! If there were ever an excuse for mid-morning cocktails and king cake on rotation, well then, it's during Mardi Gras season.
Known for my prize-winning Pecan Praline King Cake Cookies, this year I'm shaking it up a bit and sharing a recipe that combines my love of king cake with a Pull-Apart Bread that will make you twist and shout, and toss those colored beads about. It is pre-parade Mardi Gras brunch perfection and I'll bet you won't make it just once.
Need a festive way to wash it all down? My Hurricane Punch is not only colorful and fruity, but it is easy as pie to throw together. Prepare the Hurricane Punch the day before and allow the flavors to dance together for a truly delicious cocktail. And here's a great hostess tip: Grab some inexpensive ice trays, fill with the Hurricane Punch and freeze overnight. When ready to serve, toss the cubes into the punch and keep it cold without fear of diluting.
And speaking of cocktails, is there anything more impressive than serving traditional Shrimp & Cheddar Cheese Grits in individual cocktail glasses? No? I didn't think so either. Grab some plastic martini glasses from the local party store and not only entertain with ease, but also keep cleanup a snap.
Laissez les bons temps rouler!
---
KING CAKE PULL-APART BREAD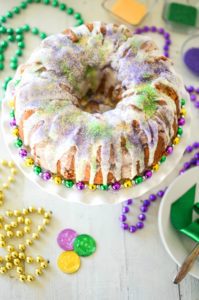 Ingredients:
2 (16.3-oz.) cans refrigerated homestyle buttermilk biscuits
1½ cups sugar, divided
½ cup chopped pecans
2 tsp. ground cinnamon
¼ cup light brown sugar
¼ cup evaporated milk
½ cup butter
2 cups confectioners' sugar
3 Tbsp. heavy whipping cream (plus more if needed)
½ tsp. vanilla extract
Preheat oven to 350 degrees. Lightly spray a 12-cup Bundt pan with non-stick cooking spray; set aside. Cut each biscuit into 4 pieces.
In a large Ziploc bag, combine ¾ cup sugar, pecan pieces and cinnamon. Toss biscuit pieces in sugar mixture, then place in prepared Bundt pan. You will likely have leftover sugar mixture; just toss that on top of arranged biscuit pieces.
In a saucepan over medium heat, combine remaining ¾ cup sugar, brown sugar, evaporated milk and butter. Heat until butter melts and sugar dissolves, stirring occasionally. Pour over biscuit pieces.
Bake for 40 to 45 minutes or until biscuits are golden brown and cooked through. Allow pull-apart bread to cool in pan for 5 to 7 minutes, then invert onto a plate or cake stand.
To create a simple icing, whisk together confectioners' sugar, heavy cream and vanilla extract until smooth. Drizzle on top of bread, and quickly sprinkle with green, purple and yellow sprinkles.
Makes 6-8 servings.
---
HURRICANE PUNCH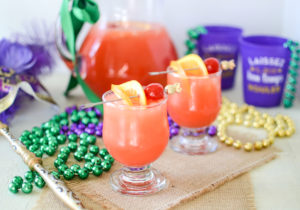 Ingredients: 
1 (32-oz.) bottle red fruit punch
1 (8-oz.) can frozen limeade concentrate, thawed
1 (8-oz.) can frozen orange juice concentrate, thawed
1½ cups light rum
Orange slices and cherries for garnish
This punch is equally delicious with or without the rum. You choose how "festive" you want to make it!
Mix liquid ingredients together. Serve over ice, garnished with fruit.
Makes 6-8 servings.
---
SHRIMP & CHEDDAR CHEESE GRITS "COCKTAILS"
Ingredients:
1 cup stone-ground grits
1½ cups heavy cream
3 Tbsp. butter
2 cups plus 4 tablespoons shredded sharp cheddar cheese
Salt and pepper to taste
2 Tbsp. olive oil
1 cup diced tasso ham
1 lb. shrimp, peeled and deveined
2 Tbsp. white wine
Chopped green onions for garnish
Bring 4 cups salted water to a boil in a heavy 4-quart saucepan. Add grits and mix well. Reduce heat to low and simmer, stirring occasionally, until grits thicken, about 5 to 7 minutes.
Add heavy cream and butter to grits; stir. Bring to a simmer, stirring occasionally. Cover pot, reduce heat to low, and cook, stirring occasionally, for 30 to 45 minutes, until very smooth and creamy. Remove from heat and stir in cheddar cheese, then season with salt and pepper.
Heat olive oil in a large skillet over medium-high heat. Add ham, and sauté until crisp. Add shrimp, and sauté for about 1 minute or until shrimp turn pink. Deglaze pan with white wine. Remove from heat and add to grits mixture. Combine well.
Serve grits in individual-size containers (martini glasses, miniature bowls, etc.) garnished with a sprinkle of additional shredded cheese and chopped green onions.
Makes 4 servings.
---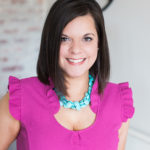 Aimee Broussard is a Southern food blogger and award-winning author. Her recent cookbook Picnics, Potlucks & Porch Parties debuted exclusively on QVC. Join Aimee for weekly recipes with a side of Southern hospitality on her blog, southernfromscratch.com.