Aimee's Pretty Palate: Gotta Hand It to You
---
Always, and I do mean always, when someone asks for recipe suggestions for any type of shower or casual gathering, I recommend handheld. Handheld recipes not only free up the hostess, but they also allow guests to eat as many or as few as they desire without waste. My adoration for them extends well beyond baby and wedding showers, though, and you'll be hard pressed to ever be invited to my home and not find something you can snack on … without utensil assistance. 
While these recipes can certainly be served the next time you're called upon to contribute to those springtime showers, they're great any time you need something fuss free and delicious. They lean toward the semi-homemade genre with phyllo shells and piecrust found at the grocery, but they are so beautifully prepared no one will mind. 
The Shrimp Tartlets are ready in a flash and are so darn addictive, you'll likely want to double the recipe. Folks can and will seldom eat just one. You could even substitute crawfish and really watch your friends go wild. 
Speaking of wild, that's what I think about pimento cheese options. You can put pimento cheese on a sandwich, slather it on a cracker, or stuff it in sweet peppers or burgers. There are so many ways to enjoy the cheesy Southern staple. Everyone has their own version, but I declare my recipe the best because it skips jarred pimentos for roasted red peppers instead. Just trust me on this one. You'll never buy store-bought again. 
And since we're talking about handheld, you cannot forget about hand pies. What makes the Strawberry Jam Hand Pies great, you ask? The fact that they're eaten with your hands! They are the perfect picnic companion or summer afternoon snack. Stuff them with homemade strawberry jam and eliminate all guilt from the store-bought dough. Have a bit of extra time? Use your favorite homemade crust instead. 
Filled, slathered or stuffed, it's two hands up for this appetizing trio.
---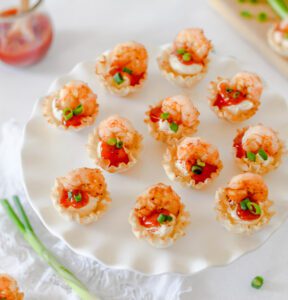 Shrimp Tartlets
1 (8-oz.) pkg. cream cheese, softened
1 1/2 tsp. Worcestershire sauce
2 tsp. seafood seasoning

1

⁄

8

tsp. lemon juice
2 pkgs. frozen miniature phyllo tart shells
1/2 cup seafood cocktail sauce
30 cooked shrimp (peeled and deveined), tails removed
For garnish: green onions, chopped
In a medium bowl, beat together cream cheese, Worcestershire sauce, seafood seasoning and lemon juice. Place tart shells on a serving plate or cake stand. Fill each shell with cream cheese mixture; top with cocktail sauce and shrimp.
 

Refrigerate until ready to serve. Garnish with green onions, if desired.

 
Makes 2½ dozen tartlets.
---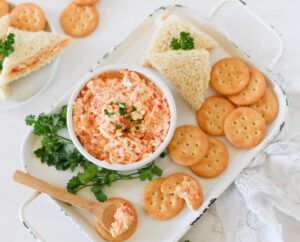 Roasted Red Pepper Pimento Cheese
1 large red bell pepper, halved, seeded, membrane removed
Olive oil
Sea salt to taste
1 (8-oz.) pkg. white cheddar cheese, shredded
1/2 cup sharp cheddar cheese, shredded
3/4 cup mayonnaise
1/4 tsp. Creole seasoning
1/4 tsp. Worcestershire sauce
1/4 tsp. garlic powder
Preheat oven to 450 degrees.
Place pepper halves on a baking sheet, brush with olive oil, and sprinkle with salt. Roast until skin is blistered, about 15 minutes. When cool enough to handle, remove peels, chop, and place in a small bowl. Set aside.
Stir together all remaining ingredients in a large bowl. Fold in chopped roasted red peppers. Cover and store in refrigerator. Garnish with fresh parsley, if desired.
Makes 6 servings.
---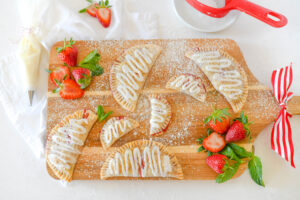 Strawberry Jam Hand Pies
1 lb. strawberries
1 1/2 cups sugar
2 Tbsp. lemon juice
Zest of 1/2 a lemon
1 (14.1-oz.) pkg. (containing 2 crusts) premade pie crust
1 egg, beaten (for egg wash)
1 cup powdered sugar
1 Tbsp. heavy whipping cream
1/4 tsp. almond extract
Prepare jam filling: Wash and slice strawberries, removing hulls and green tops. Add strawberries and sugar to a medium saucepan, mix well, and cook over medium heat, stirring frequently while strawberries come to a boil. Once boiling, add lemon juice and zest. Boil for 15 minutes or until jam reaches 220 degrees on a candy thermometer. Keep stirring so sugar doesn't stick to bottom of pot. Pour into a jar, allow to cool slightly, then refrigerate until ready to use.
When ready to assemble pies, preheat oven to 350 degrees and prepare a baking sheet with parchment paper or a Silpat mat.
Sprinkle a bit of flour onto a clean work surface. Roll out thawed premade pie crusts. Using a 5-inch bowl or biscuit cutter (or a combination of both!), cut dough into rounds. Roll remaining dough into a ball, roll out, and repeat with any excess.
Place pie rounds onto prepared baking sheet. Fill each pie with about 1½ Tbsp. jam filling (or 1 tsp. for 3-inch minis).
 

Take one side of each pie round and pull it over filling. Use back of fork to crimp edges together. Cut slit in top of each pie to vent.

 
Beat egg and brush tops of each pie with a pastry brush. Bake at 350 degrees for about 25 to 30 minutes or until pies are golden brown. Allow pies to cool slightly on a wire rack.
While pies are baking, whisk together powdered sugar, cream and almond extract until smooth. Add additional sugar or cream to reach desired consistency. Drizzle icing on cooled pies and serve immediately.
Makes 6 large or 12 mini pies.
---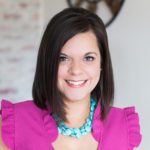 Aimee Broussard is a Southern food blogger and award-winning cookbook author. Seen on QVC, Rachael Ray and more, she is a self-proclaimed accidental entrepreneur with a penchant for porches and sweet hospitality. Find her online at aimeebroussard.com.