Aimee's Pretty Palate: Fan-tastic flavors
---
The temperatures are droppin' and the football parties are going to be rockin'. Score big with my top-pick menu items for a tasty tailgate/homegate that is sure to please.
There's a reason my Honey Garlic Party Meatballs have the word "party" in the title. A little bit of garlic. A little bit of honey. It's a party meatball recipe that will give all other football-watching snacks a run for their money. Eat 'em as poppers served alone with toothpicks or on a sandwich sub-style. Like potato chips, I'll bet you can't just eat one.
My Hot Muffuletta Dip is more than a warmed-up version of my beloved and ever-popular Muffuletta Dip. While delicious in its original state, I fancied it up for inclusion in my friend, Beth Peterson's new book The Tailgate Cookbook. A sports-themed restaurant owner turned TV competitor (Food Network's Cuttthroat Kitchen & Fox's MasterChef), Beth resides in Chicago, but our paths crossed when she was on tour as an ESPN College GameDay tailgating spokesperson. I had the honor of hosting Beth along with cookbook author, BBQ pitmaster and TV personality Ray Lampe, aka "Dr. BBQ."  Beth's tailgating-themed tome features 75 recipes from her travels to game days across the country, and I was tickled pink to be asked to represent the South, along with local chef and culinary personality Jay Ducote.
Never one to pass up an opportunity to color-coordinate my cocktails, my Spiked Lemonade is super refreshing and quite easy to theme around your favorite college team—purple sanding sugar for LSU or blue for Southern. Just a little warning, though: you'll want to pace yourself so you'll make it past halftime.
Cheers to a great season!
---
SPIKED LEMONADE
2 cups sugar
5 cups water, divided
1 Tbsp. grated lemon zest
1½ cups lemon juice
1 cup light rum (or vodka)
Garnish: sanding sugar, lemon slices
In a large saucepan over medium heat, create a simple syrup by combining sugar, 1 cup water and lemon zest. Cook until sugar is completely dissolved. Remove from heat. Stir in lemon juice, remaining water and rum. Pour into a 2-quart pitcher and refrigerate until chilled. Garnish with sanding sugar and lemon slices.
Makes 6-8 servings.
---
HOT MUFFULETTA DIP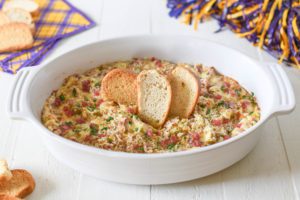 1 (8-oz.) pkg. cream cheese, softened
1 cup Italian olive salad, drained
1 cup diced salami
¼ cup grated Parmesan cheese, plus an additional ¼ cup for topping
¼ cup chopped pepperoncini salad peppers
4 oz. provolone cheese, diced
1 celery rib, finely chopped
½ red bell pepper, chopped
¼ cup chopped fresh parsley
French bread crostini
Preheat oven to 350 degrees. In a large bowl, combine all ingredients except parsley and crostini. Spread mixture in an oven-safe dish, top with remaining ¼ cup Parmesan cheese, and bake for 25 to 30 minutes or until cheese is hot and bubbly. Garnish with fresh parsley, and serve with French bread crostini.
Makes 8-10 servings.
---
HONEY GARLIC PARTY MEATBALLS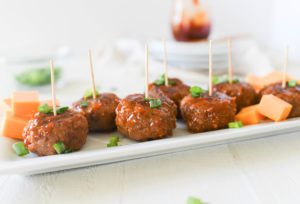 2 lb. ground beef or pork
¼ cup breadcrumbs
1 egg
½ tsp. salt
¼ tsp. pepper
1 clove garlic, pressed
2 tsp. butter, melted
2 cloves garlic, minced
½ cup ketchup
¼ cup honey
1½ Tbsp. soy sauce
2 tsp. Tabasco sauce
In a bowl, combine ground meat, breadcrumbs, egg, salt, pepper, and 1 clove pressed garlic, and form into 1- to 1½-inch balls. Brown in a skillet and drain. In a separate bowl, whisk together butter, 2 cloves minced garlic, ketchup, honey, soy sauce and Tabasco sauce, and pour over meatballs. Toss, return to skillet, and simmer over low heat for 30 minutes or until meatballs are cooked through.
Makes about 20 meatballs
---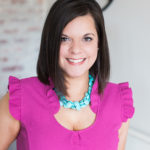 Aimee Broussard is a Southern food blogger and award-winning author. Her recent cookbook Picnics, Potlucks & Porch Parties debuted exclusively on QVC. Join Aimee for weekly recipes with a side of Southern hospitality on her blog, southernfromscratch.com, and find more at aimeebroussard.com.