Aimee's Pretty Palate: Everything but the turkey
---
There is absolutely no denying that the only thing I love more than setting the table for friends and family during the holidays happens to be the food dishes that make their annual appearance. Sweet potato, pumpkin spice everything, and all the pies? I'm looking at you guys!
Marriage and traditions, though, often go through what I like to call "culinary compromises."  While twice-baked Sweet Potato Boats (that recipe can be found on my website and in my Picnics, Potlucks & Porch Parties cookbook) never fail to grace my family's holiday dinner table, my New Orleans-native husband has grown to expect dressing. Oyster dressing, to be exact.
The recipes this month combine a little something for everyone in our families: a twist on his mother's Italian Oyster Dressing, a nod to my individual style with the Personal Pecan Pies, and a little something creative and different with the Gruyere & Bacon Scalloped Potatoes.
And speaking of creative and different, I find the most fulfilling holiday decorating comes from looking beyond traditional table décor and uninspired place settings. Here, I've woven oyster shells into my table setting and used chalk-painted pumpkins in lieu of place cards. Skip assigning names and instead attach pumpkin "leaves" honoring what is most important about Thanksgiving by featuring words like "thankful," "grateful," and "family."
If you're already making an oyster dish for your gathering, pick up some cleaned oyster shells from Tony's Seafood (they sell them!), then scatter them along with your pumpkins. It's an easy way of merging traditional holiday décor with a bit of coastal flair.
From our families to yours, here's to culinary compromises and being thankful for those who gather around our tables.
---
NEW ORLEANS ITALIAN OYSTER DRESSING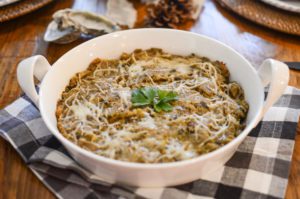 A slightly modified version of my mother-in-law's oyster dressing. So delicious, even non-oyster eaters will enjoy.
2 large onions, minced
7 cloves garlic, minced

3

⁄4

 

cup olive oil
1 qt. oysters (liquid reserved), chopped
2 cups Italian flavored breadcrumbs
1 cup grated Parmesan cheese, divided
Preheat oven to 350 degrees. Spray a 9 x 13-inch casserole dish with non-stick cooking spray. Set aside.
Sauté onion and garlic in olive oil until slightly golden brown; add oysters and cook until edges curl. Remove from heat and stir in breadcrumbs,
3

⁄4 cup Parmesan cheese and reserved oyster liquid. Mix well. Mixture should be a very moist consistency, similar to stuffing. If it's too dry, add a bit of water. Pour mixture into prepared casserole dish and sprinkle remaining cheese on top. Bake for 30 minutes. Garnish with a sprig of parsley.
Makes 8 servings.
---
GRUYERE & BACON SCALLOPED POTATOES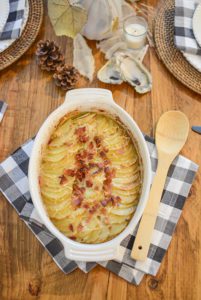 Slicing potatoes in a consistent size helps with assembly and even cooking time. Also, be sure to place sliced potatoes in a bowl of cold water while slicing to prevent discoloring. Drain and pat slices dry before arranging.
2 Tbsp. olive oil, divided
4 cups thinly sliced onions
6 medium-small Yukon gold potatoes (about 1
1

⁄2 lbs.), peeled, thinly sliced (I use a mandoline)
1 cup grated Gruyere cheese, divided


1

⁄2 cup grated Parmesan cheese
1 tsp. salt


1

⁄2 tsp. pepper


1

⁄4 cup chicken stock
4 slices bacon, cooked and crumbled
Preheat oven to 400 degrees, and spray a 9 x 13-inch baking dish (or similar-size casserole dish) with nonstick cooking spray. Set aside.
Heat 1 Tbsp. olive oil in a heavy sauté pan over medium heat. Add sliced onions, stir to coat with the olive oil, and cook until golden brown.
In a large bowl, toss sliced potatoes with 1 Tbsp. olive oil,
1

⁄2 cup Gruyere cheese,

1

⁄2 cup grated Parmesan, salt and pepper.
Line bottom of casserole dish with caramelized onions in a single layer. Arrange sliced potatoes in a pattern over onions. Pour chicken stock over potatoes. Sprinkle with remaining cheese. Cover with aluminum foil and bake for 1 hour (or until potatoes are fork tender—baking time will be determined by potato slice thickness). Remove aluminum foil, add bacon crumbles, and return to oven that has been set on broil for 5 minutes, uncovered, until lightly browned.
Makes 8 servings.
---
PERSONAL PECAN PIES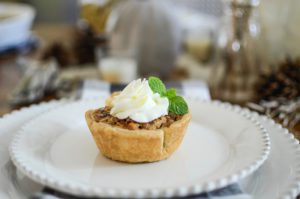 Just like a personal pizza dazzles and delights, so will your guests' faces when you serve individual traditional pecan pies. No need to declare that you only want a sliver but secretly wish you had an entire slice!
1 box frozen pie crusts (2 to a box)
2 cups chopped pecans

3

⁄4

 

cup granulated sugar
4 Tbsp. light brown sugar


3

⁄4

 

cup light corn syrup


3

⁄4

 

cup dark corn syrup
3 large eggs, lightly beaten
2 Tbsp. melted butter
1 tsp. vanilla extract


1

⁄8 tsp. salt
Whipped cream and fresh mint for garnish
Preheat oven to 350 degrees. Lightly spray a cupcake/muffin pan (6 jumbo or 12 regular—I used a jumbo pan) with nonstick cooking spray.
Roll out premade (or homemade if you prefer) pie crusts. Using a glass with a mouth larger than openings of your muffin pan, cut out oversized circles and press lightly into prepared cupcake pan.
In a shallow pan, bake pecans in a single layer for 8 to 10 minutes or until toasted and fragrant.
In a medium bowl, stir together sugars and corn syrups. Stir in pecans, eggs, butter, vanilla and salt. Fill each pie crust shell about
3

⁄4 full of pecan mixture. Bake for 25 to 30 minutes or until set. Remove to wire racks, and let cool completely. Top each pie with homemade whipped cream and a sprig of mint.
Makes 6 jumbo or 12 regular muffin-size pies.
---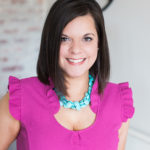 Aimee Broussard is a Southern food blogger and award-winning author. Her recent cookbook Picnics, Potlucks & Porch Parties debuted exclusively on QVC. Join Aimee for weekly recipes with a side of Southern hospitality on her blog, southernfromscratch.com.