Aimee's Pretty Palate: Dining with Dad
---
Fire up those grills. Father's Day is just around the corner!
I can honestly think of no better excuse to get outdoors doing something Dad will love than a Father's Day afternoon barbecue. Lucky for you, I've got just the menu (and gift idea, too!) perfect for dazzling the dad in your life. Since I only have space here for three recipes, be sure to check out my blog for even more ideas for a memorable celebration—just type "Father's Day" into the search area and it'll populate some of the menu plans I've done in years past.
Speaking of previous celebrations and past menu plans, nearly every year my husband Brian and I combine our Father's Day festivities into one shindig. Neither of us mind sharing the men in our lives, and it works wonders for scheduling the day. My father-in-law even has a special grilling apron he whips out every year, and if he's not wearing it, my own father wants to know why.
While I won't waste space on how to barbecue your chicken, I do want to share my recipe for Homemade BBQ Sauce.  Why make your own sauce, you ask? For starters, it's delicious, and there's so much pride that comes with grilling your chicken with a sauce you've prepared yourself. And while your presence is probably all that your father really wants on his special day, a homemade gift never hurt anybody. Whip up an extra jar and attach a basting brush with ribbon—it garners smiles every single time.
Go a step further and use that same barbecued chicken (grilled with your homemade secret sauce) for the BBQ Deviled Eggs for an unexpected twist on the traditional deviled egg recipe. Trust me when I say they'll disappear like magic, though. Does Dad have a thing for wings? Offer the Apple Cider Brown Butter Honey Kissed Wings. They are a sweet and saucy deviation from all things barbecue, and they are pretty darn easy to boot.
Whatever you decide to serve, I hope you'll spend it with your own father if you're able—ridiculous grilling aprons included.
---
Homemade BBQ Sauce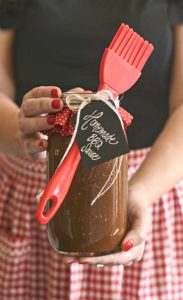 Anytime I prepare this "secret sauce," I whip up an extra jar for gifting. Frisbee champ at your family picnic? You won some sauce! Award-winning potluck contribution at church? You know it, some sauce for you, too.
1 (15-oz.) can tomato sauce

1

⁄2 cup apple cider vinegar


1

⁄3 cup honey


1

⁄4 cup tomato paste


1

⁄4 cup molasses
2 Tbsp. Worcestershire sauce
2 tsp. Liquid Smoke
1 tsp. smoked paprika
1 tsp. garlic powder


1

⁄2 tsp. black pepper


1

⁄2 tsp. onion powder


1

⁄2 tsp. salt
Whisk all ingredients together in a medium saucepan. Bring to a simmer over medium-high heat. Reduce heat to medium-low; simmer, uncovered, for 20 minutes or until sauce has thickened slightly. Use sauce immediately, or refrigerate in a Mason jar, covered, for up to 1 week.
---
BBQ Deviled Eggs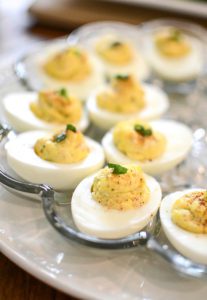 In our home, we call these deviled eggs a match made in marriage heaven. My husband whips up the barbecued chicken, and I sneak in and steal some for these BBQ Deviled Eggs.
6 large hard-boiled eggs, peeled

1

⁄4 cup mayonnaise
1

1

⁄2 Tbsp. sweet relish
1 Tbsp. Dijon mustard
1 cup finely chopped barbecued chicken
Salt and black pepper to taste
2

1

⁄2 Tbsp. barbecue rub
2 Tbsp. chopped green onions
Halve eggs lengthwise. Remove yolks, and set whites aside. Place yolks in a small bowl; mash with a fork. Stir in mayonnaise, relish, Dijon mustard, chicken, salt and pepper. Mix well. Spoon mixture back into egg white cavities, or use a piping bag to pipe mixture more neatly. Lightly sprinkle with barbecue rub, and top with green onions. Serve immediately, or cover and refrigerate for up to 4 hours, until ready to serve. Makes 6 servings.
---
Apple Cider Brown Butter Honey-Kissed Wings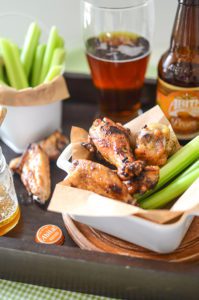 Quick and easy, these wings pack a punch that is sweet, saucy and a bit tangy, too!
1

⁄4 cup butter


1

⁄4 cup honey
1 Tbsp. apple cider vinegar
2 lbs. chicken wings
1

 

1

⁄2 Tbsp. olive oil
1

 

1

⁄2 tsp. salt


1

⁄2 tsp. black pepper
For honey sauce, cook butter in a saucepan over medium-high heat for 5 minutes or until brown bits begin to form. Transfer to a small bowl, and cool for 5 minutes. Cook honey and vinegar in a saucepan over medium-high heat, stirring often, for about 2 minutes. Whisk in browned butter.
For wings, preheat grill to medium-high. Toss wings in a large bowl with olive oil. Add salt and pepper, and toss to coat. Grill wings, covered, for 25 to 30 minutes or until skin is crisp and wings are done, turning occasionally. Using a basting brush, generously brush with honey sauce. Makes 6 servings.
---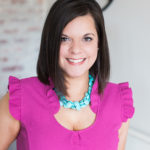 Aimee Broussard is a Southern food blogger and award-winning author. Her recent cookbook Picnics, Potlucks & Porch Parties debuted exclusively on QVC. Join Aimee for weekly recipes with a side of Southern hospitality on her blog, southernfromscratch.com.