Aimee's Pretty Palate: Candy Coated Christmas
---
The holidays are looking a little different this year, and just because you might forego your usual cookie swap gatherings doesn't mean you can't still enjoy the tradition of making holiday treats for gift giving. In fact, I believe that now more than any other year, the thoughtfulness of a tin full of handmade treats may be just what some desperately need after a season of non-togetherness.
I say it every year, but the month of December is my favorite. The sights. The sounds. The preparing and creating of handmade gifts while the Christmas music blares; it is truly my love language.  If you go back season after season, you will find that in the month of December, I'm typically sharing something sweet to eat, or something handmade to treat.
This year's Candy Coated Christmas theme focuses on recipes suitable for making and taking due to the large quantities they produce. I've successfully halved both the White Chocolate Peanut Butter Crunch Balls as well as the Sea Salt Turtles, so if you don't need quite that much candy, I've got you covered.  The Turtles are a slight twist on traditional Turtles or what some call Texas Millionaires. Regardless of what you call them, it's impossible to eat just one. The White Chocolate Peanut Butter Crunch Balls can be colored with food coloring if you want to have fun with the kids, or left au naturel as I have. No substitutes for the Peppermint Candy Fudge, though. You'll need every last square of that one! It's a quick and easy fail-proof recipe that will become a holiday staple.
Wishing you a "sweet" holiday season!
---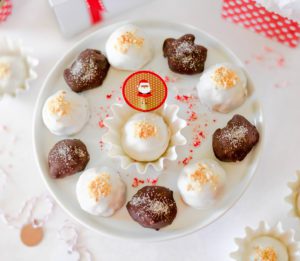 WHITE CHOCOLATE PEANUT BUTTER CRUNCH BALLS
Ingredients
1 1/2 cups graham cracker crumbs
1
1

⁄

3 cups crunchy peanut butter
1 cup butter, melted
1/2 cup chopped toasted pecans
2 tsp. vanilla extract
1 (16-oz.) pkg. confectioners' sugar
2 (12-oz.) pkgs. white chocolate morsels
1/4 cup shortening
Line a couple of large baking sheets with parchment paper and set aside.
Stir together first 6 ingredients until well blended. Using a small cookie scoop or your hands, roll mixture into 1-in. balls; place on parchment paper-lined baking sheets.
Microwave chocolate and shortening in a medium microwave-safe bowl, stirring every 30 seconds, for 1 to 2 minutes or until melted and smooth. Using 2 forks, dip each ball into chocolate mixture, gently tapping off excess. Return to baking sheet. Let stand until set, or chill for 30 minutes for a firmer coating.
Makes 9 dozen.
---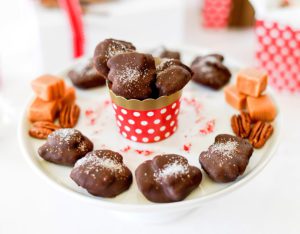 SEA SALT TURTLES
Ingredients
1 (14-oz.) package caramels, unwrapped
2 Tbsp. butter
3 cups toasted pecan halves, chopped
1 cup semisweet chocolate morsels
Sea salt, for sprinkling
Cook caramels, butter and 2 Tbsp. water in a heavy saucepan over low heat, stirring constantly until melted and smooth. Stir in pecans. Cool in pan for 5 minutes. Drop by tablespoonful onto parchment paper-lined baking sheets. Chill for 1 hour or until firm.
Melt chocolate morsels in a heavy saucepan over low heat, stirring until smooth. Drip caramel candies into chocolate mixture, gently tapping off excess. Return to baking sheet. While chocolate is still wet, sprinkle with coarse sea salt. Let stand until set, or chill for 30 minutes.
Makes 4 dozen.
---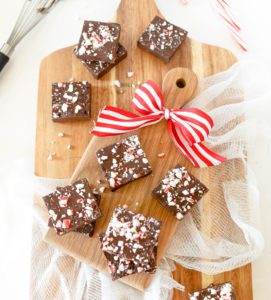 PEPPERMINT CANDY FUDGE
Ingredients
3 cups semisweet chocolate chips
1 (14-oz.) can sweetened condensed milk
1/4 cup butter
1 tsp. peppermint extract
Crushed candy canes, for topping
Prepare an 8-in. square pan with parchment paper, allowing excess edges on sides to serve as handles for easy removal. Set aside.
In a large saucepot over low heat, combine chocolate chips, condensed milk and butter, stirring constantly until combined, scraping bottom of pan to avoid any chocolate burning and sticking.
Once smooth and creamy, remove from heat and add peppermint extract, stirring to combine. Pour mixture into prepared baking pan. Allow fudge to cool for about 10 minutes before sprinkling candy cane topping.
 

Chill for a minimum of 2 to 3 hours before cutting. Remove from pan and cut into 1-in. pieces.
Makes 2 dozen squares.
---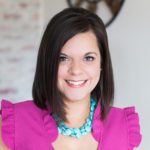 Aimee Broussard is a Southern food blogger and award-winning cookbook author. Seen on QVC, Rachael Ray and more, she is a self-proclaimed accidental entrepreneur with a penchant for porches and sweet hospitality. Find her online at aimeebroussard.com.