Aimee's Pretty Palate: Berry Delightful
---
As berry season in the South comes to an end, I thought we'd bid it adieu in a most delicious and delightful style that includes all things, you guessed it, berries.
First up are my Glazed Blueberry Scones. Better than any you'll find in the bakery, they combine fresh, juicy blueberries and an irresistible vanilla glaze, making them perfect for breakfast, brunch or even afternoon coffee or tea. Skip the glaze until later and pop them in the freezer to enjoy long after blueberry season has departed.
My festive Patriotic Porch Sangria combines your red, white and blue in a tasty beverage perfect for your 4th of July holiday weekend entertaining plans. And no worries if you run out of time this holiday—substitute apple slices rather than cut-out stars and file that idea away for next year. Sangria is universal and delicious any time of year.
Wrap things up with some Bite-Size Mini Cheesecakes. An even easier version of my Mason Jar Cheesecakes, these guys begin with a vanilla wafer "crust." My grandmother makes them for the holidays with cherry pie filling. I find that I like them in the summertime topped with preserves and seasonal fruit. Just be sure to use a mini muffin tin. I've got $10 that says you won't be able to eat just one, and the tiny size will tone down the guilt factor.
---
GLAZED BLUEBERRY SCONES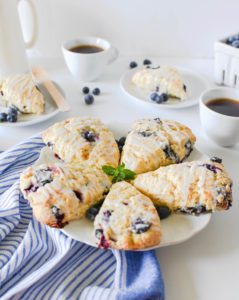 Prep Time: 20 minutes
Cook Time: 25 minutes
Ingredients:
2 cups all-purpose flour
½ cup granulated sugar
1 Tbsp. baking powder
1 tsp. salt
1 stick unsalted butter, very cold or slightly frozen, grated
1 large egg, lightly beaten
½ cup plus 3 Tbsp. cold heavy cream, divided, plus extra for brushing tops
1 ½ tsp. vanilla extract, divided
1 ½ cups blueberries,
 

fresh or frozen (unthawed)
Raw turbinado sugar for sprinkling
1 ½ cups powdered sugar
Preheat oven to 400 degrees. Prepare a large baking sheet with parchment paper or a silicone baking mat and set aside. In the bowl of an electric mixed fitted with a paddle attachment, mix flour, granulated sugar, baking powder and salt. Grate cold butter. Add butter to flour mixture, and, using a pastry cutter or 2 butter knives, combine until mixture is crumbly.
In a separate bowl, combine egg, ½ cup heavy cream, and 1 tsp. vanilla extract. Add to flour mixture, tossing to combine. Mixture will be lumpy. Gently fold in blueberries, being careful not to overwork dough or smash blueberries. Turn out dough onto a well-floured surface; gently work into a ball using floured hands. Using a rolling pin, work dough into a circular disc about 8 inches in diameter and ¾ inch thick. Using a sharp knife, cut dough into quarters, then cut again, creating 8 triangles. Place scone triangles onto baking sheet, leaving an inch or two between each to allow for spreading. Brush tops of scones with a bit of heavy cream and sprinkle with raw turbinado sugar. Bake for 20 to 25 minutes or until lightly golden and cooked through. Remove from oven and allow to cool for a few minutes.
To make glaze, combine 3 Tbsp. heavy cream, powdered sugar and ½ tsp. vanilla extract in a small bowl; whisk together. Drizzle glaze onto scones just before serving.
Serve immediately, or skip glaze and freeze for up to 3 months.
Makes 8 servings.
---
BITE-SIZED MINI CHEESECAKES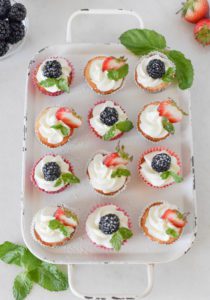 Prep Time: 25 minutes
Total Time: 1½ hours
Ingredients:
24 vanilla wafer cookies
1 (8-oz.) pkg. cream cheese, softened
½ cup sugar
1 egg
½ teaspoon vanilla extract
¼ cup fruit preserves
Whipped cream topping, store-bought or homemade
Desired fruit for topping
Preheat oven to 350 degrees. Line 24 mini muffin cups with paper liners. Place 1 vanilla wafer cookie in the bottom of each muffin well.
With an electric mixer on medium-high, or in the bowl of a stand mixer,
 

beat cream cheese, sugar, egg and vanilla extract for about 2 minutes or until mixture is light and fluffy. Spoon evenly into muffin cups (about

2

⁄

3

 full). Bake for 12 to 15 minutes or until toothpick inserted in center comes out clean. Remove from muffin tin to a wire rack to cool completely. Refrigerate for at least 1 hour or up to 24 hours before serving.
Just before serving, top each cheesecake with about 1 tsp. fruit preserves, a swirl of whipped cream, and desired fruit. Garnish with mint and sprinkle a bit of powdered sugar, if desired.
Makes 24 mini cheesecakes.
---
PATRIOTIC PORCH SANGRIA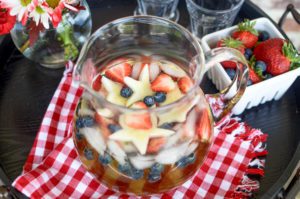 Prep Time: 1 hour
Ingredients:
1 (750-ml) bottle dry white wine
1 cup white grape juice
2 cups fresh blueberries
1 lb. fresh strawberries, hulled and sliced
1 (750-ml) bottle Champagne
3 to 4 Granny Smith apples, thinly sliced (pears would be delicious, too)
Stir together white wine, grape juice, blueberries and strawberries in a large pitcher. Cover and refrigerate for 2 to 4 hours so flavors can meld. (Note: the longer the mixture sits, the more red it will become.)
When ready to serve, stir in Champagne, apples and ice. Serve immediately.
TIP:
Cut apple slices with a star-shaped cookie cutter (or you could freehand) and immediately add to sangria to prevent browning.
Makes 8 servings.
---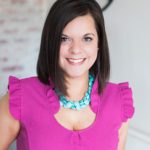 Aimee Broussard is a Southern food blogger and award-winning cookbook author. Seen on QVC, Rachael Ray and more, she is a self-proclaimed accidental entrepreneur with a penchant for porches and sweet hospitality. Find her online at aimeebroussard.com.