Aimee's Pretty Palate: Tales of the traveling apron
---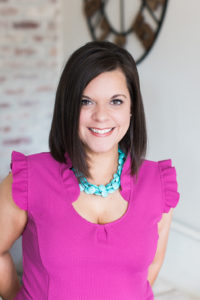 Have you heard of the movie The Sisterhood of the Traveling Pants? It's a charming story revolving around a pair of secondhand jeans that follow four girlfriends as they graduate high school and their lives take them in different directions. The glue that keeps them connected throughout their individual journeys is, of course, the pants.
On a whim, sometime in 2012, I decided to adopt my own spin on that movie. Rather than jeans, I would circulate a handmade apron, an empty recipe binder and some blank recipe cards to anyone signing up on my website. We'd call it "The Traveling Apron Recipe Swap," and I thought that if I was lucky, a couple of people would sign up to swap recipes with me. If I was really lucky, they'd share some family favorites. And if I was really, really lucky, they'd also live outside of Louisiana, just to keep things interesting.
Five people signed up. Ten people signed up. Twenty people signed up. So many people were signing up that the submission form had to be taken down the very same day, and by the next morning the apron was headed to Illinois.
As they say, the rest is history. In 2014, after traveling 20,000-plus miles, the original swap was turned into my first cookbook. We would swap two more times thereafter, and just when it appeared to be time to hang up the apron strings, The Rachael Ray Show featured The Traveling Apron in an episode on "Ultimate Swaps." The show crashed my website and sent in request after request asking me to circulate another swap. And so … we continue to swap. The apron is currently living it up somewhere in Oregon.
Since the creation of The Traveling Apron Recipe Swap, the sweet and simple mission has remained the same: to connect a community of women around shared recipes. I'm delighted to introduce you to some of the participants and to share their recipes with you this month.
---
PARMESAN LIME CORN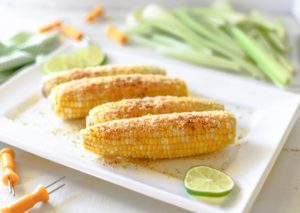 April Ockerman, Texas
Ingredients:
4 ears fresh corn
Butter, as needed
½ cup parmesan cheese
1 tsp. lime zest
1 tsp. chili powder (optional)
Boil or grill corn until done. Coat with butter. Combine parmesan, lime zest and chili powder (if desired), and sprinkle on buttered corn.
Makes 4 servings.
---
GRILLED BRUSCHETTA CHICKEN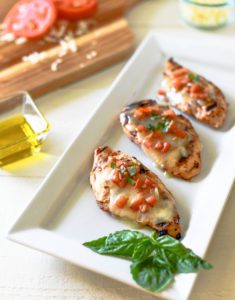 Heather Baez, California
Ingredients:
6 boneless, skinless chicken breast halves
1 (16-oz.) bottle Wishbone Bruschetta dressing
2 tomatoes, diced

1

⁄

3

cup fresh basil, chopped
½ cup grated mozzarella
2 Tbsp. olive oil
2 Tbsp. balsamic vinegar
Place chicken breasts in a resealable bag with dressing. Marinate for 8 hours or overnight. Remove chicken and discard bag and dressing. Heat grill to medium high and grill chicken for 6 to 8 minutes. Combine tomatoes, basil, mozzarella, olive oil and vinegar in a small bowl. Turn chicken over, and top with tomato mixture. (Before topping chicken with tomato mixture, place a sheet of foil on top of grill grate to protect from spillage.) Grill for 8 minutes longer, or until done.
Makes 4 servings.
Note from Aimee: I have only located the Wishbone Bruschetta dressing once here in Baton Rouge (at Albertson's on Airline/Highland); however, an equally delicious substitution is Kraft Sun Dried Tomato dressing.
---
STRAWBERRY CHEESECAKE TRIFLE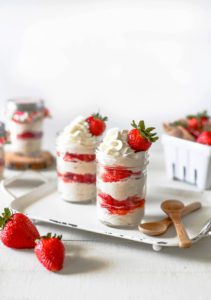 Haley Anglin, Arizona
Ingredients:
16 oz. cream cheese, softened
2 cups powdered sugar
8 oz. sour cream
½ tsp. vanilla extrac
¼ tsp. almond extract
1 cup whipped cream
1 angel food cake (about 1 lb., 3 oz.)
2 qt. strawberries, sliced
4 Tbsp. sugar
In a large bowl, beat softened cream cheese and powdered sugar until fluffy. Add sour cream, vanilla extract and almond extract. Fold in whipped cream. Cut cake into small pieces and stir into the whipped-cream mixture. Set aside. Combine strawberries and sugar and stir until sugar is dissolved. In a trifle dish or glass bowl, layer the two mixtures. Finish with strawberries on top. Chill before serving.
Makes 8-10 servings.
Note from Aimee: Directions are as submitted in swap. I opted to layer my cheesecake in 8-oz. Mason jars for easy distribution and top with a swirl of additional whipped cream prior to serving.