10 questions with The Big Squeezy's Ash Shoukry
The Big Squeezy is more than just a "juicery." For its loyal customers, it's a way of life. The juice shop and high-volume producer, which launched at the Perkins Road overpass and has expanded to include locations downtown and inside Alexander's Highland Market, has a following of diehard believers and health-conscious gurus keen on the benefits of getting fresh produce and fruits the easy way—in a bottle. Interested in what makes the concept like The Big Squeezy so successful in Baton Rouge, we sat down with managing partner Ash Shoukry to find out more.
---
1. What is a typical day like for you and your team? We have a strong team—very proactive when it comes to mornings—so if it's a non-production day we usually make sure the stores are stocked and ready to go with inventory replenishment. If it's a production day, it's usually loud, busy and extremely hectic preparing the juice for cleanses, memberships and daily sales.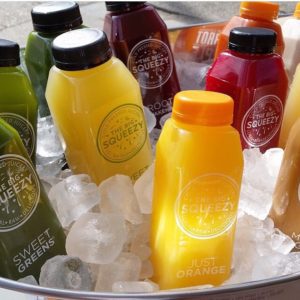 2. What is your professional background? How did you get into this field? By trade, I've been involved in farming and growing conventional and organic produce for 20 years. A very good friend of mine who went to LSU happened to be in California visiting me on my ranch, and he gave me the idea of possibly selling my fresh produce to Baton Rouge. He called me a few weeks later and said there might be an opportunity with a juice company that just opened, but that it was having some struggles with partners and growing pains.
3. What are the first things customers see when they walk through the doors? We like to think that our customers notice the bright colors, music and upbeat personalities that our staff displays in all our stores when they order a healthy smoothie, cold-pressed juice or edibles.
4. What sets your store apart? Our healthy concepts and progressive forward thinking help us produce some of the healthiest, best-tasting juices, smoothies and foods on the planet. Because we grow more than 70% to 75% of the commodities on our ranches in northern and southern California, we strive to be the first farm-to-bottle program in the world. Because of the traceability in today's standards, we want to be able to control how our product is grown and distributed. Vertical integration is a big part of our success and future growth in this industry. As you know, Mother Nature dictates supply and demand of fresh agricultural products, so it's important to make sure that we can grow the healthiest and best produce and control the pricing, versus buying from outside sources.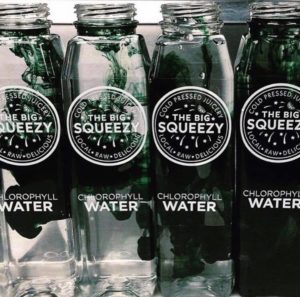 5. What is one thing you think customers should know about your store that they may not be aware of? The fact that we are the first farm-to-bottle program in the world.
6. How do you keep your store's menu fresh and up to date? We constantly ask our customers their taste preferences and look for new ideas about what they like to see on the menu or in their drinks. Everyone has a different taste profile and it's important for us to listen to our customers about what flavor profiles they like to enjoy in their meals and juices. Because we're not corporate and the chain of command is short, we invite each and every person to give us their thoughts on what ideas they consider new and innovative, so that we can introduce them. As long as they're healthy and fresh.
7. Can you share a hint about what customers will see in your store in upcoming months? Our Acai Bowls will hit the stores very soon. We have been working on this for over a year. Acai Bowls have been around for quite some time, but we have been working with LSU's School of Nutrition and Food Sciences on developing healthy concepts that don't involve a lot of sugar and preservatives.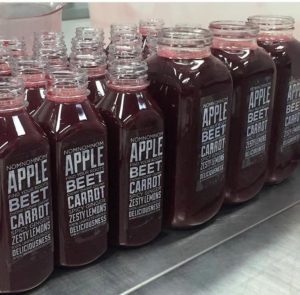 8. What was the reason for opening the first store? When did it open, and how has it grown or changed since then? There were two partners involved who initially came up with the name and concept. Unfortunately, both partners had different opinions on how to run and expand the business, and that left an opportunity for me to come in and engage some of my thoughts and plans to develop the type of company I felt would work in Louisiana, as well as other places domestically or internationally. Since then, it's grown wonderfully—lots of growing pains, but in a good way. When we made the decision six months ago to focus our attention on expanding the business versus focusing on just the store, we've seen tremendous growth. Our customers have been wonderful to work with and the support has been astronomical. The previous owners were onto something when they thought of bringing fresh juice to Baton Rouge. They struggled with the fact that a fresh, cold-pressed juice shop could make it in Louisiana, with prices being between $7 and $9 for a juice, the location on Perkins not having parking, and a clientele used to an environment filled with fried foods. We felt that with a little education and marketing, we could help make our juices available and priced right for everyone to afford. It would be easy for us to grab a bottle of syrup and ice and make a smoothie for $5, but we decided to take the long road and challenged ourselves to bring the best fresh, conceptual products to our customers. Louisiana is ready for The Big Squeezy, and we are ready to to bring it. Our goal is to change the perception of Louisiana—to change it from one of the worst-rated states in health to one of the best. Since my journey here from Monterey, California, I've realized that the kind people of Louisiana are resilient, extremely educated and hungry for change. We like where were going with The Big Squeezy.
9. What are a few must-try items right now? Our Geaux Bites made with fresh almonds and dates. Our Organic Gelato is also becoming a local favorite, as well as our new Gelatte that we rolled out three months ago. Something about a hot cup of coffee poured over a fresh scoop of gelato just makes for a sweet concept. It's refreshing on a cold day, and even more refreshing on a hot day. What's nice about our Big Squeezy Gelatte is that each sip becomes sweeter as the gelato melts. Of course we are bringing some of the healthiest smoothies on the planet to you, our customers, so you will always find something new, fresh and healthy at any one of our Big Squeezys.
10. What are some of your best-selling products? Our Green Juices like "Skinny Greens" and "Root Awakening" always seem to fly off the shelf. You roughly get between 2 and 3 pounds of produce per bottle. So our customers get a full meal in each bottle. Our fruit juices are popular as well.