10 questions with Blink Boutique co-owner Alex Zuniga
Blink Boutique, found on both Highland Road and Corporate Boulevard, has long been a Baton Rouge favorite for trend-savvy fashion, shoes and accessories. Now, in preparation for the upcoming school year (and LSU football season), the Highland location has also opened up its seasonal Purple & Gold Boutique, found just next door and stocked with the tones of team spirit. To see what else Blink has to offer this season, we sat down with co-owner Alex Zuniga for a taste of current bestsellers and things yet to come.
---
1. What is a typical day like for you and your team? A typical day at Blink revolves around making sure our customers are satisfied. We strive to ensure that every customer is given our ultimate attention. We do this by assisting customers directly in our store, sending invoices via PayPal for online purchases, and by answering our customers on Instagram in a timely manner. We are also constantly revamping the store by remerchandising and putting our daily arrivals onto the sales floor.
2. What is your professional background? How did you get into the retail field? I graduated from Southeastern University with a degree in fashion merchandising and marketing. In 2011, I became a partner in Blink Boutiques, helped open the Baton Rouge locations, and have worked every day since to help make Blink what it is today.
 
3. What are the first things customers see when they walk through the doors? The first thing our customers see are the smiling faces of our Blink stylists. Our stores are full of new and trendy merchandise that our sales associates are eager to show our customers.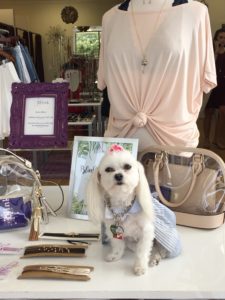 4. What sets your store apart? What sets Blink apart is our strong social media presence on Snapchat (@blinkboutique) and Instagram (@blinkboutiques). We sell merchandise on Instagram through PayPal so that we can satisfy our customers on a national scale. We are constantly updating our Snapchat and Instagram stories to give our customers a look at all of the merchandise Blink has to offer. Our ability to satisfy customers around the country sets Blink apart from the rest.
5. What is one thing you think customers should know about your store that they may not be aware of? Currently, we have six Blink Boutique locations, two being in Baton Rouge. The Purple & Gold Boutique, which is attached to Blink Highland, reopened this July and is full of all things purple and gold for LSU football season.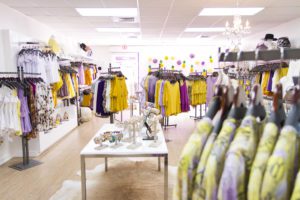 6. How do you keep your store's inventory fresh and up to date? We receive new arrivals daily to ensure that our customers have a new experience every time they enter the store. Our buyers keep the stores' inventory fresh by going to market frequently and constantly staying on top of the newest trends. They dedicate their time to making sure Blink carries the season's hottest fashions that are perfect for all local events.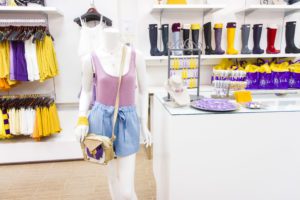 7. Can you share a hint about what shoppers will see in your store next season? This fall, our customers can look forward to all new booties perfect for tailgating, our custom-made Saints football tanks, and all things purple and gold.
8. What was your reason for opening the store? When did it open, and how has it grown or changed since then? Blink has been open for over 10 years, and six years ago I became a partner in the Blink brand. I helped expand Blink to Baton Rouge by opening our Corporate Boulevard and Highland Road locations. In 2016, I saw the need for a store focused on game-day apparel and opened the Blink Purple & Gold Boutique which is connected to our Highland Road store. Over the years, Blink has evolved by becoming a shopping experience for women of all ages. We are able to dress and accessorize you for LSU games, rush, school dances, Mardi Gras balls, a night out on the town, and your typical day-to-day life.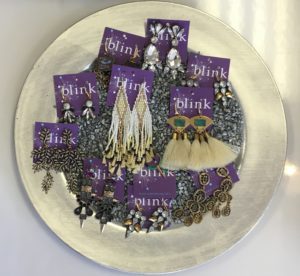 9. What are a few must-have items this season? This summer, the must-have items are front-tie rompers, off-the-shoulder tops, gingham print and tassels on everything from earrings to shirts to purses.
10. What are some of your best-selling products? This season our best-selling items have been rompers and off-the-shoulder tops. During football season we sell out of our Madly Yours Collection clear bags, which are SEC and NFL approved. Brantley Cecilia Jewelry is also one of the best sellers at every Blink location.