From the Editor: Vibe Check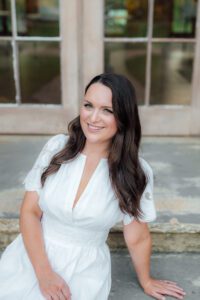 My dad would never admit that he loves holidays. That isn't his vibe. Actually, come to think of it, a lot of things aren't his vibe. But the things that are? He goes all in.
My dad is a doctor by day but an amateur florist and event designer in his free time. He loves china, silverware and glassware of any shape and color. My parents' cabinets are filled with it: a pleasant mixture of finds from estate sales and auctions alongside brand-new pieces from places like Pottery Barn. He can name flowers I've never heard of, and he knows exactly how to place them in a centerpiece. And his passion for making special dinners even more special is something I have always admired.
I would love to be more like him. And don't get me wrong, I try. But I'm missing one key detail: humility.
My dad would never boast or brag about his tables. He doesn't "do it for the 'gram." He does it for us. And he does it quietly.
That's how I know he loves what he's doing, and that's also how I know he loves us.
My dad isn't loud—though I've heard otherwise from his work colleagues. He is the most fun man I know, but only on his own time and once you get to know him. But that's what makes moments with him extra special. They are authentic. He is authentic.
When I host a party, I am working toward perfection. (Spoiler: I always fail.) But my dad? He's just trying to make people happy. And—somehow—he isn't under the illusion that perfection is the key to happiness. He, either through age or some other means, has learned that simply showing those you love that you care is enough to create event success.
I think it's his nonchalant attitude that is the key to his flawless tables. They aren't flawless, actually. But they seem that way unless you, like I do, arrive many hours early for the family meal.
You see, I don't want to miss a single moment. There's just something in the air on a holiday morning.
I'll tie dozens of velvet bows around carefully folded napkins as we all watch the parade together, commenting on the absurdly bad lip-syncing and the ridiculousness of the balloons—what's the appeal of a parade with no beads? We'll laugh as my mom runs around fluffing pillows and vacuuming the dog—you read that right. And we'll stand around, hands on hips, as my uncle plunges the turkey into hot oil. 
Now that I put it on paper, I am a little like my dad. I cherish the quiet moments, and I think that's because of their authenticity.
No one cares about the stiff conversation you had about the weather, the economy or even world politics. At least for me, the things that stick out, holiday or not, are the real moments you share with those that mean most. And they're only made better if the backdrop is as fancy as my dad's tables.
I thought about describing them to you, but I can't do them justice. Anyway, he wouldn't want you to copy him. That's just not his vibe.