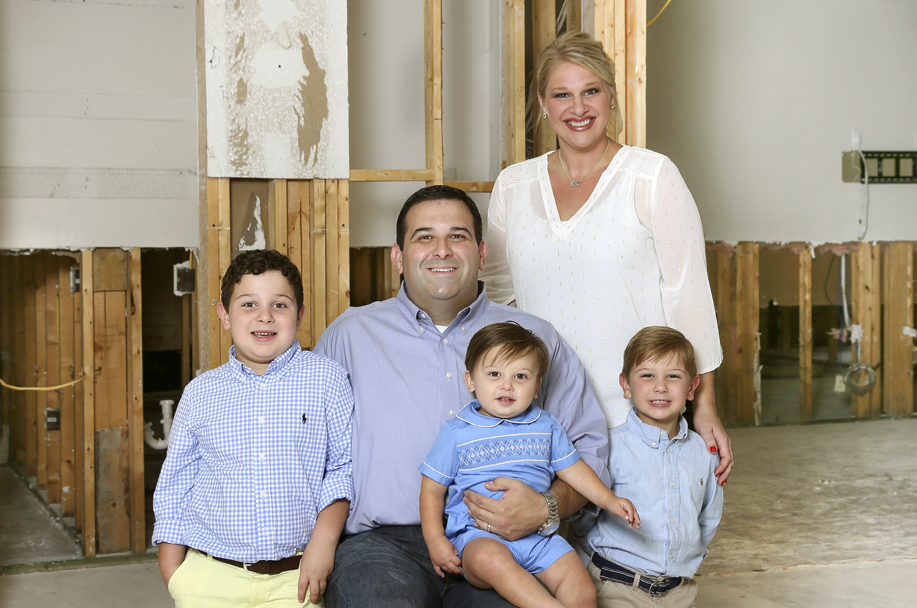 Higher ground: A family evacuates twice before finding respite
Olivia Huffstetler poured herself a cup of coffee at 6:30 a.m. on Saturday, August 13, then glanced at the backyard. She saw water creeping up to the edge of her Denham Springs house. She became scared. Her three boys—ages 5, 3 and 1—slept soundly in their rooms, but her husband Scott had left home at 4:30 a.m. to go to his downtown Baton Rouge office at Kean Miller law firm to work on a brief. It would take him hours to get back to his family.
"He abandoned his Tahoe on Range Road when the waters started coming in the doors," says Olivia about Scott's trek back to their neighborhood, Chateau Jon. "He got in a guy's truck that was higher off the ground, then eventually hitched a ride in a boat."
By the time Scott returned, neighbors were all over the Huffstetler household lifting furniture, and Olivia was packing plastic bags and feeding their sons. They waded out in waist-deep water before noon. The family boarded a boat at the front of their neighborhood with no clear direction where to go. The boatman, in rushing water, ran over the top of the submerged 6-foot concrete pillars that define their street on the way out.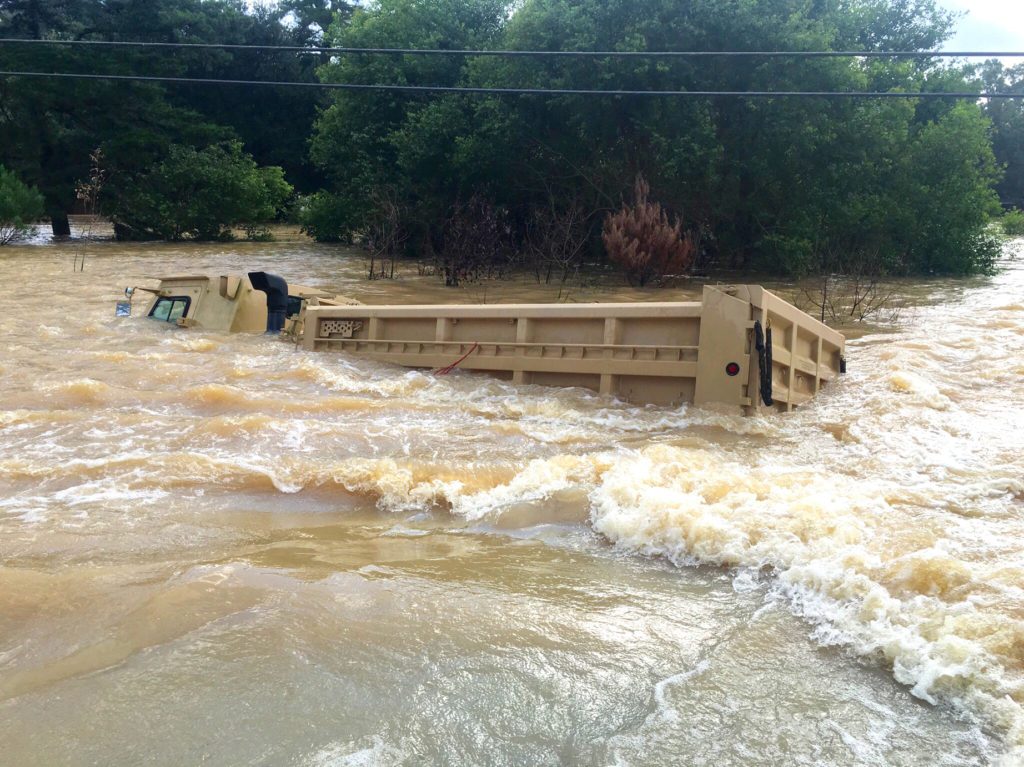 "The current was unreal," says Olivia. "Even getting in a fishing boat with my three babies and not enough life jackets was terrifying."
When the family finally got to a dry road, every vehicle that passed seemed to be packed with people trying to evacuate. A woman in an empty SUV stopped and took the whole, wet Huffstetler troop in and drove them—after many detours due to road closures—to Wax Road, where friends who lived in nearby Greystone Country Club picked them up in a Polaris ATV. Water rushed up to their knees as they navigated to the neighborhood on higher ground.
"We were only at our friends' home about an hour before we started seeing water rising around us," says Olivia, who was still reeling from her first evacuation. "We packed up as much as we could downstairs, then camped out on their second floor. We were all in shock."
The rain kept coming down.
In addition to the five Huffstetlers, the upstairs two bedrooms of this newly built house also housed their married friends and their two children—ages 3 and 1—plus an elderly grandmother. Quarters were tight, supplies were limited and the future was unknown.
"All Saturday night, after we put the kids to sleep, we sat upstairs listening to water pouring into the house," says Olivia. "We could hear my friends' furniture slam up against the sides of the walls. We texted family and friends to let them know where we were so someone could come get us."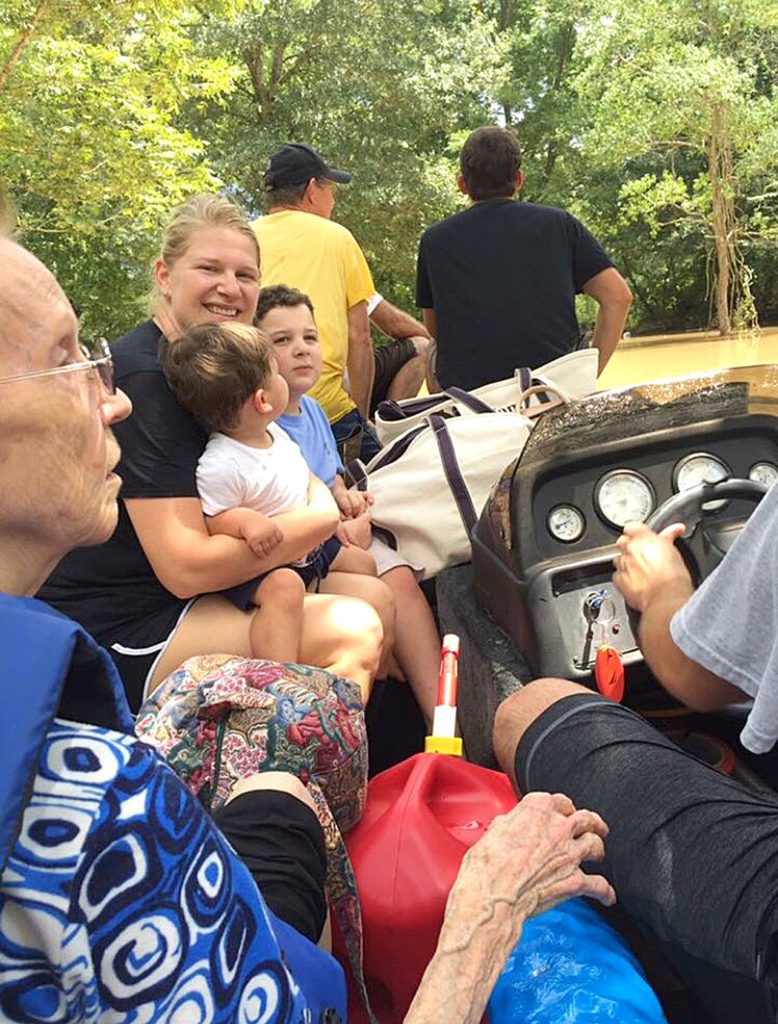 They had high hopes the next morning that a boat would be by soon, but they no longer had cellular phone service so they didn't know who was coming or when. By noon, with no sign of help, the group started rationing the few water bottles they had left. At 3 p.m., they heard a boat motor coming up from behind the house. It was the father of Olivia's friend.
"He pulled that boat into the foyer, and we loaded in," says Olivia. "He had two men with him, and we put another 10 people in it. The skies turned black as we rode down Gray's Creek, and we started to get pelted by rain. We saw deer swimming by and plenty of snakes."
But even after this harrowing ordeal with three young sons in tow, the Huffstetlers count themselves fortunate. They ended up in a warm home with food on the stove Sunday night. On Monday, after depositing their children at a family member's house in St. Francisville, Olivia and Scott returned to their house in Denham Springs to survey the damage. Three feet of water buckled the wood floors, soaked every bed and mattress and ruined four sofas. Along with much help, the couple spent a week ripping out Sheetrock and sanitizing. They know it's going to be a long road ahead.
"We are now redoing it like we are going to live there forever," says Olivia, an interior designer. "We are knocking out walls and putting in more beams and brick."
Olivia is offering her decorating expertise to help friends quickly choose wall colors and flooring, because most of the people she knows in the area have flooded. And many of them have to make quick design decisions as the houses are being refurbished. Although the devastation to Denham Springs was significant and will take years to truly be overcome, Olivia says that she has no intention of living anywhere else.
"This was a 500-year flood. Our town will be OK again," says Olivia. "It is such a sweet community with some of the kindest people you have ever met. And this community really came together during this flood."