Aimee's Pretty Palate: Seasonally Splendid
---
If you've ever sat down with a content creator and recipe developer, you know most of us keep a little notebook filled with inspiration and ideas for future recipes that we use to refer back to when we find ourselves in a creative rut. That little notebook— or in my case, multiple notebooks—helps with planning out our days and future content.
Last year, my mother-in-law's neighbor's fig tree had an abundance of figs. So many, in fact, my mother-in-law was inspired to whip together fig preserves for gifting. In my trusty notebook, I jotted down "seasonal recipes with figs" determined to fill a gap on my website that currently houses not a single fig recipe, in anticipation of the next time the neighbor's tree decided to show off.
But guess what happened this year when I went searching for some figs? The late freeze combined with excessive heat and lack of rain destroyed the neighbor's crop, and there were no figs for sharing. After also striking out at both local produce stands, I finally stumbled on fresh figs at Sprouts Farmers Market. I debated waiting until next season, but my heart was set on figgy bread and cake because that's what my notebook said I needed to work on this season, not next. I digress.
My Heirloom Fig Loaf Cake is a reimagined recipe belonging to my great-grandmother Eleanor. Hers was baked in a Bundt pan and had a super-sugary and syrupy glaze, but I was in the mood for a loaf. As I've mentioned a time or two, I love loaf cakes because they lend themselves so beautifully for a breakfast treat or an afternoon snack, perfect with coffee or tea. Topped with a lighter-than-normal whipped cream cheese frosting, this cake is divine and makes all that hunting for figs entirely worth it.
Similar was my quest to include a pumpkin-inspired soup. I'm giving you Roasted Butternut Squash Soup because the cute, little pie pumpkins are not quite available in the grocery stores at the time of writing this column. But guess what? You can use this same recipe for either soup. The flavor profiles will work exactly the same.
Rounding out my quest for a third seasonally inspired recipe are my Sautéed Brussels Sprouts. And listen, I hear you and would ordinarily agree with your disdain for Brussels sprouts. But, when I tell you that I have discovered a way for even the pickiest of vegetable eaters to enjoy some extra greens on their plate, I'm speaking truth because I'm speaking of myself. They do include bacon and maple syrup, so perhaps the nutritionists in your life may frown. But it's called a trade-off. It's also called crossing off another seasonal item off in my notebook.
---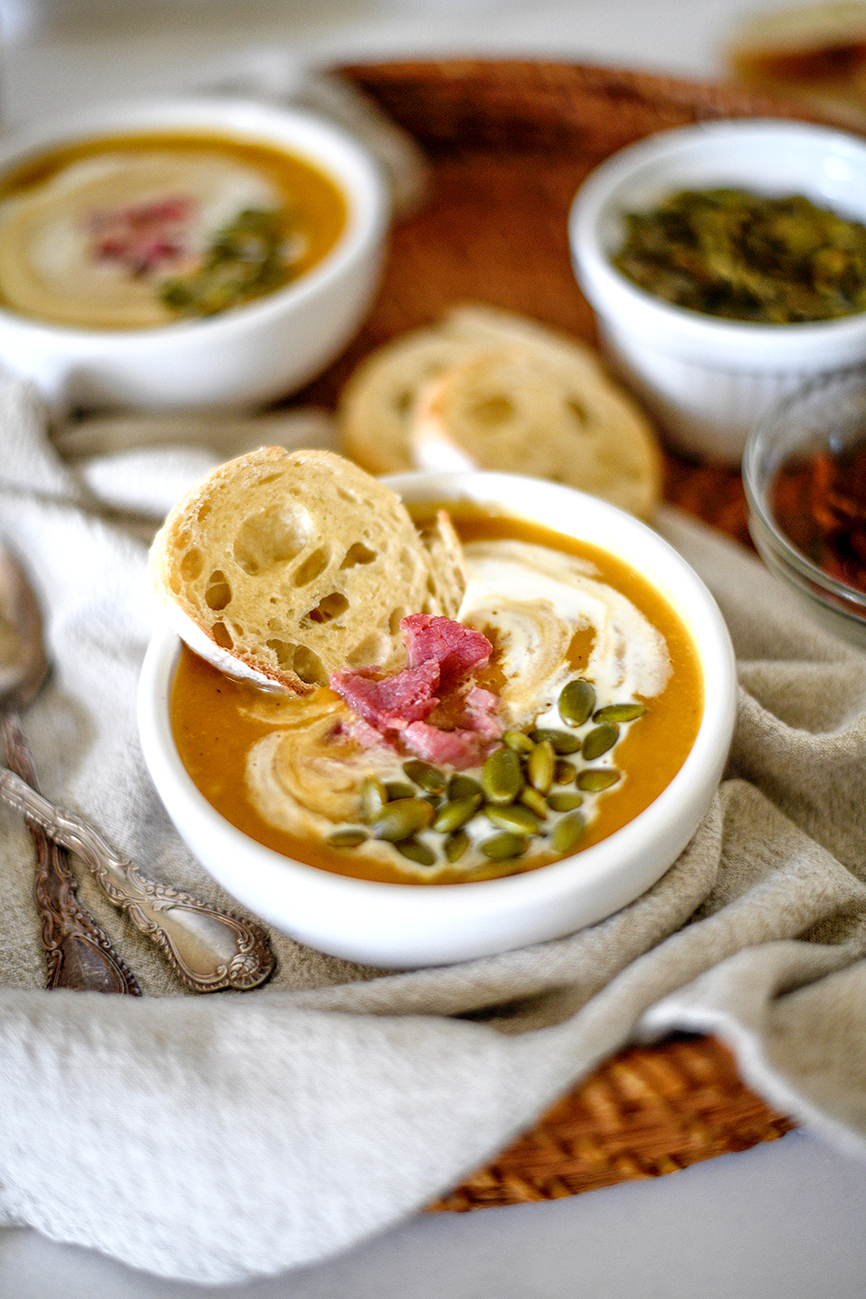 Roasted Butternut Squash Soup
Ingredients:
2-3 lbs. butternut squash (or about 4-5 cups peeled and diced butternut squash cubes)
2 Tbsp. olive oil, divided
2 slices bacon, cooked and cut into pieces (optional)
½ onion, chopped
2 garlic cloves, minced
3 cups chicken broth/stock
1 Tbsp. brown sugar
salt and pepper, to taste
Garnishes (optional):
½ cup heavy cream
Bacon crumbles
Pepita seeds
Instructions:
Preheat oven to 425 degrees.
Slice whole squash vertically down center, scoop out seeds and place halves cut-side down on a baking sheet lined with parchment paper. Rub 1 Tbsp. olive oil on the outside skin of the squash. Bake for 30-45 minutes, or until tender.
Allow the squash to cool then peel the skin off and cut into 2-inch cubes.
In a large pot, heat remaining olive oil over medium heat. Sauté onion until soft and slightly brown, then add garlic and cook for about 30 seconds. Add 2 cups of chicken stock, brown sugar, salt and pepper to taste and cubed squash; bring to a boil. Cover, reduce heat and simmer for about 10 minutes. Remove from heat and allow to cool.
Puree soup with immersion blender or in batches in a blender, adding remaining stock slowly until soup reaches the desired consistency. Do not add hot soup to the blender and blend all at once. It will explode.
Finish with a drizzle of cream and garnish with bacon and pepita seeds, if desired. Fresh herbs are also a nice complement to this soup. Serve with crusty bread.
Makes 4 servings.
---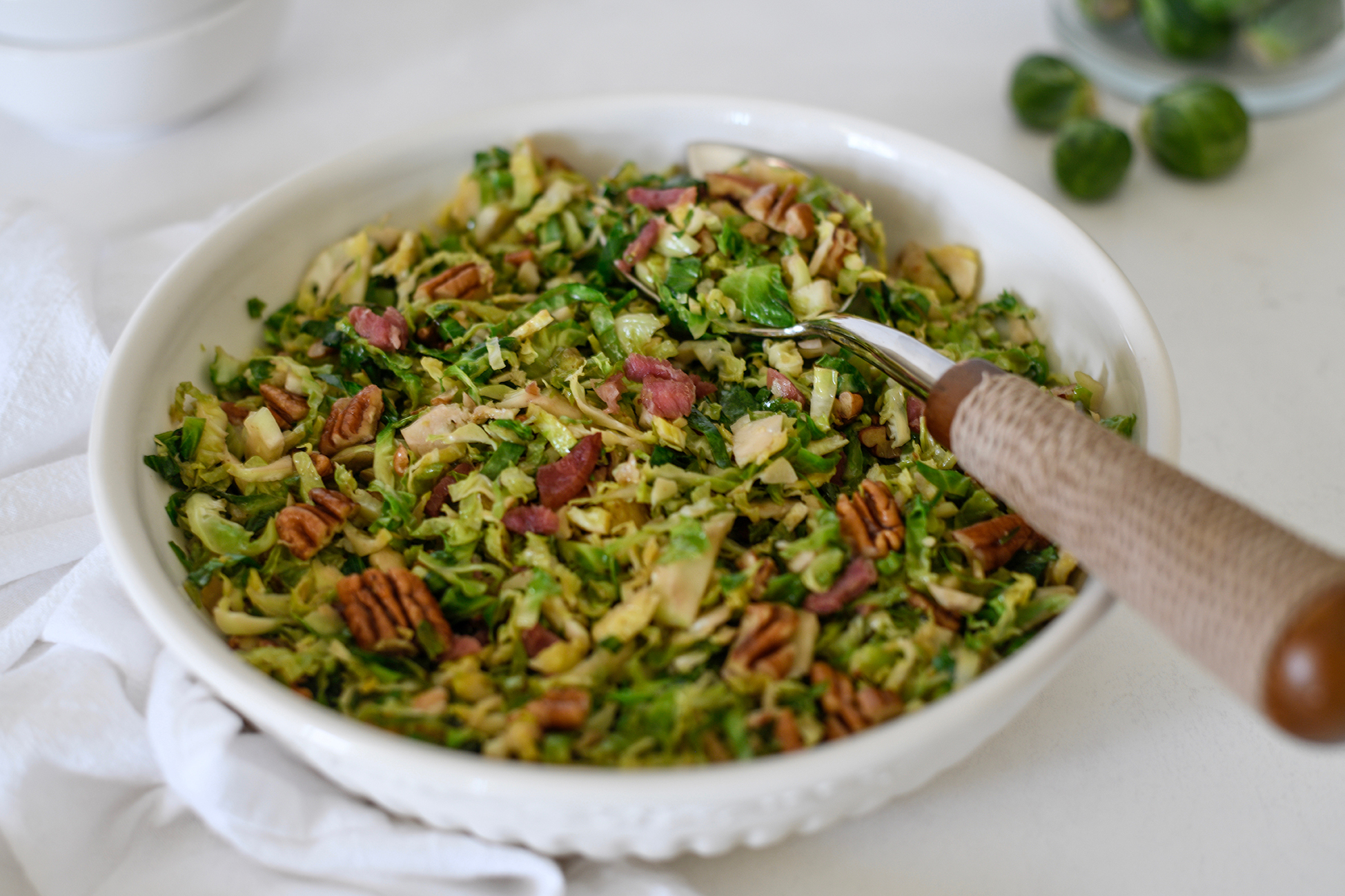 Sautéed Brussels Sprouts
Ingredients:
1 lb. Brussels sprouts, trimmed
3 slices bacon, cooked and cut into small pieces
1 garlic clove, minced
1 Tbsp. pure maple syrup
½ cup pecans, toasted and chopped
Salt and pepper, to taste
Instructions:
Halve Brussels sprouts lengthwise and thinly slice them crosswise into fine ribbons.
In a large skillet over medium-high heat, fry bacon until crispy. Transfer bacon to a paper towel-lined plate, leaving grease in pan.
Add garlic and cook for about 30 seconds. Add Brussels sprouts, toss with bacon grease and garlic and cook until tender, about 5 minutes, stirring occasionally to prevent scorching. Add maple syrup, pecans and crumbled bacon and cook for an additional minute. Season to taste and serve hot.
Makes 4 servings.
---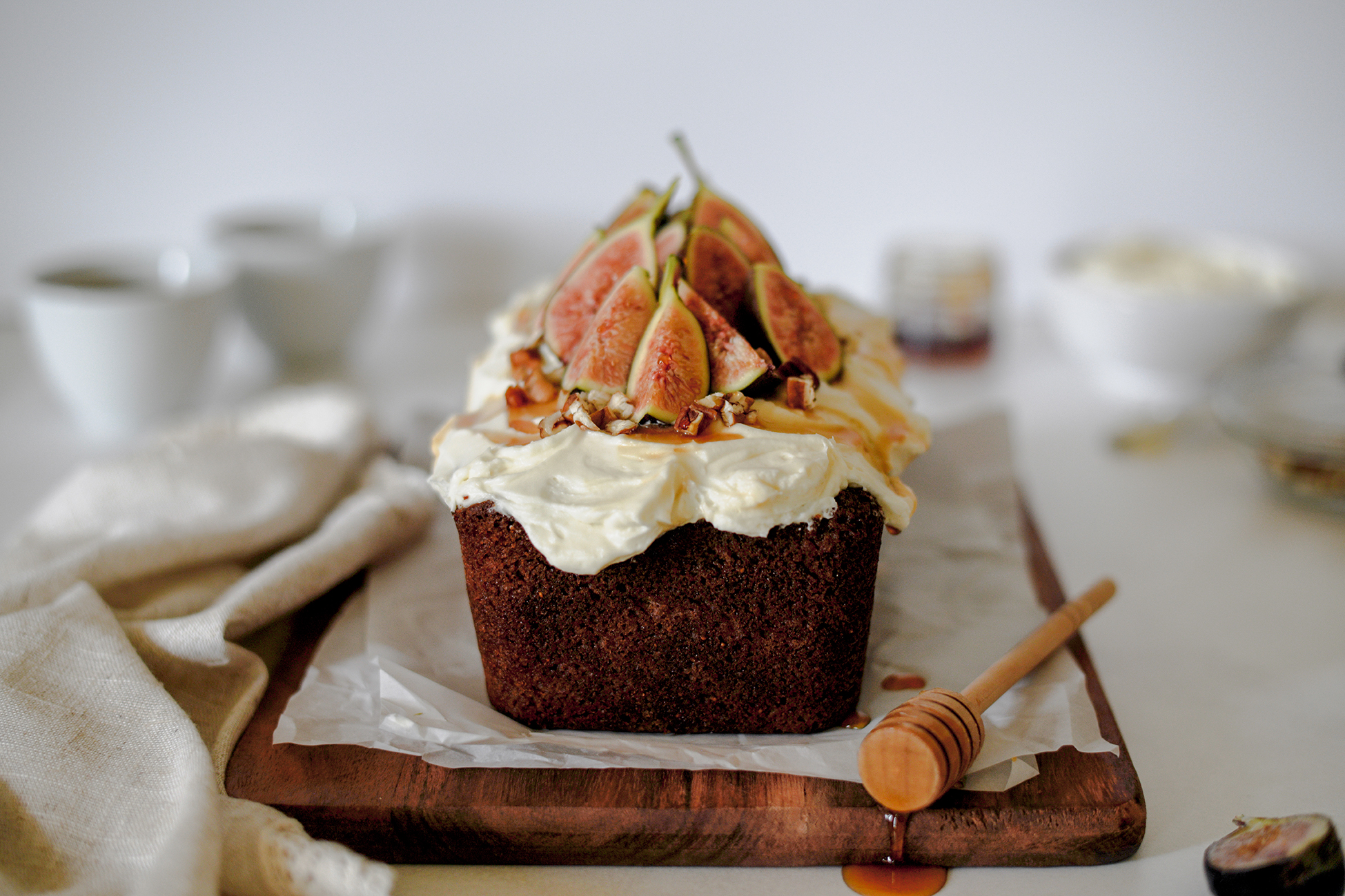 Heirloom Fig Loaf Cake
Ingredients:
For the cake:
2 cups all-purpose flour
1 cup granulated sugar
½ cup brown sugar
1 tsp. salt
1 tsp. baking soda
1 tsp. baking powder
1 tsp. cinnamon
1 tsp. nutmeg
½ tsp. cloves
3 eggs, lightly beaten
½ cup vegetable oil
½ cup honey
1 cup full-fat buttermilk
1 tsp. vanilla
1 ½ cup figs, chopped (with 4-5 figs reserved for topping)
½ cup pecans, chopped (plus more for topping, optional)
1 Tbsp. honey, for drizzling (optional)
For the whipped cream cheese topping:
¾ cup heavy whipping cream
½ (8 oz.) package cream cheese
½ cup granulated sugar
1 tsp. vanilla
Pinch of salt
Instructions for the cake:
Preheat oven to 350 degrees.
Coat a 9×5 loaf pan with nonstick baking spray and dust with flour (or line with parchment paper) and set aside.
Peel, chop and puree figs to desired consistency. I prefer applesauce-like; but, you may also leave some texture. You'll need approximately 10 figs for 1 cup of puree.
In a large mixing bowl, combine flour, sugars, salt, baking soda, baking powder, cinnamon, nutmeg and cloves. Make a well in center of dry ingredients and add wet ingredients. Mix well. Fold in figs and pecans.
Bake for 50-60 minutes, or until a toothpick inserted into center of cake comes out mostly clean. Cool on a baking rack for 10 minutes then turn out to finish cooling completely before frosting.
Instructions for the topping:
Beat cold whipping cream in a mixing bowl until stiff peaks form, set aside.
Combine cream cheese, sugar, salt and vanilla in a large bowl. Beat until light and fluffy, then fold in whipped cream.
Use an offset spatula to generously frost top of cake. Add additional sliced figs and chopped pecans, if desired and drizzle with honey.
Makes 1 loaf.
---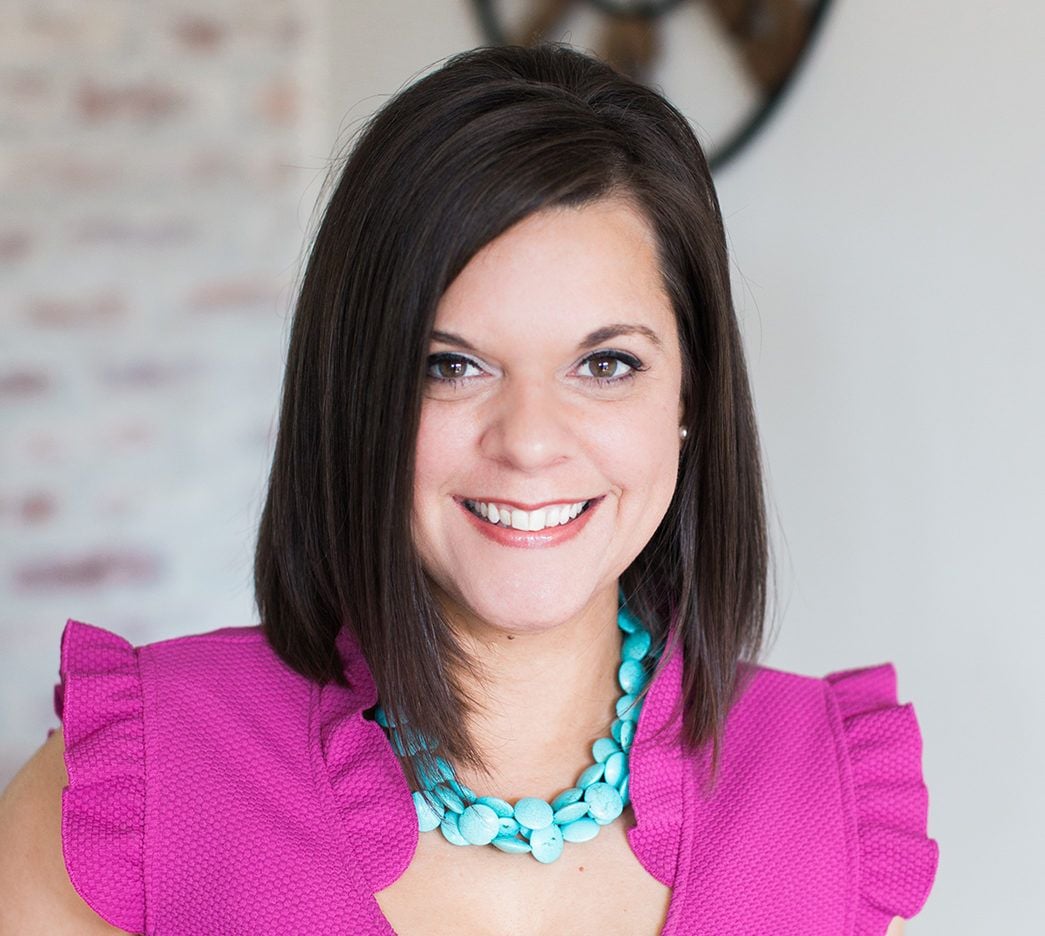 Aimee Broussard is a Southern food blogger and award-winning cookbook author. Seen on QVC, Rachael Ray and more, she is a self-proclaimed accidental entrepreneur with a penchant for porches and sweet hospitality. Find her online at aimeebroussard.com.