Aimee's Pretty Palate: Friendsgiving Fare
As the name indicates, Friendsgiving is the combination of friends and Thanksgiving culminating in a celebration with one's friends rather than family. Because of my husband's involvement with LSU Athletics, our Thanksgiving plans usually revolve around whether or not the game being played the following Saturday is at home or away. We are lucky to have both of our families in-state, but that's not the case for some of my husband's ticket office staff, making traveling home for Thanksgiving and back to work on Friday in preparation for Saturday's game downright impossible. Therefore, a Friendsgiving comes in clutch.
As the season of gathering draws near, I'm sharing some elevated twists on a few beloved classics. I wholeheartedly believe in holiday traditions, but sometimes it's nice to shake things up a bit—and my incorporation of Bourbon Candied Pecans does just that. One batch can be used in all three recipes. That is, of course, if you don't eat them all beforehand.
You'll definitely want to curb your snacking and save some of the candied pecans for tossing into the Apple Cider Salad. This salad is a quintessential fall salad with its combination of both sweet and tart flavors. It also gets an A+ for dressing up the dinner table.
My Sweet Potato Casserole with Bourbon Candied Pecans takes your grannie's sweet 'taters to the next level. It's everything you love about a tried-and-true sweet potato casserole made with fresh potatoes then topped with pecans and marshmallows but adds a grown-up twist with the addition of the highly addictive candied pecans. They add just the right amount of nuttiness and richness to the sweet potatoes.
Sure to be the hit of the holidays, the Salted Caramel Apple Cheesecake is both show-stopping and irresistibly delicious. The flavors of fall join a classic cheesecake in this sure-to-please dessert. It is the ultimate sweet ending to a day devoted to expressing gratitude for sweet friendships, friends turned family, and family alike. And yes, you can even use those candied pecans to garnish the cheesecake.
---
Bourbon Candied Pecans
Ingredients:
¼ cup bourbon
¼ cup brown sugar
1 Tbsp. granulated sugar
1 Tbsp. unsalted butter, melted
2 tsp. cinnamon
4 cups pecans
Cinnamon and sugar for sprinkling
Instructions:
Preheat oven to 175 degrees. Line a baking sheet with parchment paper. Set aside.
Combine first five ingredients in a

medium-size bowl. Add pecans and stir to coat.
Transfer pecans to a skillet and cook on medium-high heat for 7 to 8 minutes, stirring continuously to prevent burning. Remove pecans from skillet and spread evenly on prepared baking sheet.
Place baking sheet in preheated oven. Turn off oven and allow pecans to sit in heated oven for an hour or so to fully dry out.
Allow the pecans to cool completely, then place in an airtight container.
---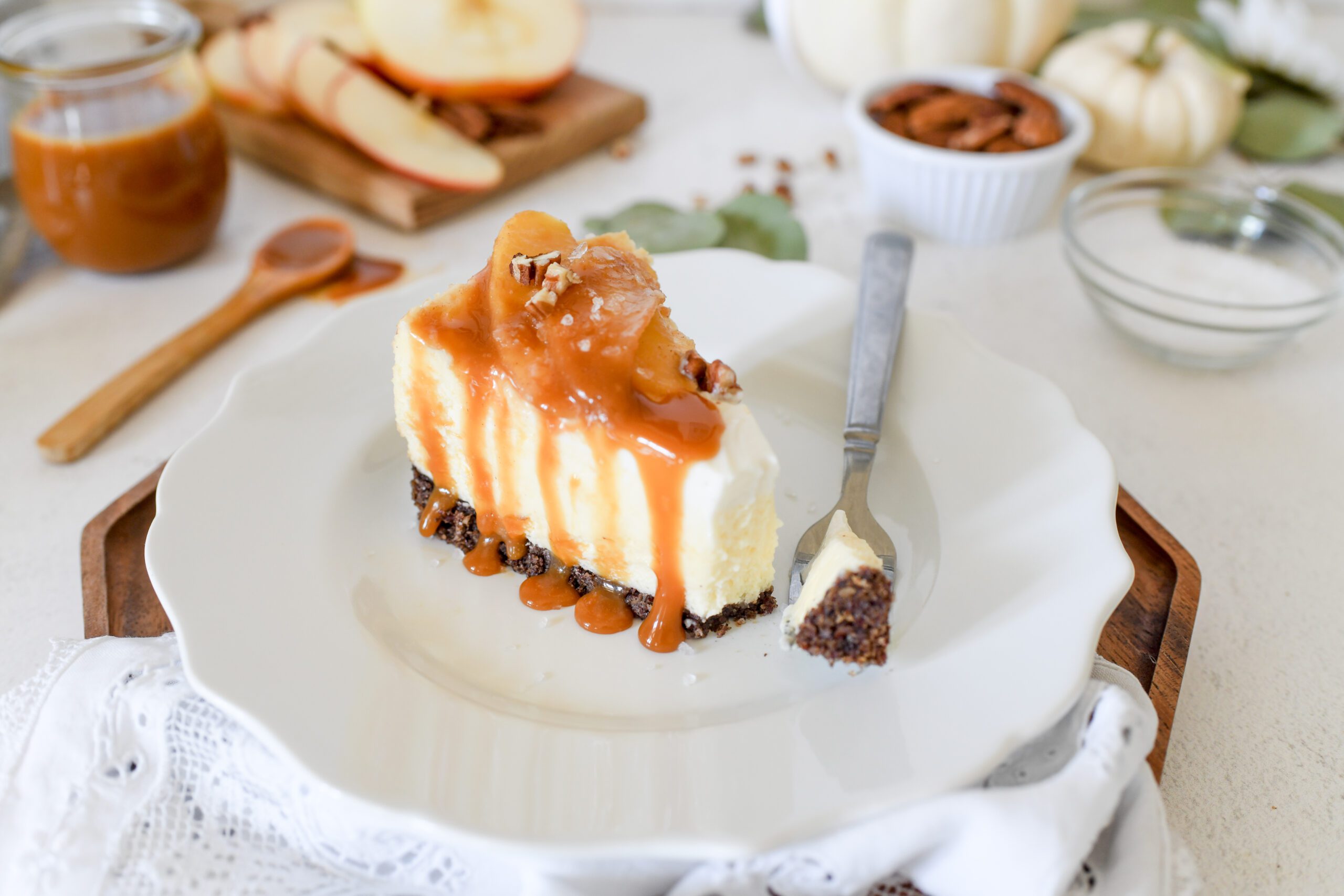 Gluten Free Salted Caramel Apple Cheesecake
Ingredients for crust:
1½ cups ground pecan nut flour (or gluten-free graham crackers)
¼cup brown sugar
4 Tbsp. butter, melted
Ingredients for sour cream topping:
1½ cup sour cream
¼ cup sugar
1 tsp. vanilla
Ingredients for cheesecake:
4 pkg. (8-oz) cream cheese, softened
1 cup sugar
2 tsp. vanilla extract
¼ tsp. almond extract
4 eggs, room temperature
½ cup heavy cream
Ingredients for salted caramel apple topping:
3 Tbsp. butter
2 medium apples, peeled, cored and thinly sliced
¼ cup packed light brown sugar
½ tsp. cinnamon
1 Tbsp. coarse sea salt
Salted caramel sauce, for drizzling
Coarse sea salt, for sprinkling
Chopped pecans, for garnish (optional)
Instructions:
Preheat oven to 350 degrees. Lightly spray a 9-inch springform pan with cooking spray.
For Crust, in a medium bowl, combine nut flour, brown sugar and butter. Press nut crust into bottom of springform pan. Bake for 12 minutes, remove to cool and reduce oven temperature to 300 degrees.
For Sour Cream Topping, in a small bowl, combine sour cream, sugar and vanilla. Set aside.
For Cheesecake, in the bowl of a stand mixer, add cream cheese and sugar and mix on medium-high until smooth and creamy. Add eggs, one at a time until each is incorporated. Scrape down sides and bottom of the bowl and mix again.
Add vanilla and almond extract. Slowly add heavy cream and mix on low. Scrape down sides and bottom of bowl again.
Pour filling over crust. Bake for 65-70 minutes until set, but center of cheesecake is still a bit jiggly.
Pour sour cream mixture over top of cheesecake and use a spatula to evenly distribute. Return to oven for additional 5 minutes.
Remove cheesecake to wire rack to cool for 10 minutes. Run a knife, or a cake release tool along the sides of the pan so edges can release.
Allow cake to cool completely for about 2 hours. Transfer to refrigerator to chill for at east 4 hours (or overnight).
When ready to serve, prepare Salted Caramel Apple Topping. In a large skillet, melt butter over medium heat. Add apples and lemon juice. Cook and stir until apples are tender, about 5-7 minutes. Add brown sugar and cinnamon; cook an additional 2-3 minutes until brown sugar is dissolved. Remove from heat and allow to cool slightly.
Arrange apple slices on top of cheesecake, drizzle warmed sauce over top. Sprinkle with coarse sea salt.
Garnish with chopped pecans, if desired.
---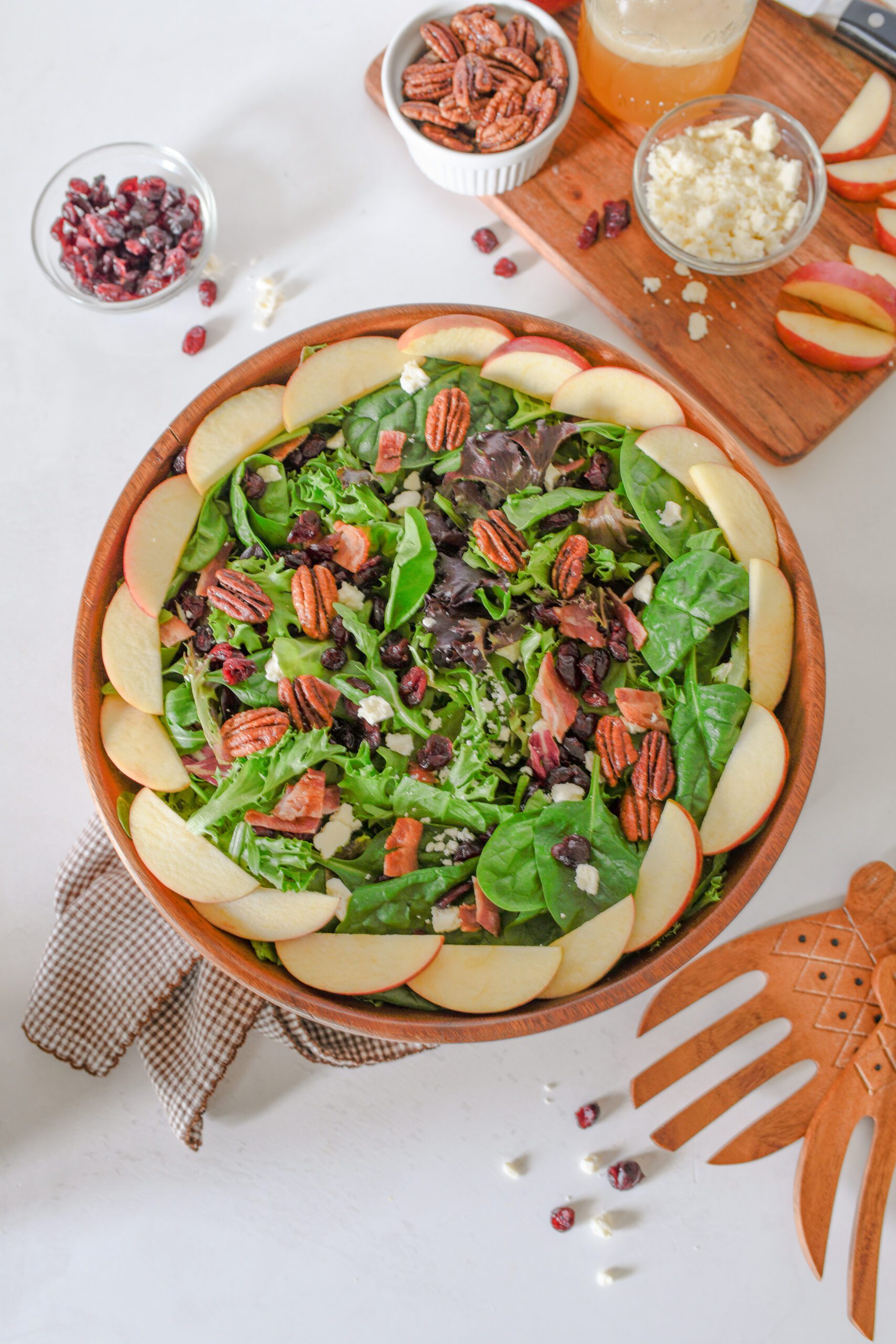 Apple Cider Salad
Ingredients for salad:
5-6 cups salad (a spring mix salad containing baby spinach, arugula)
2 red apples
1 cup bourbon candied pecans (or other spiced pecan)
4 strips bacon, cooked and chopped
1

⁄

3

cup crumbled feta cheese
1

⁄

3

cup dried cranberries
Ingredients for dressing:
1 cup apple juice
4 Tbsp. apple cider vinegar
2 Tbsp. honey
½ tsp. salt
¼ tsp. black pepper
¼ cup extra-virgin olive oil
Instructions:
Core and thinly slice apples. Toss lettuce, apples, pecans, feta, bacon and cranberries together in a large bowl.
Combine dressing ingredients in a Mason jar with lid secured tightly and shake vigorously. Toss with salad immediately before serving.
Makes 6 servings.
---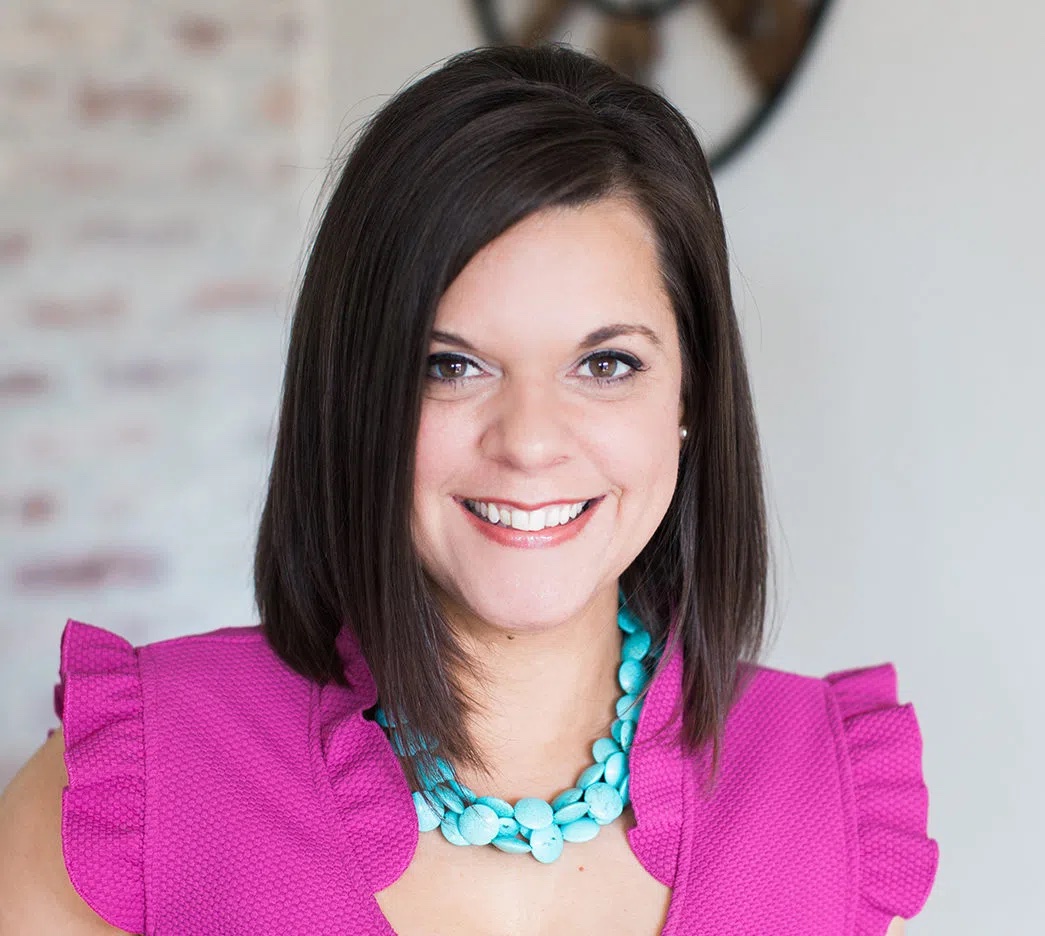 Aimee Broussard is a Southern food blogger and award-winning cookbook author. Seen on QVC, Rachael Ray and more, she is a self-proclaimed accidental entrepreneur with a penchant for porches and sweet hospitality. Find her online at aimeebroussard.com.